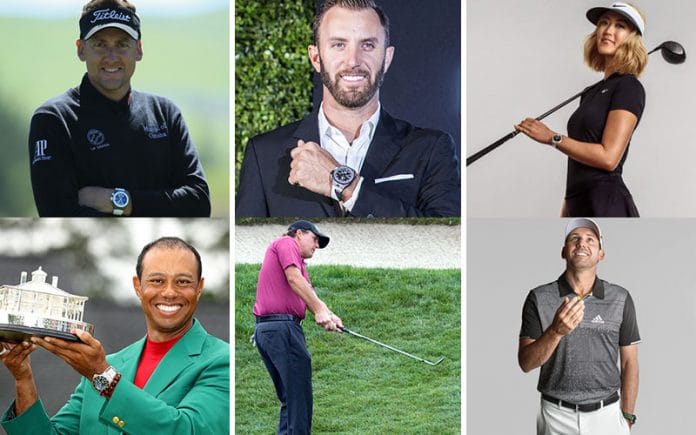 Today's golfing fast and fascinating facts, despite luxury watchmakers being amongst the most prolific sponsors of elite golf and golfers, only a tiny proportion of stars actually wear their sponsored watches during play.
Keeping Watch
Rolex, Omega, Hublot and are all prolific sponsors of both tournaments and players, the Rolex Series the most prestigious part of the European Tour, Omega the long-term backer of the Dubai Desert Classic and the European Masters.
The 'Big 3,' Palmer, Player and Nicklaus were all Rolex ambassadors, benefiting from a groundbreaking deal brokered by super-agent Mark H. McCormack with the Swiss luxury watch brand, Tiger Woods and Phil Mickelson following in their footsteps.
Meanwhile, in the rival Omega camp, Rory McIlroy, Sergio Garcia and Michelle Wie and Dustin Johnson fronting Hublot's golf programme.
Amongst the leading players, only Mickelson routinely plays with his Rolex watch on his wrist, as does another iconic left-hander, Bubba Watson, the two-time Masters champion regularly sporting his US$525,000 Richard Mille luxury timepiece on and off the course.
But, come the business end of a tournament and the prize-giving ceremony, watch out for the champion-elect swiftly rummaging in his golf bag for their sponsored wristwatch, just in time for the prize presentation and photo opportunities.
Interestingly, for many years, Rolex enjoyed exclusive rights to the Ryder Cup, that was until the PGA of America broke ranks and signed a deal with arch-rivals Omega, meaning each brand enjoys exclusivity when the event is staged on opposite sides of the Atlantic.
Meanwhile, Omega holds the 'Crown jewels,' as the Official Timekeeper to the Olympic Games, which it has done exclusively since 1932, thus becoming the Official Timekeeper to the Olympic Golf tournament in Rio de Janeiro in 2016, the men's gold medal ironically won by Hublot ambassador Justin Rose.