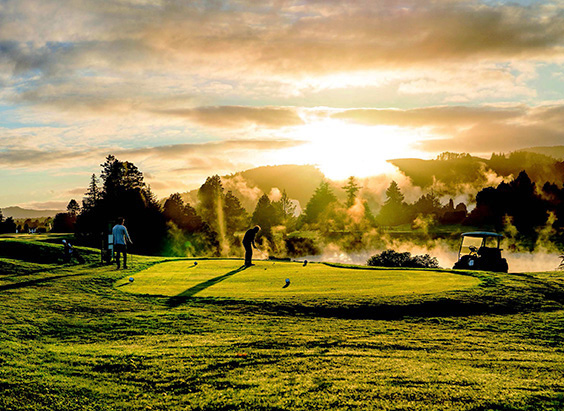 Seeing New Zealand with AVIS
There is so much to do there.  From, walking, cycling, fishing, hot pools, museums and much more it is a truly fabulous place to visit.
It is about 2 1/2 hours by car from Auckland and about9 from Wellington, driving comfortably and there are a host of motels and hotels that meet all budgets in the region.
You will usually know when arriving, or getting close.  The smell of sulphur starts seeping into the car.  After a few minutes of this the body soon gets used to the aroma and life goes on as normal- until you enter a really pungent piece of the road! As you drive into the town you can see the plumes of steam rising through the sky and some of the backyards streams are so hot you can cook in them.
After a longish drive a good place to start is the Lake Okareka Boardwalk which is an easy stroll around the edge of one of Rotorua's most popular lakes and is suitable for pushchairs. The 5km return walk showcases native vegetation, farmland and wetlands, with expansive views and wildlife. A two minute drive down the road will take you to Lake Tikitapu (The Blue Lake) where you can enjoy another 5km loop.
Feeling a bit more adventurous? Then just up the road from the lake is the Skyline Rotorua Gondola which is a most spectacular way to take in the 180 degree views of Lake Rotorua, the city and surrounding district.
The on-site Stratosfare Restaurant and Bar, is open daily for lunch and dinner, and s renowned for its delicious food preparation, and the service provides a multitude of tasty options for morning tea, lunch and afternoon tea.
No visit would be complete without a ride down one of Skyline's luge tracks. This luge is a world first! With three different track options and over 5kms of track to ride, the kids, and probably the adults will say that once is certainly never enough! Riders have full control, over the 3 wheel, gravity-based luge cart and safety is certainly a premium factor with the operators.  Great Fun for all!
After all the exertions of screaming down the luge you may care to visit the hot pools.  Spa therapies have known to have been offered in Rotorua as early as the 1870's when, after soaking in Rotorua's thermal waters, a Catholic Priest from Tauranga claimed his arthritis to be cured. The Rotorua Lakes region is inundated with geothermal activity and many of the hot springs and thermal spa pools are all natural, easily accessible and free of charge.
For a picturesque walk take a wander through the Government Gardens or for something a bit different venture to the majestic Redwood forest where you can find numerous walks  and bike trails.
Of course Rotorua is the home of Maori culture so what better place to get a taste of what makes us New Zealand and to see the geothermal activity that attracts so many international visitors. There are numerous cultural shows that can be accessed the city. Geothermal activity abounds, as well as the major attractions, Kuirau Park is a public geothermal park in the heart of Rotorua where you can experience a crater lake, mud pools and hot springs.

With such a range of health, spa and wellness experiences to enjoy there is no better place to relax and unwind.
But. We have really come to play golf.
There are two 18 hole courses in Rotorua, Springfield and Arikikapakapa and Lakeview Golf and Country Club is just a 10 minute drive away. Plus there are 9 hole courses and driving ranges.  Each course has its own unique attributes so visiting them all, if time permitted, would be fun.
Springfield, a parkland championship course, is where Danny Lee learnt to play golf.
Arikikapakapa Rotorua Golf Club is an 18-hole, geothermal golf course situated in the heart of Rotorua.
This enjoyable links-style course is surrounded by native bush and thermal activity. On several holes golfers get to tee off alongside a steaming river, or one of the boiling mud pools!

The pro shop can help with hire or purchase of all equipment requirements, with lessons also available. A great spot for a leisurely round of golf and to enjoy the uniqueness of Rotorua.
Lakeview has some spectacular views of Lake Rotorua, Mokoia Island, Mount Tarawera and Mount Ngongotaha to distract you as you play. The course has undulating fairways and challenging greens. They have a fully stocked pro shop with a covered driving range for all your golfing needs.
Arikikapakapa Rotorua Golf Club
399 Fenton Street
Whakarewarewa,
Rotorua 3010
Club ph: +64 7 348 4051
Golf Shop ph: +64 7 349 0446
Email: rotorua@golf.co.nz
Web: rotoruagolfclub.co.nz
Lakeview Golf &Country Club Inc
704 State Highway 5
Tarukenga
Rotorua 3072
Club ph: +64 27 201 0940
Golf Shop ph: +64 7 357 2341
Email: lakeview@golf.co.nz
Web: lakeviewgolf.co.nz
To get around the region we recommend hiring a car from Avis.
Location, Pickup & Drop off
Rotorua Airport Terminal Building
Ph+64 7 345 7133
Hours of Operation
Mon – Fri 8:00am – 8:30pm
Sat: 7:30am – 5:00pm
Sun: 11.30am – 8.30pm
Advertisement
Sign up to our NZ Golf Updates