By the time this is read Cooper Moore has turned 13 years of age. However, his recent stunning performances as a 12-year-old stamp him as a talent to watch as the years roll by. His performances in two Christchurch Senior Club Championships were quite outstanding, one of them, history-making.
Playing at Russley in March he finished second but more recently he won the championship at Waitikiri. What makes this more remarkable is the path to such successes. For a diminutive 12-year-old to progress all the way from qualifying, through several matchplay rounds all the way to the 36 hole final is testament to his maturity and focus way beyond his tender years.
Even more kudos is the fact that both clubs are major city clubs with large memberships contributing to quality fields. At Russley he lost in the final to San Diego College player Regan Kilpatrick a 0.2 handicapper after beating some quality players on the way.
So with that in mind, he was determined to go all the way in the Waitikiri Senior Champs. The senior grade was for players with handicaps from +4 to 7.0. Heady stuff for a youngster. The course played was 6,082 metres. Moore on 2.8 could only play one qualifying round of the two, where his 75 was good enough for 4th seeding for matchplay. From this point, his play was unwaveringly consistent with none of the four matches going to the 18th hole.
In the round of 16, he confirmed his favouritism, beating 5.7 handicapper Nathan Arnott 3 & 2. The quarter-final was a huge challenge against the experienced former Rep player and current Canterbury Masters Team player Aaron Forsyth on 0.7 handicap. Forsyth was in good form having just won the Templeton Men's Open in a field with many of Canterbury's best golfers. To the surprise of most pundits, the youngster was just too accurate and consistent and edged away to win with some comfort in the end four & two.
The semi-final presented another tough challenge against Geoff Ruddick a 2 handicapper and former Canterbury Masters Rep. This was a close battle before Moore again showed his mettle when the pressure went on, winning three & one.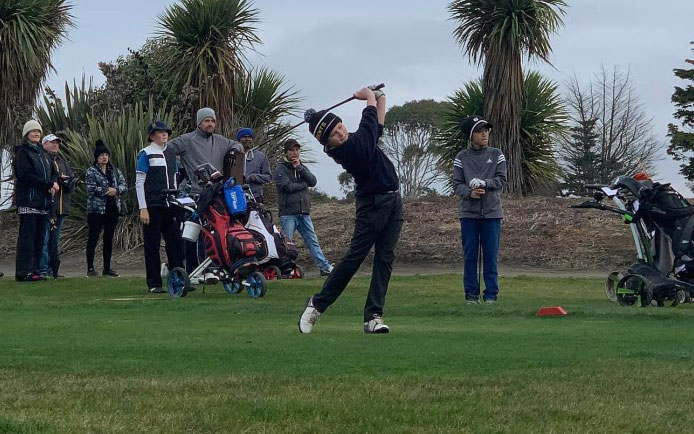 So to the final played over 36 holes. Could a 12-year-old last the distance? Not a problem. His opponent John McCormick a 4 handicapper was a surprise finalist as he had the two top qualifiers Woo Bong Kim and Kris O'Neil on his side of the draw. McCormick had excelled with some very consistent play to make the final.
The first 18 holes were very close with both players winning holes before Moore edged ahead one up after nine holes. The second nine was more fluctuating with Moore going three up through 12 holes. Mc Cormick responded with a couple of great up and downs to be within one. Moore would then win the 17th and go to lunch two up.
He came out after lunch with a clear plan to go hard over the early holes, which he did, winning the first two holes to grab a four-shot lead which he increased to six after seven holes and with a seeming hand on the trophy. However, there was one more drama with Moore bogeying eight & nine to reduce the lead to four.
Then on the 10th a par five McCormick from 97 metres played a lovely shot to within eight feet. Could this be the swing McCormick needed? How would the youngster respond? From 96 metres he stiffed a pitching wedge to ten inches for birdie. End of story. Moore eventually closed the deal on the 13th after that brilliant birdie and one more winning hole to win six & five.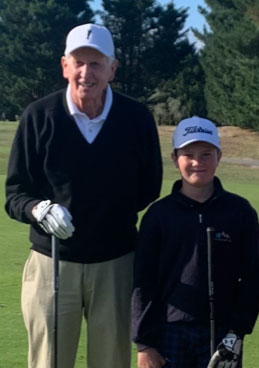 So Moore at 12 years of age became the youngest player to win the Waitikiri Senior Club Championship since its inception in 1939. Remarkable is the only word for it. History that may be hard to beat.
This youngster is quite remarkable for his age. He drives the ball on average around 210-215 metres so it is easy to see where his strengths lie. His drives need accuracy followed by an exceptional short game and that is exactly what he produces. We will watch his progress with interest.
Keep an eye on future issues of this magazine for a full story about Cooper Moore and his golf.
Advertisement
Sign up to our NZ Golf Updates