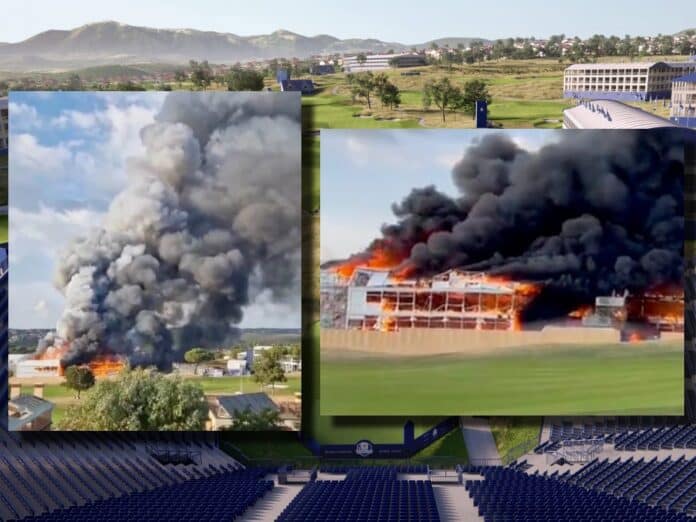 Firefighters have grappled with an intense blaze at the prestigious Marco Simone Golf Club in Rome, where Europe triumphed over the United States in the 2023 Ryder Cup just a few days ago.
Dozens of fire brigades and law enforcement officers rushed to the scene at the Marco Simone Golf Club in Rome when a colossal fire broke out in the temporary hospitality structure around 5:07 pm. The blaze rapidly consumed the three-story grandstand situated to the right of the first fairway, which hosted hundreds of spectators during last week's tournament.
An eyewitness told local media, "The smoke and flames are amazing. It's massive, and you can feel the heat from a distance." Fortunately, no injuries were reported, and the fire was successfully contained within the temporary structure. The Ryder Cup organizers have initiated an investigation into the cause of the fire.
The grandstand, a vital part of last week's Ryder Cup tournament by providing hospitality for spectators, housing bars, and restaurants, was reduced to a hollow shell by the ferocious blaze. The structure was built from metal, wood, and a highly flammable plastic covering, contributing to the rapid spread of the fire and smoke.
The Marco Simone Golf Club, situated just 10 miles from the heart of Rome, boasts two golf courses – an 18-hole Championship Course and a 9-hole Resort Course. The venue had shone brightly as it hosted the 2023 Ryder Cup, and celebrations were still fresh in the memory of golf enthusiasts.
Reports from Italy suggest that the fire may have been triggered by fuel or gas canisters left behind by caterers. However, an official cause of the fire is yet to be confirmed. Firefighters arrived promptly to combat the flames, with the incident occurring merely days after Team Europe's victory at the same location.
Team Europe, led by Captain Luke Donald, secured a resounding 16.5-11.5 victory over the US Team at the 2023 Ryder Cup, reversing their fortunes from losing at Whistling Straits in 2021. Rory McIlroy emerged as the top scorer with four points, contributing to Europe's total of 16.5 points.
McIlroy acknowledged the absence of some of Europe's veteran Ryder Cup stars and how it paved the way for younger talents to shine. He stated, "We're a young team. We can all grow together. I could potentially be the oldest person on the team next time. It's a new era. And it's a pretty good one."
As the investigation into the fire continues, the Marco Simone Golf Club will aim to rebuild and return to normalcy by December, preserving the memories of a Ryder Cup filled with triumph and the challenges faced in its aftermath.