I first met Liz McKinnon at Clearwater for the NZ Women's Open in 2009 when she was our team's Professional for the ProAm. She was such a bubbly, positive person and this rubbed off on all of us. We played great golf and the team won.
I also met her gorgeous six-month-old daughter at the time and it was not the kind of encounter one forgets.
As the years rolled by we would bump into each other at New Zealand Opens at The Hills, until a few years ago. Then lo and behold, McKinnon turned up at the recent South Island Age Group Champs as part of the team running it. So it didn't take long to decide this was a great opportunity to get up close and personal with this 'loves life' person and what a rewarding time it was. NZGM is pleased to share this delightful exchange with readers.
WHY NOT START AT THE BEGINNING?
Born and bred in Auckland. Started playing golf when I was six at Aviation Golf Club. Dad had got a set of clubs from a neighbour and Mum decided she wasn't going to be a stay at home Mum at the weekends. She wanted to play too. The whole family including my sister Vicki (Aitken) who was 10 at the time could play together. We all went and had a lesson, so for us, it was a family sport on Saturdays.
I was a typical kiwi kid who played lots of different sports. Right through school, I danced three times a week. I was also in the school cross country club running three mornings a week. I played basketball for the school on Friday nights then it was netball Saturday mornings and then the family golfed together in the afternoon. I loved being busy juggling school and sports."
Busy is hardly the word.
SO WHEN DID GOLF TAKE FRONT STAGE?
Golf did not become my primary sport until I left school and went to university when I was 18. I studied in Auckland and did a three-year degree for a Bachelor of Science in Sport and Exercise. I graduated before I turned 21 and decided I was still too young to get a real job. That was the time when Wendy and Angela Hawkes and myself all moved to Queenstown where we were coached by John Griffin. So Auckland lost three players to Otago. I played for two years for Otago then I happened to meet this Scotsman on the skifield in the year 2000 and got engaged in January 2001.
IT WAS THEN TIME TO TRAVEL?
In May of that year we went to Scotland. Roy was from Inverness in the Highlands. There I worked full time for the Scottish Institute of Sport and was able to travel around the UK and Europe playing amateur golf. That was awesome and Roy caddied for me. It was great to be able to play the British Mid Amateur and European Championships.
I came runner up in the Portuguese Amateur and that got me an invite into the Portuguese Open, a European Tour LPGA event. Pam Soward, Lynette Brooky and Gina Scott were playing there at the time. So it was really cool to catch up with them. That would have been 2004 and even though I missed the cut it was a really good learning experience. In December I decided to try for a European Tour card because I played Tour school as an amateur.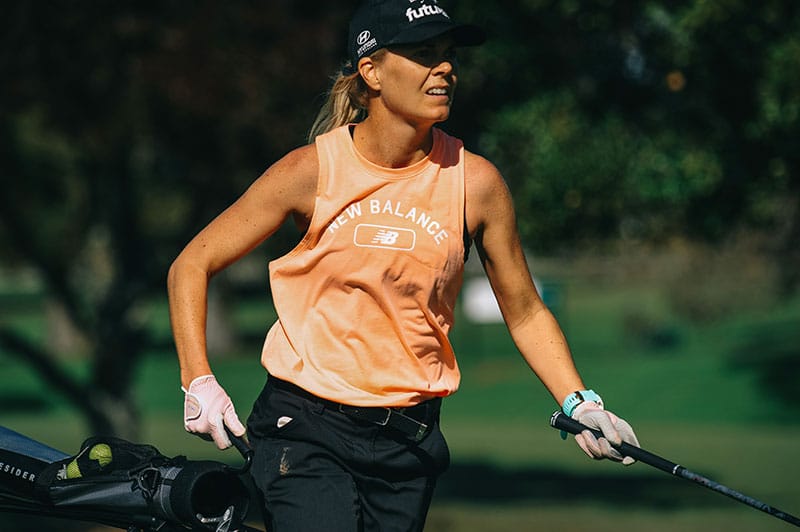 HOW DID THAT WORK OUT?
I had a good job and was enjoying life so it wasn't a biggie if I didn't get it. With 25 spots available I finished 15th and gained my full card so then I turned Professional. In my first year in 2005, the first events were in Australia so I came home to New Zealand, played in Australia then headed back to Europe and based myself in Scotland playing the European Tour. I did that for four seasons and then at the end of the 2008 season at the last event in France, I knew something wasn't quite right. I had thrown up on the driving range at the previous event and I wasn't feeling great. I discovered I was pregnant.
DID THAT THROW A SPANNER IN THE WORKS?
Not really. At least it was the end of the season and I was heading home anyway. I always wanted a Kiwi family raised in New Zealand. I didn't want to be doing that in the UK or Scotland. I played the NZ Open while I was pregnant. Then I had Ailidh (Scottish Gaelic name) who you met at Clearwater many years ago when she was six months old. I played four NZ Opens. I think Clearwater twice then Pegasus twice.
I played the first one pregnant, the second breastfeeding, the third one pregnant with Logan and the fourth one breastfeeding Logan who was born in 2011.
[A rare feat one would imagine to play four successive annual LPGA events with a baby attached so to speak. So that was her last NZ Open.]
YOU WERE INVOLVED IN A CHARITABLE TRUST?
A great memory from that event was the NZ Women's Golf Charitable Trust that my sister Vicki, myself, Pam Sowden and Susan Farron set up and created. This produced a ProAm played in the South Island plus the annual Anita Boon ProAm which has been played for 11 years in her memory although it had to be cancelled last year because of Covid. Vicki and I have retired as Trustees. We feel we have done our time.
[This event has always attracted a strong field including many highly ranked Australians.]
So now with two children, I have been working 12 years full time for NZ Golf. My current role is Talent and Coach Development Officer. Before that I was the High-Performance Program Coordinator and before that Junior Golf Coordinator.
WHAT PERFORMANCES IN YOUR CAREER ON COURSE STAND OUT?
My name is on the trophy we now use for the girls Under 19 Age Group Champs. Back in my day, it was the Junior Under 21 Nationals with 36 hole qualifying followed by matchplay. I never won any big titles here or overseas other than some County events in the UK. As a pro, I always kept my tour card and made some money. By the time I finished, Lynette Brooky and Gina Scott had also retired and Pam Sowden had gone home.
TIME TO TALK ABOUT YOUR SPEED GOLF. HOW DID YOU GET INTO THAT?
Phil Aickin introduced me to that although I had always heard about it when I was younger but never did it. Didn't think anybody was doing it but I knew it was a thing. I think Phil gave it a go because Nick Willis our 1500 metre Olympian had done it in the US and contacted him to say he wanted to run an event in NZ and asked how do we go about it. Phil was getting into running and fitness and thought this sounds interesting.
He must have gone out and tried it and thought this is great. He knew I did a bit of running and I would be into it. So he said, 'come on Liz let's do it.' So we went out one Saturday morning to Whitford Park. I thought I had an ok fitness level, but holy hell it was tough and at the same time what a buzz. It was really fun, so it wasn't long before we did it again and it was so much easier. I don't know why it was so tough the first time. I think it was a kind of shock having to hit a golf ball with your heart rate so elevated. It was not comfortable.
Then by the time I did it again, it was 'this is ok'. Just slow down a little bit, don't rush it. I only take four clubs. Most take no more than five but sometimes some will take only two clubs. I use a 3 wood, 6 iron, 9 iron and putter. 3 wood off the tee and fairway works fine and the irons cover pretty much everything else. My short game is my strength so I need my putter. Some players don't use putters. For me, I think it is easier to save a shot and make up a minute because they are each worth the same in the final score. Maybe for Willis, it is easier to make up a minute running but not for me.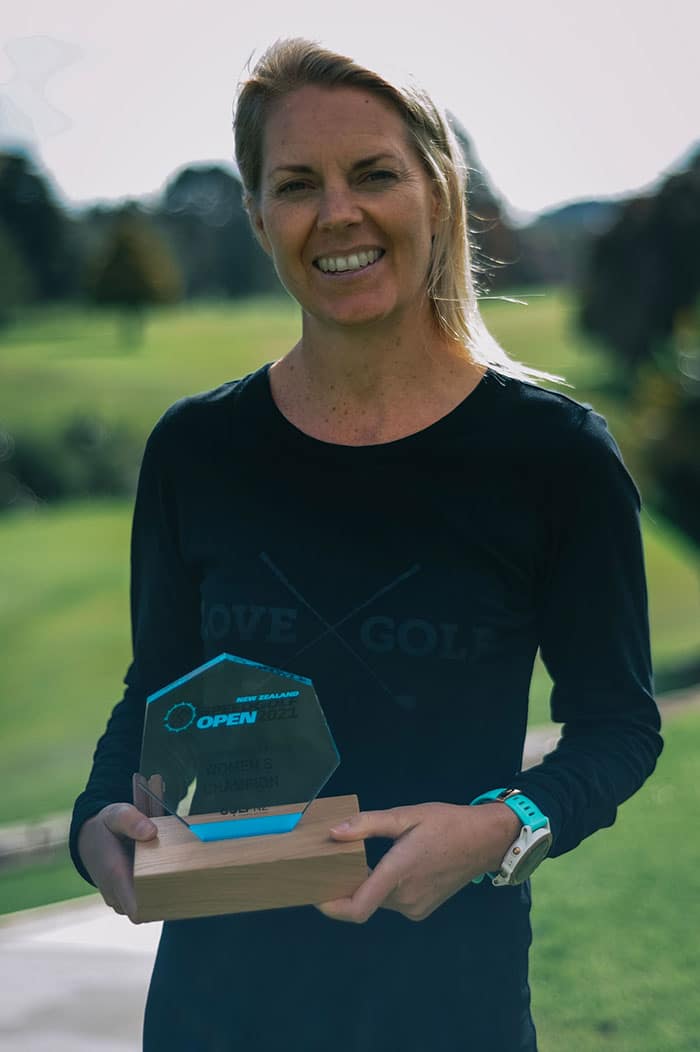 YOUR WINNING RECORD IS IMPRESSIVE I BELIEVE?
I have won the six NZ Titles I have played in including the latest. I have won Australian events and the British title when I was over there for work two years ago. I have to say there aren't that many women that do it so it is easy to say I had a win. However, that is not what motivates me. You can't have a bad Speed Golf round because you always feel good after a run. You might feel tired initially but then the endorphins kick in, so even if you play badly you have had a good run and exercise. There's always stuff you can improve.
[McKinnon has never lost a Speed Golf event although she modestly says there are usually only a few in the field. Despite her modesty, the fact remains that she is effectively the world number one women's Speed golfer. What about promoting it in the provinces? McKinnon says groups are up and running. There is one in Taranaki and a women's group in Manawatu. Miramar has a specific membership. Renee Fowler at Taupo has a good group of women who play golf at pace.]
WHAT DO THINK OF THE GOLF BOOM?
It is important to support clubs with any challenges they may have. There are many resources, programs, initiatives and people we have available through District Associations and Golf NZ to help clubs. In every district, the number of rounds played and memberships are up. So the challenge in a post covid world will be to maintain those people who have come to golf.
What is interesting is that so many clubs and the managers and staff are so busy that not much change may have happened because people have come to them. So we need to keep them and provide them with what they need. On the flip side, what we do not know is whether people are prioritising time better. Maybe they are saying 'let's make time and make it a family sport.' Four hours together on a Saturday enjoying the health and wellness benefits is worth prioritising.
Being welcoming is also important. If someone doesn't have the right attire, instead of some grumpy member sending them away telling them it is all wrong, speak nicely because they will probably figure it out for themselves and make the change. In Speed Golf we don't worry about that. We wear exercise gear. It's a really inclusive feel like at a running event. There's music, people clapping and cheering, yelling at you to keep going. It is a really cool vibe.
WHAT DOES THE FUTURE HOLD FOR LIZ McKINNON?
Speedgolf suits my lifestyle and is the golf I enjoy playing the most. I hope to get to the World Champs to meet other international players and further challenge my speedgolf game. The community of speedgolf is extremely supportive. It is small but they are a fun bunch who all love to do their best and enjoy the buzz of the format no matter the result.
Advertisement
Sign up to our NZ Golf Updates