Kairangi Koni may well be a smaller than average just turned 13 years old, but there is nothing small about his talents in his various sporting endeavours and achievements.
Kai, as his father Dan calls him, is one of Otago's most promising junior golfers and is currently on a four handicap although that seems likely to fall going by some recent efforts.
He recently hit a milestone 1-under par round of 70 in the men's competition at Island Park over 5,300 metres. A round of 74 at St. Clair over almost 6,000 metres was also impressive.
Having been aware of this youngster's ability for the last three years I felt it was time for NZ Golf Magazine to delve a little deeper by talking to Kai and his parents Dan and Liz who are both teachers. Dan teaches Senior Phys Ed and Maths and is also the Touch Coach at Kings High School in Dunedin while Liz is Principal at Waitaki Girls High.
Kai is the oldest of six children with the youngest being four. The three oldest children are golfers. Sister Anahera who is 11 is also a very talented golfer as well as playing rugby, netball, touch and does swimming, while eight-year-old Maia started golf last year.
Kai already has an impressive record in golf having represented New Zealand since the age of seven in the US Kids Golf Trans Tasman Tournaments. He also played in the Otago Under 16 team at the age of 10 which won the bronze medal in 2019. I saw him finish 11th in the 2021 Under 16 South Island Strokeplay as one of the youngest in the field.
When he was just eight he started playing pennants for Chisholm Links but has had to put it on hold for the last two years because of rugby commitments. This is where the multi-talents come into the picture.
"As parents, we are aware of the Tiger effect, where children from a young age are specialising (often parent-driven) in the hopes of pursuing professionalism," his father Dan explained.
"However we have always believed that it is important when you are young to try lots of sports. So we encourage Kai and his five siblings to do just that. As a result, Kai plays golf, rugby, touch, as well as being keen on swimming, basketball, skiing and most recently table tennis."
"Kairangi is not such a regular golfer in the winter months due to his rugby. But it is not uncommon for him to pack his golf gear and clubs in the car, head off to footy on a Saturday morning and then ask to be dropped off at the golf course for a round in the men's competition on the way home. A wipe of the dirty elbows and knees and a quick change of clothes, and hey presto he is ready to go."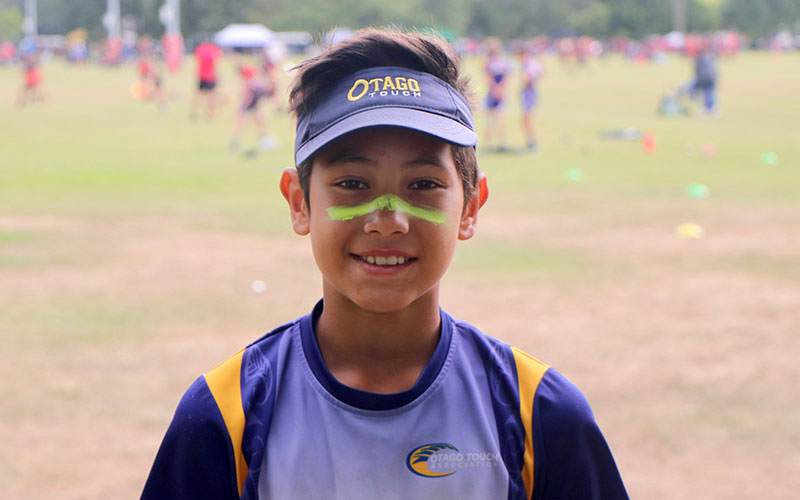 He is co-captain of his Under 13 Green Island Grizzlies rugby team who won their competition last year and are so far undefeated this year. He plays at first five (10) and their goal is to defend their Metro title, the final of which is usually played at Forsyth Barr Stadium, quite a special treat for the youngsters.
"He is far from the biggest player on the field but he loves nothing more than tackling the biggest opposition players," said Dan.
During the summer months, it is another balancing act for Kai. This time it is golf and his other passion, touch. He captained his Tahuna school team which won the Year 8 Elite Touch Metro competition in March this year and he has represented Otago for the past two seasons at the Te Wai Pounamu Junior Championships. In December he was the youngest member of the U14 Otago Touch team which won the gold medal at this Christchurch tournament. The goal is to win it again this year.
However, despite all of the foregoing, golf seems to be slightly ahead in the passion battle…and for good reason. He recently shot scores of 74, 72 and 70 off the white tees during his club comps and of course was delighted at achieving his goal to score under par before he goes to high school next year.
With golf being only one of his many sports it is quite something that he can compete strongly against other talented youngsters his age.
There is no question Kai loves his golf so much. He is self-motivated to keep improving. When there is nothing else on he wants to be at the golf course….all day. If there is nothing else on he will play with the men in the morning and want to do another round by himself in the afternoon.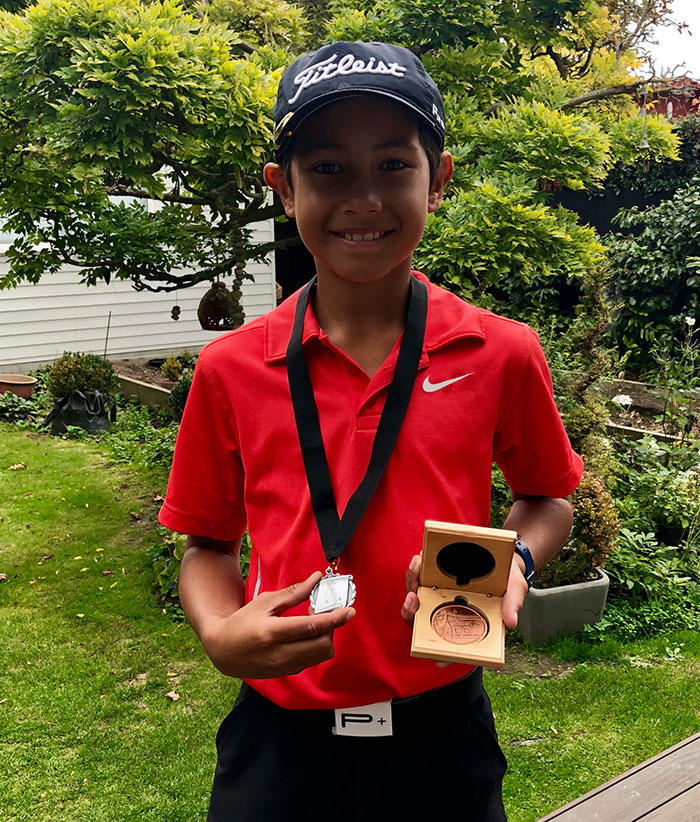 I can certainly understand this as I well remember playing a round with Kai and sister Anahera at St. Clair about three years ago when they were both knee-high to a grasshopper. I was in awe of their swings and especially their meticulous but quick routines and their perfect etiquette. When we had finished the round Kai said to Dan, "Can we play another round please?", enough said.
At school, Kairangi enjoys and excels at Maths and PE. What does he do in the little spare time he has?
"I enjoy drawing and beating the Rubik's cube," Kai said. He also makes no secret of his competitive streak in wanting to beat his siblings in whatever game they play. He has even tried his hand at acting, being employed as a featured extra for the Netflix film 'The Royal Treatment' which was filmed in Otago and is scheduled for release in 2022.
We asked Kairangi a few questions and first up the obvious one.
WHEN DID YOU FIRST PLAY GOLF?
"Dad took me to golf when he played. I was only two or three when I first hit some balls."
WHAT DO YOU LIKE ABOUT GOLF?
"I just like playing fun sports. With golf, you can play it individually. So you don't have to rely on others like in team sports.
SHORT TERM GOALS?
"I would like to get down to a scratch handicap by the end of the year.
LONG TERM GOALS?
I hear you are thinking of being a pro golfer and a pro rugby player?. "No, when I leave school I would like to get a scholarship with a US College and become a professional golfer." With his parents being teachers it is obvious he has grown to even this young age with no doubts about the value of education.
WHAT SUPPORT DO YOU HAVE?
"Shelley Duncan (Otago Golf Club) is great as my coach and I get incredible support from the Chisholm Links and Island Park Clubs.
ANY COURSES YOU PARTICULARLY ENJOYED?
"I liked Riverside Oaks in Sydney and in New Zealand I enjoyed Millbrook."
FAVOURITE PLAYERS?
"Tiger Woods and Justin Thomas."
HOW FAR DO YOU HIT THE DRIVER?
"I average about 200-205 metres.
This is indeed one inspirational sporting family. Dan and Liz encourage their children to enjoy as many sports as they like so it becomes their choice if they want to focus on one eventually.
The children are fortunate to live on a lifestyle block on the outskirts of Dunedin about five kilometres from St Clair Golf Club where Dan has built a putting and exercise area plus a couple of flagged areas up to 90 metres away. This allows them to practice their short game skills without having to drive some distance to a club
We will give father Dan the final word.
"For now Mum and Dad just want Kai to do his best at whatever he does. At the end of the day, the values he has learned through playing golf and his other sports – perseverance, resilience, respect and sportsmanship- will serve him well later in life both on and off the golf course and footy field."
It is hard to disagree with those sentiments.
---
For more stories like this pick up the latest NZ Golf Magazine at your local golf club or you can read online here.
Advertisement
Sign up to our NZ Golf Updates