Parker Aluesi is standing on the first tee at the Millbrook Resort and he can feel his heart beating in his chest.
It's the final round of the New Zealand Open in Queenstown and the Dunedin teenager is waiting to tee off in the inaugural NZ All Abilities Championship.
Aluesi knows everything about today is a step up. He's playing alongside the leading professionals in the NZ Open, Millbrook is in championship condition, the crowds are several thousand deep and he's surrounded by SKY Sports cameras capturing his every move.
"I remember being pretty nervous standing on the first tee, that was the biggest moment of my golfing career so far," said the 18-year-old.
Aluesi soaked up the occasion. He smashed his drive down the right-hand side of the fairway and followed it with a nine-iron approach to 20 feet from the hole.
"My birdie putt just missed but that opening hole showed me that I belonged. From that point on the nerves started to settle down and I could really get into it."
Aluesi got into it alright. He stormed home in the final round with a two-over par 73 to finish as the leading Kiwi and runner-up to Jiri Janda (Czech Republic) by two strokes.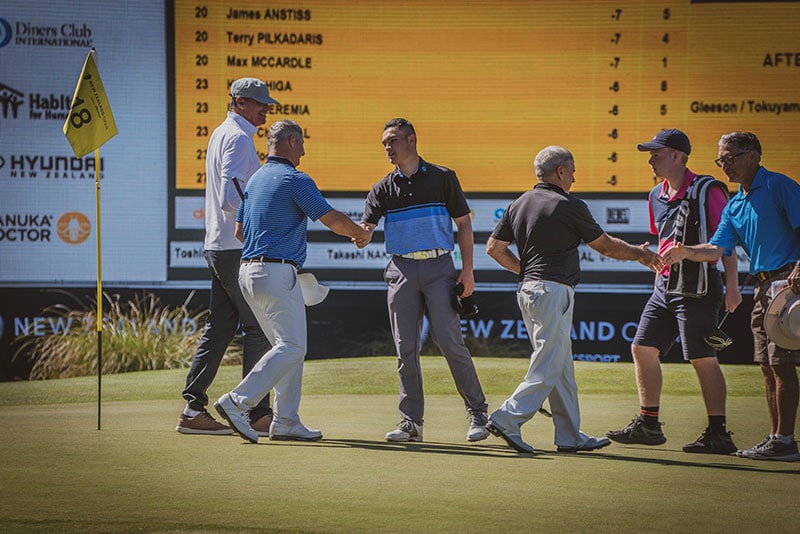 The truth is Aluesi has overcome much bigger challenges than the final round of the NZ All Abilities Championship on this fine and warm day in Central Otago.
From a distance he looks like any other golfer in the field but get a bit closer and you realise that his journey has been far from straightforward.
When he was six years old Aluesi attended a birthday party which proved a life-changing moment.
With a number of other kids, Aluesi was on a treasure hunt and fell over backwards hitting his face on a metal pole that was sticking out of the ground.
"I remember it being a very scary and terrifying moment. I can't even imagine how hard it must have been for my Mum and Dad. It was awful."
Aluesi's parents rushed him to Dunedin Hospital and on arrival he learned they had to remove his eye. He now has a glass eye.
"It all happened really quickly and it's a bit of a blur. But I remember it being a really hard time for our family."
ACC supported Aluesi in his doctor's appointments and his rehabilitation.
The six-year-old began his long road to recovery, and he was determined to get back into golf.
His Dad, Mike, had introduced Parker to the game when he was five. For a right-handed golfer not being able to see his target down the fairway or the hole on the green was tough going.
"At the start it was a real challenge and I had to trust a lot in my swing," he said.
"Putting was also a lot harder. I couldn't see where I was aiming so I would just try to take it back to square behind the ball and then come through straight.
"Over time I've been able to overcome that and now I just trust where I am aiming. It definitely impacted me a lot straight after the accident, but I've worked hard to overcome it."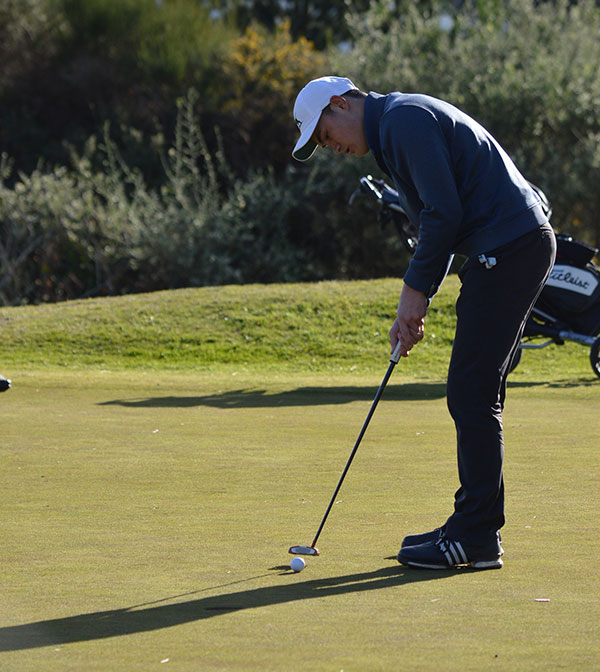 Patrick Moore, the PGA Professional at the St Clair Golf Club, has been Aluesi's coach for the past four years and has seen considerable improvement in that time.
"In my whole time working with Parker he hasn't used his missing eye as an excuse at all," said Moore.
"As he's grown, he has improved to the point now he is a solid scratch golfer and made the Otago 8-man this spring. He has done very well to overcome one eye. It has meant he's needed to be more deliberate when lining up. Most golfers with two eyes line up poorly so for Parker to get to the level he's at with one eye is remarkable."
Aluesi now plays off a 0.5 handicap and works part-time at St Clair in the pro shop and behind the bar in the clubhouse. It's where he belongs.
"I love it here," he said. "The course is always in good nick, which is pretty handy, the people are friendly and down to earth, and it's a good club to be part of. It's my second home."
Mike, who plays off a 7.9 handicap, is one of Parker's best mates and he's played a huge role in his recovery.
"Dad is my biggest supporter," he said, "Anytime I play a tournament, he's right there on the bag or supporting me and that means a lot. It's great to have him there when I play considering he was the one that got me into the game."
His Dad was right there for his best performance to-date at the NZ All Abilities which was a huge confidence boost.
"To be so far behind coming into that final round and then being able to play well and put him under pressure that showed me what I am capable of and I want to build on that performance."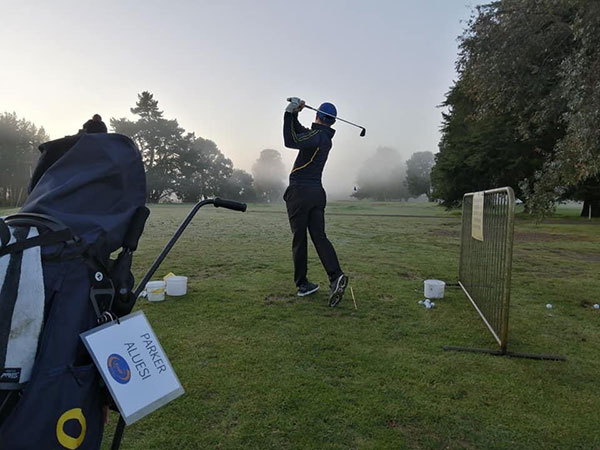 Aluesi had set his sights on going one better in the NZ All Abilities Championship in 2021 but was gutted to hear that the tournament has been cancelled due to COVID-19.
Moore said it's hard to put a ceiling on Aluesi's potential.
"In the next two years we have talked about him playing in as many national events as possible and pushing a claim to make the five-man Otago side that plays the national interprovincial. It's all about steady progress over a long period of time."
"I'd love to turn professional," Aluesi said. "That's the dream. It would be amazing playing on tour. I got a wee bit of a feel for what it's like and I'd love to do more of it. I know I have a long way to go."
That is all ahead of him. At the end of his final round at Millbrook, Aluesi has a moment to
reflect. He thinks back to what he has overcome and he's proud.
"I don't want my loss of sight to be an excuse. I just want to get on with life and keep doing the best that I can," he said.
"I pride myself on having a positive attitude and never giving up. I know what I am capable of to my game plan, and I take life as it comes."
KEEPING OUR TAMARIKI SAFE WITH ACC
Last year ACC helped over 200,000 tamariki all over New Zealand recover from an injury.
Falls caused nearly half of all child hospitalisations in the period 2013-2017.
That amounted to more than 3,700 hospitalisations per year or 396 in every 100,000 children.
The age group 5-9 years old is at the greatest risk of fall-related injuries.
Around 30 children aged 5-9 years were hospitalised for a fall-related injury per week.
One-third of falls hospitalisations for this age group occurred at school, followed by 24%
at home and 6% at a sporting or athletic ground.
ACC partners with Safekids Aotearoa who deliver the Home Safety programme. This helps reduce the number and severity of injuries to children at home.
For more information on keeping our kids safe visit: www.acc.co.nz
Advertisement
Sign up to our NZ Golf Updates