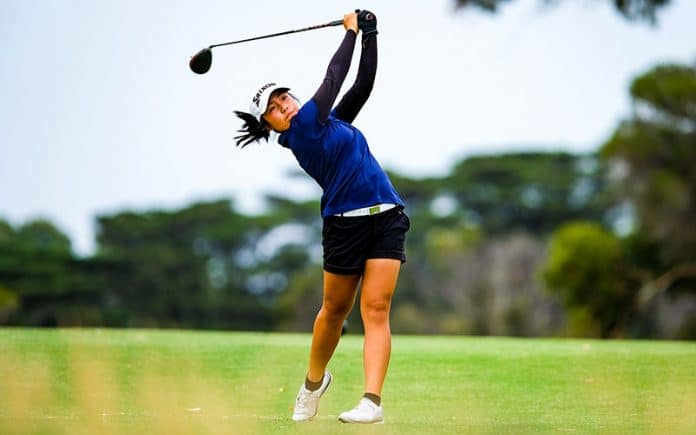 New Zealand's Carmen Lim has tied for seventh place at the Australian Master of the Amateurs Championship in Melbourne, the best result of any Kiwi woman or man across the four days.
Lim finished with a 4-under 292 after rounds of 72, 74, 71 and 75, 6 shots from the leader and winner of the 2020 event Alyaa Abdulghany from Malaysia on 2-under.
Abdulghany had to birdie the 18th to force a 3-way playoff with Ho Yu An from Taipei and Australian Cassie Porter who actually bogeyed the same final hole that allowed the others in.
On the first playoff hole (1st) Abdulghany knocked it onto the green from the tee and the others both landed in the front bunker. The Malaysian two-putted for a three while the others couldn't get up and down in two so the title went to Abdulghany.
On the final day, some trying conditions saw most of the field struggle but Lim started her round with a birdie before bogies at 5,6, 12 and 13 halted her movement up the leaderboard.
A birdie on 17 was negated by a bogey on 18 which left her sitting in 7th place.
Fellow Kiwis also had tough final rounds, Amelia Garvey also scored a 75 but moved up four places to finish tied for 20th on 11-over, Finon Xu had a 77 to finish on 14-over, while Anna An and Darae Chung missed the final day cut.
View this post on Instagram
In the Men's American Sahith Theegala had a 3-over final day to finish on 10-under, still enough to hold on and win the tournament by 4 shots ahead of South Korea's Jang Hyun Lee on 6-under and Australia's Jack Thompson on 5-under.
Best of the Kiwi players Jimmy Zheng who had a solid four days ending with a 295 7-over. Jared Edwards finished on 8-over after a 7-over today and a 6-over yesterday lost all the momentum from the first two days.
James Hydes finished on 10-over, Kazuma Kobori on 11-over while Jordan Woodall and Tyler Wood missed the final day cut.
For Theegala it was his first time down in Australia to play this event and he couldn't have enjoyed it more.
"Thanks to everyone for putting on this event here it was world-class.," Theegala said at the Presentations.
"Especially the firm and windy conditions out there it was awesome.
"The experience of coming down here from the states on my own it was something that I'd heard from past guys that have said I should come down to this event.
"I had a little bit of scepticism until I got here and realised its such a world-class event and I'm super happy that I was able to play thank you guys all again, it was a really special week for me."
Theegala also announced that once his final College year is finished in June he will be turning Professional, one to watch.
Advertisement
Sign up to our NZ Golf Updates