A local Rotorua golf club would be destroyed and replaced by a mixture of soccer fields and urban housing if a local government plan gets approved, possibly setting a precedent for the fate of golf clubs across New Zealand.
Rotorua's Springfield Golf Club has existed on leased council land for almost 74 years but a Rotorua Lakes Council vision called the Westbrook Sport and Recreation Precinct, which appeared for the first time in March 2020, plans for the redevelopment of the stadium, a venue for local, national and international events and potential land for a residential housing development.
The proposal would incorporate/demolish the Springfield Golf Course, Rotorua International Stadium, Westbrook Reserve, Ray Boord Park and Smallbone Park.
At the time, the council said Rotorua's sports grounds and facilities were insufficient and incapable of coping with future demand. The idea was put on ice due to the Covid-19 pandemic but reappeared in March 2021 as part of the documentation for the council's 2021-2031 Long-term Plan, as part of the 10-year capital expenditure programme, with just over $61 million earmarked for the project.
Springfield is where Danny Lee, now based in the US and playing on the PGA Tour, learnt the game which took him to the number one amateur spot in the world.
PUBLIC MEETING
At a rowdy community meeting last week, more than 150 members of the community including local councillors and the mayor, discussed the proposal.
At the meeting, Facebook group Saving Springfield Golf Course founder Dee Dee Kusabs said she would invoke the words of the "great young climate activist" Greta Thunberg.
"How dare you. How dare you hatch such a despicable proposal. How dare you even consider the destruction of this taonga. How dare you conspire to obliterate any of these important oxygen-giving 70-year-old heritage trees.
"How dare you jeopardise the physical, mental, financial and spiritual wellbeing of the people of Rotorua.
"To our mayor and councillors, I would say be honourable, be worthy, be truthful, be trustworthy, be kind, be honest and mostly beware. We have woken up. This proposal does not pass the sniff test."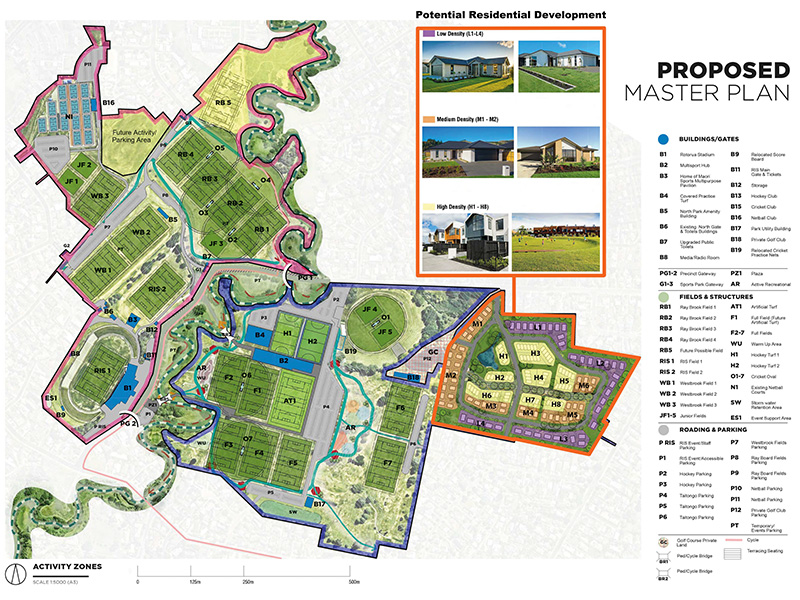 COUNCIL SAY ITS JUST A PROPOSAL
Local democracy reporter Felix Desmarais wrote that the Rotorua Lakes Council sports development manager Steve Watene told the gathering the proposal was not just about sport but about "creating a recreation precinct".
"This is about something that has been proposed. There hasn't been a decision made on this yet. It's important we have some of these conversations now."
Desmaris wrote that it was the first of many times Watene reminded the crowd the proposal was only a proposal, later in the evening stating: "remember, what we're talking about is a proposal, a proposal only, it hasn't been decided, it's not predetermined, we will be ensuring we go to the community and consult with the community before we move forward."
POWERFUL RUGBY SUPPORT PLAN
Mike Rogers, CEO of Bay of Plenty Rugby Union said in a statement that Bay of Plenty Rugby had been engaged in the consultation from the outset of this project and understand there is still a significant amount of work to be undertaken before any plans are finalised.
"Bay of Plenty Rugby believe the views of our sport are being heard through this consultation process and this is appreciated," Rogers said.
"There are a number of fields our clubs and schools currently use that are not fit for purpose and in poor condition and this limits the usage and therefore the ability of our sport to function throughout the year.
"We believe the council are being forward-thinking and proactive in presenting an option and having these discussions with stakeholders."
PETITION DELIVERY
The outcry to the possibility that the golf club will be destroyed has led to a petition which has already received more than 5100 signatures and will be presented to the Rotorua Lakes Council at a public meeting on Thursday April 29 at 9.30am.
In a post on the Save Springfield Golf Club Facebook page, Vice President Gary Herbert said they have maintained this piece of land for the past 73.5 years at no cost to the public whatsoever.
"We maintain this piece of land not only for the members of the golf club and other affiliated members that choose to play here, but also all of the public that choose to walk, run, walk their dogs, catch up with neighbours, throw a frisbee, play back yard cricket, kick a ball, access for fishing, we provide it all," Herbert wrote.
"At no cost to the Rotorua community. There is no place in Springfield for a sterile under used sport precinct that will destroy all the sports clubs that join this fiasco. Not only will it steal the indentity of these clubs but they will get lost in this unsavoury environment.
"Passion, rivalry will also be lost. I just don't understand why you would want to lose a park that is used 365 days a year for something that will be used way less than half of that."
Golf Clubs across the nation will be looking on with interest to see how Springfield goes in fending off the challenge from their local council. Maybe your club will be next, time will tell.
Advertisement
Sign up to our NZ Golf Updates