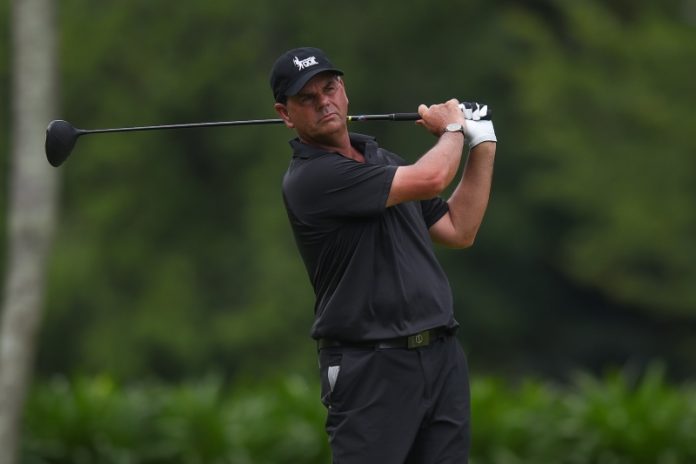 The hot and humid Malaysian conditions made it tough, but for the New Zealand Seniors team that won the 2019 Asia-Pacific Championships, this one was personal, on many levels.
Only the year before in Miyazaki, Japan, the Kiwis lost to Japan by just one shot.
That event was only Stuart Duff's second international seniors competition after narrowly winning his first event against Australia earlier in the year.
Duff finished in sixth spot in the Japan event that was won by New Zealand's Brent Paterson for the second consecutive year, and they still couldn't bring home the team trophy.
"I know everyone has their regrets, but I have spent the last year rueing two double bogeys in the last four holes in my final round which was a counting score," Duff remembered.
"The tournament in Kuala Lumpur was my third for NZ and great to be part of a team win."
The Sungai Long Golf and Country Club in Kuala Lumpur played host to the Asia-Pacific Seniors event which involved more than 90 players from 13 countries across the region including two teams from host country Malaysia.
The Kiwi team of Stuart Duff (Hastings), Peter Brinsdon (Pegasus), Brent Paterson (Royal Auckland Grange), Tony Chettleburgh (Feilding), Craig Newman (Nelson), and John Batley (Titirangi) were always in for a fight this year but heading into the final day New Zealand were three shots behind and needing a strong showing.
"We all just got out there with the intention of playing as well as we could," Duff explained.
"There were no special tactics; just the intent to grind hard on every shot, and see what happened. Nobody knew how others were scoring so all we could do was to play as well as we each could. Thankfully, that was good enough.
"It was special for the group of players we had to win as a team. More so, that John Batley was able to experience a team win after coming second in his previous four attempts.
"Also good for Brent to enjoy a team win to go alongside his individual titles in 2017 and 2018.
"Pete Brinsdon and I both were new boys in the 2018 team that lost by a shot, while it was good for the newcomers, Tony Chettleburgh and Craig Newman to contribute to a team win."
For Stuart Duff, 57, Captain of the winning team, seniors victories would suggest he is a late bloomer to the game, but in fact, it was always his first love until cricket got in the way.
"I started playing golf very young. My parents shifted to Vanuatu when I was eight and golf was the only organised sport I played over there. From there it was back to NZ to boarding school at age 11.
"From there, cricket took over and for the next twenty years, I played golf sporadically. In 1992 I was about a nine handicap golfer.
"At that point, I started having lessons with Brian Doyle. He has been the biggest influence on my golf and I have regular visits with him to this day. Improvement happened relatively quickly and I was playing for Hawkes Bay within a couple of years."
Duff played first-class cricket from 1985 to 1996 for Central Districts and had a batting average of 30.16 with a high score of 164. He also grabbed 217 wickets as a bowler at an average of 32.49.
Duff also played for New Zealand A, although many felt he should have gone on to play for the Black Caps.
"I retired from first-class cricket in 1996 and golf has been my sporting focus since.
"I played for Hawke's Bay until 2010 and have played for them this year with the incentive of playing in the Interprovincial tournament being held at my home club, Hastings, this year.
"I have played in the NZ Seniors tournament since turning 50 and have played each year since 2013, finally winning one in 2018 and again this year."
Playing in Malasia was an interesting experience for the Kiwi team, adapting to the conditions and the different surface was a challenge.
"The heat and humidity required more hydration and awareness of looking after yourself physically.
"The course was a very good Jack Nicklaus design. As it was monsoon season with regular thunderstorms in the afternoon, it was very soft on the fairways which made good contact more difficult with short irons.
"The greens were good surfaces, but as is typical with hot climate greens, the grain was a factor when putting and most of us found putting challenging.
"The competition is really enjoyable. Everybody wants to play well, but are supportive of each other.
"Also, mixing with a wide range of nationalities and cultures with golf in common is a great experience," Duff concluded.
New Zealand had team rounds of 294, 290, and 288 in the hot and sticky conditions. The best four of six individual scores counted toward the team total every day.
Stuart Duff wrapped up the individual trophy for himself after rounds of 73, 71, and 72 to finish at even-par for the tournament, one shot clear of first-round leader and teammate Peter Brinsdon, who had rounds of 70, 77, and 70 to help get the Kiwis over the line.
---
Read this and other NZ golf stories by subscribing to the NZ Golf Magazine here
Advertisement
Sign up to our NZ Golf Updates