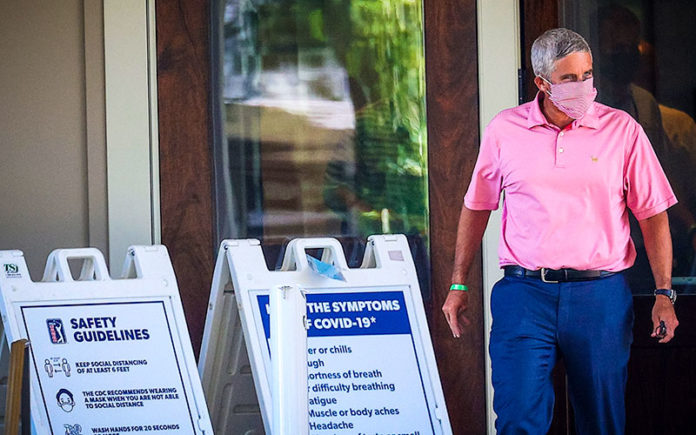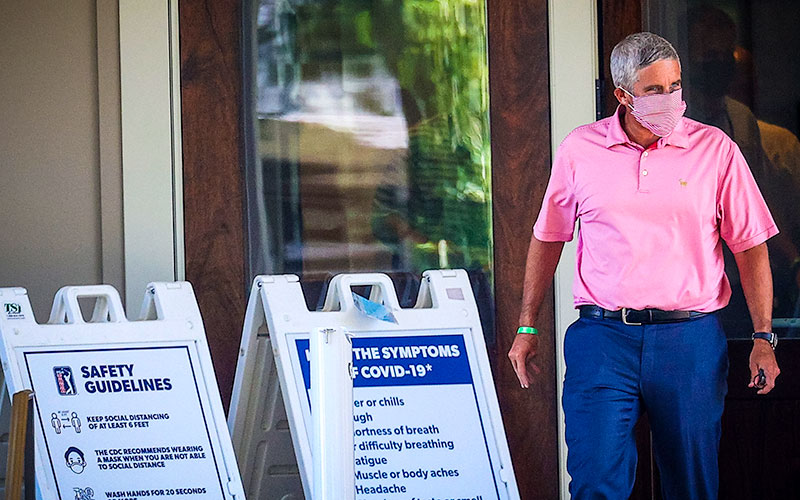 As news filters through about Australian Adam Scott testing positive today for Covid-19 forcing him out of the ZOZO Championship this weekend, Kiwi caddy Sam Pinfold has experienced the last 18 weeks on and off the PGA Tour working as a professional caddie for Cam Smith amidst all of the Covid-19 precautions.
Talking to Pinfold, on his recent return from the USA, he was just two days into his 14-day isolation period at an Auckland airport quarantine hotel. We discussed his recent life on tour and how it differed from normal PGA Tour life.
Pinfold is an experienced 'veteran' when it comes to Covid-19 tests. Since early June, he has experienced 19 negative test from a combination of saliva and nasal swabbing; taken either on course (with results received within 2 hours) or at home and sent in for testing via an overnight courier.
Upon arrival at the course each week, all players and caddies would be nasal-swabbed. Players and caddies would then receive a wrist band or lanyard showing that they were "Covid-free" and permitted to be on the tournament site.
Even though the golf event and course were considered a "closed site", there could still be up to 1,500 – 2,000 people on-site; this would include almost 144 players and their caddies, course staff including on-course and clubhouse, television production and media people, along with tournament officials.
For the players and caddies that were travelling to the tournaments, there was no compulsory hotel or flights. But all players and caddies took Covid-19 precautions extremely seriously. Overall, six or seven players and five caddies tested positive.
Everyone involved in the tour knew they were lucky to be out playing and competing with a full tournament schedule and playing for full prize money. Unlike the European Tour, where all the players stay at the same hotel and eat at the same restaurants, life on the USPGA Tour allowed players to stay at various hotels but they had more food delivery and in-room dining rather than heading out to their normal favourite restaurants.
At the third tournament, returning after the Covid-break, the Tour Commissioner called a special meeting at the Travelers Championship in Cromwell, Connecticut. This was after player Cameron Champ and the caddies for Brooks Koepka and Graeme McDowell tested Covid-19 positive on top of Nick Watney testing positive the previous week.
For Pinfold and many others on tour, they believed that this meeting was going to be the announcement that the PGA Tour was going to be shut down again. Instead, it was about celebrating the success of the tour getting back in action but reminding players and caddies of their responsibility and their duty of care to stay safe and healthy.
An emphasis was placed on social distancing and safety protocols as it was really the first major professional sport to get underway in North America.
Playing the tournaments was very different from everyone's usual experiences. Playing with no crowds definitely changed the vibe of the event. The energy of tournament week and the overall atmosphere of the tour was definitely lacking.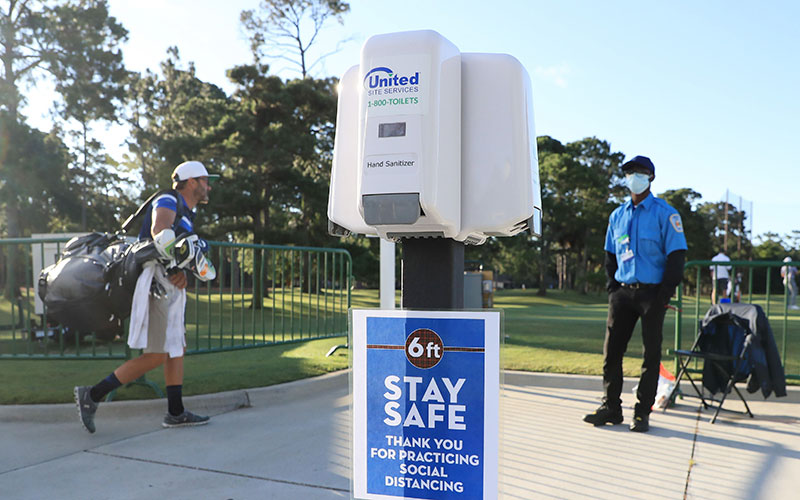 Practice rounds changed with no crowds and there were no Wednesday Pro-Ams. Players became more focused and generally played 9-holes on Tuesday and 9-holes on Wednesday.
Pinfold found that caddies had to be much more careful going about their duties. Voices carried across the course and normal noise such as the clanking of the clubs as we walked down the fairway could be heard on surrounding greens.
At a "pre-Covid" PGA Tour golf course, the only hole you generally saw was the hole you were playing. Normally there would be thousands of people in the gallery walking the fairways or sitting in the grandstands. Playing the events now you could look around and see across the course and easily watch players hitting off other tees or putting on nearby greens.
"Without the crowds, it was very similar whether you were playing at 11am on a Sunday morning and tied 47th or challenging for a 'Top Five' later in the day," Pinfold explained.
"With no crowd roars celebrating the good shots, it was often challenging to get the competitive vibe going or to build some momentum.
"The events just didn't seem to have the same energy despite how great it was to be back playing."
Pinfold returned to New Zealand after finishing his stint on the PGA Tour at the US Open at Winged Foot. It was very different from the other major tournaments he had caddied at.
"The temperature changes from the early mornings to the heat of the day were quite a contrast with the autumn conditions," Pinfold said.
"The golf course played quite differently, with soft greens resulting in lower scoring and remarkable play by Bryson DeChambeau."
Pinfold's next event will be the Masters at Augusta, Georgia in November. The golf course and environment is going to be extremely different from the normal early April spring date when all the azaleas are in bloom, to the cooler and usually wetter conditions in November.
Pinfold did find travelling through the USA during these Covid times has been quite an eerie experience. He is used to travelling through airports like Atlanta on a weekly basis and normally expects them to be crowded at 7am or 11pm in the evening, however, in the "post-Covid" world, he has seen airports that are ghostly quiet.
On his way through Los Angeles to catch his Air New Zealand flight to Auckland, he noted that "only 10% of the stores and restaurants were open; and going through security which normally can take over 40 minutes, I was the only person going through."
But now it is time for Pinfold to kick back and watch his favourite sports and wait out his next two weeks in hotel quarantine before enjoying life in New Zealand for four weeks. Then it will be time for him to head back to the US and to resume his 'not so normal' but fulfilling life on the PGA Tour.
Advertisement
Sign up to our NZ Golf Updates