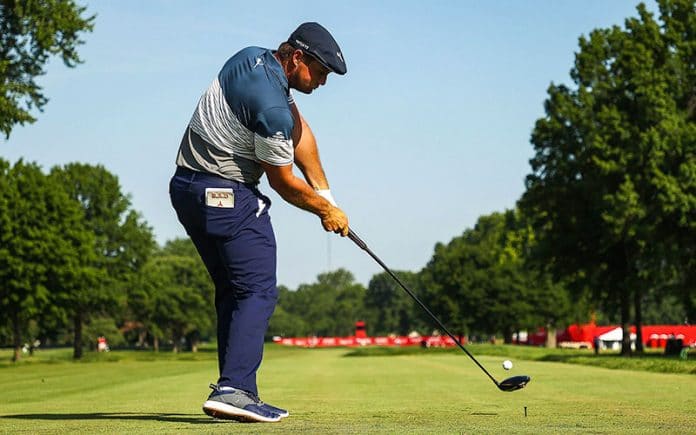 After using the time off from the PGA Tour due to COVID-19 to change his whole body and frame of mind, Bryson DeChambeau fired a 7-under 65 to finish with 23-under and defeated Matthew Wolff (USA) (71) by three at the Rocket Mortgage Classic at the Detroit Golf Club.
It was the 26-year-old American's sixth career win and seventh straight top-10 finish. He led the field in Strokes Gained: Off the Tee, and not only led in driving distance, too, but his 350.6-yard average for two measured holes was the highest number by a winner in the ShotLink era.
But it was an emotional DeChambeau who spoke to the media following his victory, the fourth week in a row the tournament was played in front of no fans due to the ongoing coronavirus pandemic.
"It's a little emotional for me," DeChambeau said.
"Because I did do something a little different, I changed my body, I changed my mindset in the game, and was able to accomplish a win while playing a completely different style of golf."
Wolff birdied 12, 13 and 15 to cut the lead to one, but DeChambeau birdied his last three holes to leave no doubt.
"I've shown people that there's another way to do it," he said.
"I hope it's an inspiration to a lot of people that if they set their mind to it, you can accomplish it.
"It just takes a lot of hard work, a lot of figuring out things that you may not know and understand yet.
"But if you keep … working on it, figuring stuff out, eventually, you'll get a little bit better each and every day, and hopefully, that leads to something great in the end."
A large group of Black Lives Matters demonstrators could be heard marching outside the club gates as the golfers played during the round.
But the chanting didn't seem to affect DeChambeau on his way to victory.
"I love that everybody is voicing their opinion," DeChambeau said. "And they deserve to do so."
Asked whether his new physique that is based around protein shakes and an excessive weights program will help him win majors in the future this newfound philosophical DeChambeau put it very simply.
"I'll give it to you this way," DeChambeau explained.
"I think the most important thing is that I've shown people that there's another way to do it and there's going to be other people trying to come up and do it that way.
"Whether it translates on the PGA Tour, I don't think so. I think guys are going to play their game, they're going to keep doing what they're doing, trying to utilize their biggest tools in their toolbag to play their best golf.
"I did not know if I was going to win today, I had no idea, and I would have been okay either way. I would have still been going on and grinding and working as hard as I possibly can.
"But it is definitely validating and it's exciting to be able to win having a whole different body.
"Tomorrow I'm going to Denver to work with Greg Roskopf again. I'm going to be also working with NeuroPeak doing some brain training stuff to see how much stronger I can get before I come back to Memorial.
So I'm going, I'm full sailing going as hard as I can to get as strong and as big as I can.
Kevin Kisner was third on 66 while Danny Willett (66), Adam Hadwin (67), Tyrrell Hatton (67) and Ryan Armour (72) tied for fourth, seven back.
New Zealand's only competitor this week was Tim Wilkinson who missed the cut on even par.
Advertisement
Sign up to our NZ Golf Updates