Terry Kelso is a name that frequently pops up when you talk of those that have actively contributed to the game of golf in New Zealand over the last 60-years! He never won the New Zealand Open or any other major trophy but behind the scenes, when it comes to contributing to New Zealand golf, he has done nearly everything with great efficiency and without fanfare.
In November, the NZPGA held a celebration of members and at this event, Terry, who is already a Life Member of the NZPGA, was awarded his 60-year Recognition of Service certificate. Terry spoke about his time in the PGA and the personalities he had come across. As I sat in the audience listening, I knew his story needed to be shared!
Terry Kelso is a man of many talents. He is, without doubt, the best golf club repair person in the country and if you gave him a block of persimmon or laminated wood, he could probably craft you a driver to suit your swing. He has played golf with the likes of Tom Watson, Tom Weiskopf and Al Gieberger and met nearly every top golfer between the years of 1950 and 2000 and has given tournament rulings to Lanny Watkins and Jason Day. He was elected as a Councillor to the World PGA Federation, made a life member of the NZPGA (having been elected to the board multiple times), developed the NZPGA Education Programme so it was recognised globally as one of the best and he was also the second person given life membership to the Auckland/North Harbour Rules Association.
As Terry tells it, he grew up in Newmarket and then moved to Parnell in the mid-'50s. In the new neighbourhood, he soon had many new mates. When he was 14, one of the boys asked if he wanted to play golf as his father was a member at Parnell (now Remuera GC), and there were some free junior clinics being held by the then Pro, John Kelly. Terry enjoyed the challenge and soon became passionate about the game. The club back then was 36-holes. The 18-hole Member's course which went around the outside and the inside 18-hole Public course, which was par 66 on the mostly flat land. Terry started off with some hickory clubs and a miss-match of other clubs that people gave him; all the balls were ones that he found. Mr Kelly and his assistants looked after Terry and some of the other juniors as they played as much golf as they could on the public course. He soon got a job cleaning golf clubs on the weekend and this also allowed him to play the course for free.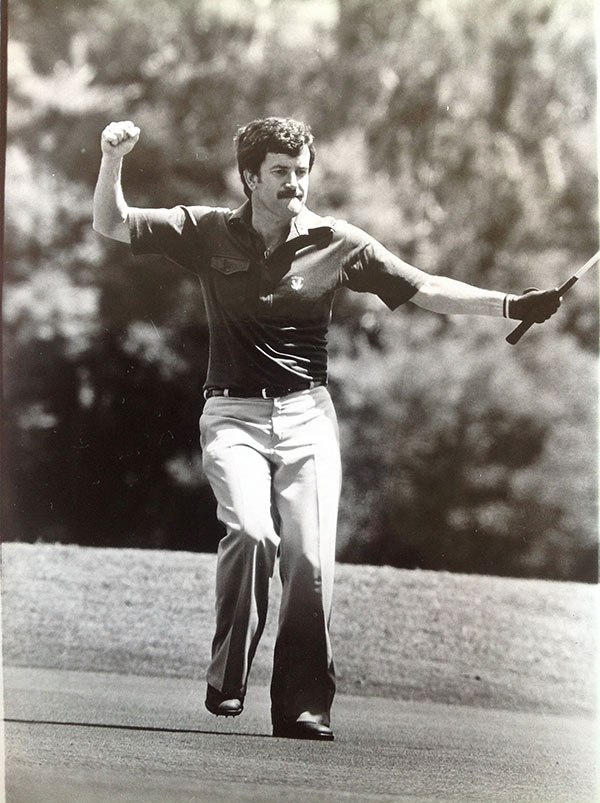 When Terry finished school in 1959, he was offered the opportunity to undertake a PGA apprenticeship by Mr Kelly, and so his career as a golf professional began. A highlight in that first year was playing in his first Pro-Am and winning five pounds which was like a week's wage at the time. At the end of the year, Ernie Southerden, the legendary golf professional from the Napier Golf Club, came to visit Mr Kelly. As Terry remembers: "We got chatting and he asked me to show him what clubs I had been repairing, then to give him a quick lesson and we then went and out and played a few holes. He came back into the Golf Shop and saw Mr Kelly and said that that was my assessment to graduate to full membership of the NZPGA".
Terry then got a job at Sportsply. At that time in New Zealand, there were only three golf club manufacturers: Sportsply, Slazenger and Spalding.
"The old Scotsmen that worked there taught me a lot about making golf clubs. I learned to do it all; starting with a raw block of laminated maple, putting it into the lathe and shaping it, routing out the insert and sole plate, pouring the insert, cutting the grooves in the face, then sanding it down, before staining and spraying it with lacquer, followed by binding the neck. That was the traditional method". Terry is certainly one of the few people in New Zealand who can boast of having those skills.
Terry then moved across to work with Aubrey Jolly at Titirangi for a few months, before getting a job back at Remuera with the legendary Australian Pro, Jack Harvey, who had finished 3rd at the Australian Open prior to World War 2. Terry spent three years working with Jack and a highlight of that time was teaching golf on live television. One of the members at Remuera was a gentleman by the name of Murray King, who hosted a TV sports show, called Sportsworld, on a Monday night.
"It was the first live coaching on NZ television (1965) and we did 10 x 5-minute lessons. There we were on a Monday night in a studio, doing live television with the challenge of a short lesson featuring hitting golf balls into a net. It was very daunting but an amazing experience". For Terry, it lifted his teaching profile and brought in extra clientele.
Terry's life took a bit of detour when his birthdate was drawn out of the ballot for National military service. Golf played its part again when one of his senior officers was a top Wellington golfer and he ended up playing a bit of golf with him and some of the other senior officers at the old Ruapehu course. The other bonus was after all the basic training he came home really fit. Those military contacts would also be a benefit later when he went for his first Head Pro job.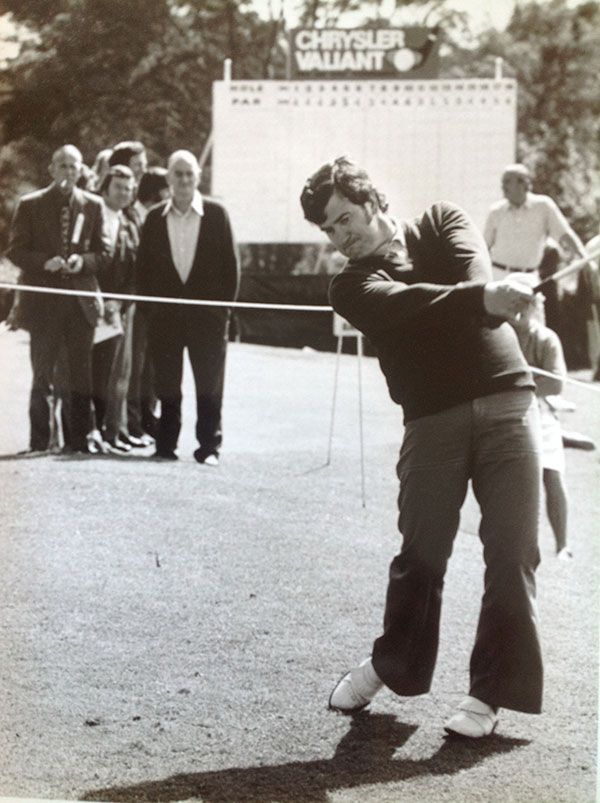 Back in the early '60s, Beggs Wisemans was a major department store in many of our big cities. At the Auckland store, the golf department took over a whole floor; they had three golf professionals on staff where they would give lessons into hitting nets. Terry was recruited to work at the Tauranga department store and where he also had the opportunity to teach around the region from Waihi to Tokoroa through to Rotorua. After one year there, he headed to Christchurch for an interview to be the Golf Professional at Templeton Golf Club. After meeting with the Secretary/Manager who was an ex-Army officer who knew some of his golf friends from Waiouru, he was quickly interviewed and offered the job. So, in October 1969, he and his then wife and family moved to Christchurch.
Terry enjoyed his time in Christchurch and grew the game in the area especially by establishing Pro-Am tournaments at golf courses like Greymouth, Blenheim (Rarangi), Picton, Ashburton and Timaru. He even managed to win his first Pro-Am at the Greendale Golf Club in Canterbury. The timing of some of these Pro-Am's fitted in nicely when top international players were in Christchurch playing at the Garden City Classic at Russley each year. He was able to encourage some of them to play in the Pro-Ams. He was fortunate to get to meet and even tee-it-up with some of the top players such as USPGA Tour Players Tom Watson, Jerry Heard, Tom Weiskopf and Johnny Miller.
Another of Terry's highlights while at Templeton was a special competition played in late 1969. Terry, and then Russley Golf Professional, John Brooker, took on legendary All Blacks Ian Kirkpatrick and Fergie McCormick, where they raised funds for the recently established Heart Foundation. The match was played from the 16th tee at Russley, to the 13th green at Templeton, about 10 or 12 kilometres! Terry and John hit golf balls with 9 Irons, while Ian and Fergie kicked a rugby ball. The official referee was Templeton Vice-Captain, Len Kirk, who was also a national rugby referee. As Terry remembers it "John and I were in front until we came to a ploughed paddock which slowed us down. We lost about four balls and they lost one football. The match ended in a tie"!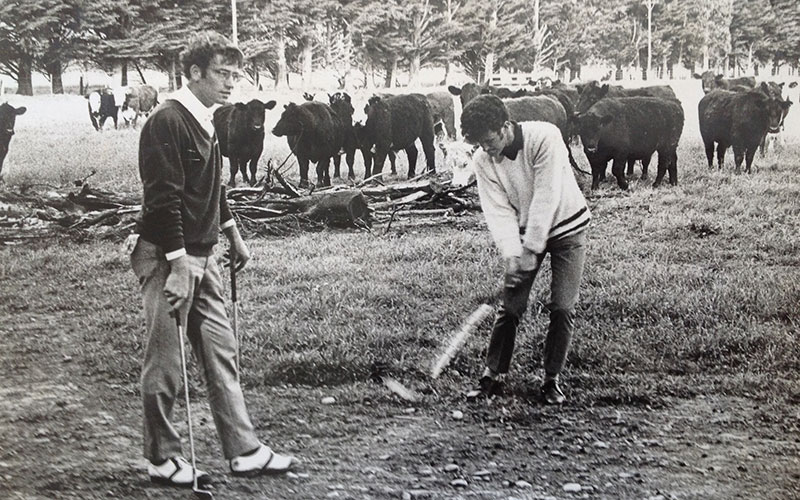 In 1976, Terry and his family returned to Auckland where he took up the Head Pro role at Titirangi Golf Club. A highlight of his time at the club was hosting the Air New Zealand Shell Open golf tournament ten times. Some of the famous names that walked the fairways at the tournament were Al Geiberger, Arnold Palmer, Mark O'Meara (as an amateur), Bill Rogers (when he was the reigning British Open and USPGA Champion), Bruce Leitzke, Hale Irwin, Bobby Clampett, DA Weibring, Hale Irwin and Curtis Strange who made a hole-in-one on the club's 7th hole (tournament 14th hole) where he won $100,000. Unfortunately, at the time the television crew were on a commercial break, so they missed it! Curtis then donated $10,000 to the Junior Golf Foundation.
It was while at Templeton, that Terry got more involved in the NZPGA and was elected to the board for the first time in 1973 for a four-year stint. Once established at Titirangi, Terry was re-elected to the board in 1980 for an eight-year period and was elected Chairman/President from 1984 to 1988. He was then re-elected to the board again for two shorter two-year terms from 1995 to 1997 and again from 2018 to 2020.
More importantly for Terry, during this time, he took an active role in how the PGA was training its apprentices. This led Terry to investigate what was happening internationally. In 1978, he contacted the PGA of America's Education Manager, Dr. Gary Wiren, to be a keynote speaker at the inaugural NZPGA Educational Seminar. In 1979, Terry was then invited to the National Golf Foundation Seminar for Teachers and Coaches in Alabama, where he presented before heading on to the PGA Headquarters to learn about educating PGA members. This led to the first NZPGA Trainee School, where all the apprentices from around the country came together for a one-week block course educating covering teaching golf, club repair, rules, understanding finances and business operations relating to golf shops. Practical testing was also introduced which lifted the education standards that were then benchmarked with what was happening with the other PGA's around the world.
Terry was conscious that the education of the trainees should be focused on where the role of PGA Golf professional and the golf industry was heading. This included introducing business school by correspondence. He is extremely proud to see how the NZPGA Education programme has developed over the last 40-years where we now have a world-class education programme that is recognised by the PGA's around the world.
In 1981, Terry was elected as a Councillor to the newly formed World PGA Federation and attended the 1982 World PGA Council meeting in Scotland the following year at Royal Troon. Terry took an opportunity to fulfil a life-long ambition and entered the pre-qualifying round for the British Open where he nearly qualified.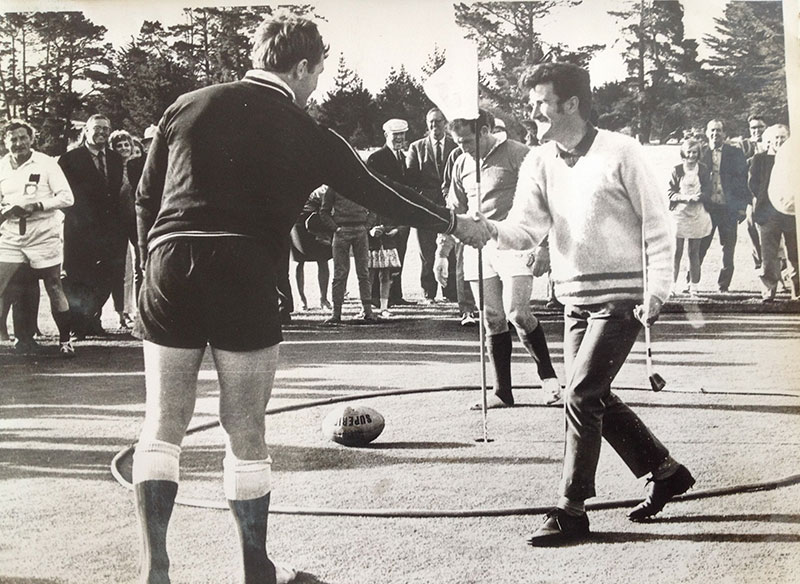 In 1986, Terry was part of a group of golf professionals that formed a buying group. In 1988, they took on the distribution rights for Prosimmon Golf in New Zealand and introduced the computer-fitting process called Matchplay. Terry took on the role of assembling the golf clubs to match the customers' requirements. This was a part of the golf industry that Terry really enjoyed after the skills he had learned from the old Scotsmen at Sportsply.
Prosimmon Golf in New Zealand grew and soon they had over 20 accounts that were selling nearly 20% of all the golf clubs in the country. This growth also led Terry to commit to the company fulltime and depart from his role as Head Professional at Titirangi.
Terry was soon assembling golf clubs and repairing golf clubs for many clients around the country. With Prosimmon International closing its doors in 1999, Terry's skills were in demand assembling golf clubs for other NZ golf companies including Titleist, Tommy Armour, Ping and Mizuno to name a few. From 2004 through to 2015, Terry provided services for Golf Warehouse out of their Newton Road store before setting up his own golf club assembly and repair facility from his home in Titirangi.
One of Terry's successes while on the NZPGA Board was being part of establishing the NZ Golf Foundation in the late 1980s. Terry met with Grant Clements, CEO of NZ Golf at the time, and talked about taking golf into schools. The goal that he and the PGA Board had was that they wanted every intermediate student to have the ability to give golf a go. PGA Instructors would be paid and have gear that was school-friendly; this would lead to the students starting to play the game at their local golf courses. The key was to fund it! Terry and NZPGA Professional Murray Macklin looked at the PGA of America model, where golf manufacturers donated a $1 from every golf club sold to fund the Golf Foundation. This guaranteed a starting fund of $100,000 with the agreement from the local golf companies. This model was then used by Sport NZ to establish Kiwi Sport.
Terry had always been interested in the Rules of Golf and would spend hours reviewing the rule and decision books. In playing some Pro-Am's and realising that some of the local rules were not up to par, Terry spoke again with Grant Clements who suggested he talk to John Taylor who was a NZ Golf Board member and member at Royal Auckland. So, in 1984, John and Terry established the Auckland / North Harbour Rules Association. Terry was the President from 1988 to 1991 and in 1994, was honoured with Life membership. A highlight of that time was organising the first NZ Rules seminar in1993, to which the Secretary and Chairman of the Rules from the R&A attended. From that seminar, Terry along with some of the other attendees were recognised as National Rules officials by NZ Golf. He is still a member of the Auckland / North Harbour Rules Association and attends as many meetings as possible. He has enjoyed being a Rules official at several NZ Opens and the Air NZ Shell Open, along with many events around Auckland.
He does laugh when he remembers a young Lydia Ko skipping down the fairways during tournaments as a seven-year-old and recalls stories of giving rulings to the likes of Lanny Watkins and Jason Day, along with many other top golfers.
Terry was always the man who seemed to know everything that there was to know about golf so he's been tagged with the nickname, Teletext, because his fellow professionals come to him whenever they have a question about the game or the NZPGA! I know many of the readers would have crossed paths with Terry at some point in time, possibly they've played with one of the clubs he had repaired or assembled, and they would definitely have benefitted from the skills that any golf professionals coming through the PGA education programme since 1980 provide. Thank you, Terry, for all of your hard work and input into making the game what it is today, over the last 60 years that you've been involved. You are a true legend of golf in New Zealand!
Advertisement
Sign up to our NZ Golf Updates