It's leading up to Christmas and just like any Kiwi living away from home in the Covid year, Scott McLaughlin would love to be home with his family, "don't worry I've wanted to come back just can't bloody get in, my wife she's not a New Zealand citizen she can't even go," Scott McLaughlin laments about not being able to come back into NZ for Christmas.
And that's where our chat starts… the full-time racing car driver, part-time golfer, part-time podcaster starts our chat right at the centre of what's been an incredible year and the border closures that mean McLaughlin and his American born wife Karly will stay in the United States this festive season as the NZ border rules restrict Karly from entering the country.
McLaughlin recently moved to the US after another impressive championship-winning season in Supercars in Australia, to try his hand at Indycar with Team Penske, which is where we find him for a chat, getting ready to grab dinner on a coolish evening in a small North Carolina town called Huntersville, not far from the Penske Headquarters.
McLaughlin, born and raised in Hamilton, was into karting and racing from an early age before moving to Australia where he has lived in many places including the Gold Coast, Melbourne and more recently Brisbane before the move overseas.
While his parents moved back to Cambridge in New Zealand, McLaughlin always had eyes on America and after three straight Supercars victories with DJR Team Penske and a victory at Bathurst in 2019, he got his chance to race in an IndyCar series event in Florida in October.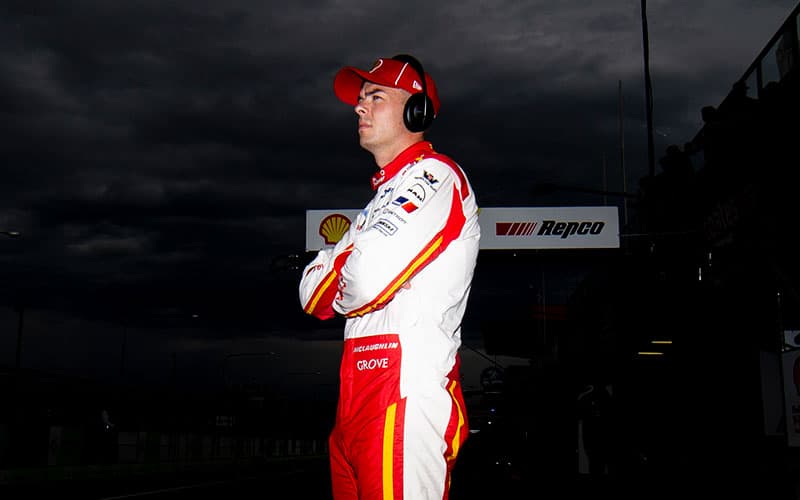 It was here NZ Golf Magazine made the inquiry to have a chat with McLaughlin assuming he'd be back down-under in mid-November after his test race, but the decision was made to take on IndyCar full time and so he stayed in the US and started getting used to life surrounded by a raging covid-19 pandemic, the US election drama and golf courses on every corner.
"There's so much golf here, obviously, its the capital of golf in the world. The US does it pretty right," McLaughlin explained excitedly.
"I love it here, I'm really enjoying it. I've always wanted to be here and experience America and what it's like and I'm really enjoying it so far, but just a bit weird at the moment, obviously, the election was one thing, and then Covid has sparked up again, it's probably not exactly how America is probably remembered or how it normally is, but hopefully things get over soon."
After meeting his wife Karly in a 'love at first sight' moment while on a boys trip in Las Vegas in 2016, the pair were married last year in Malibu California and Karly has been living in Australia with McLaughlin.
Their base now, 25 minutes out of the city of Charlotte, is the perfect spot for McLaughlin's racing duties and close enough to the family for his wife.
"It's pretty essential for the airport and for the stuff like that. My wife's from New York so we are actually driving to New York tomorrow, which will be a 10-hour drive, its either an hour flight or a ten-hour drive."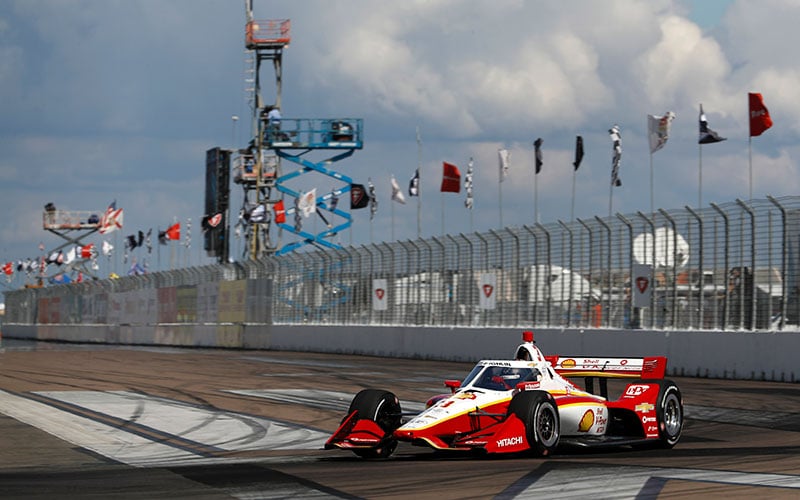 His daily duties revolve around preparing for his debut season with Team Penske IndyCar, going to the gym, testing systems and completing track simulation work, but for McLaughlin, in his downtime, he likes nothing more than to hit the golf course and he has found a few little gems nearby.
"I've played a couple around the Charlotte area now, a place called NorthStone and one called Skybrook. They are really nice courses, and for public courses, they are absolutely beautiful.
"I've had two games of golf, shut up shop below 86, so I'm pretty happy to have an 86 and an 84 so it's good for me."
NorthStone Country Club is just 5 minutes north of Huntersville while Skybrook Golf Club is a short 15-minute drive east.
"I got into golf when I left school and I went and did my apprenticeship and every Friday after lunch we'd have lunch down at the pub and knock off early and play nine holes of golf," McLaughlin explained.
"I just took to it straight away, I loved it and I ended up getting my own set of sticks and just started playing more regularly.
"I was pretty young at the time and just wanted to play. So I was watching YouTube and learning how to do all the swings and stuff and didn't really get a lesson until sort of last year was one of my first lessons.
"I was sort of self-taught for a while, which is kind of a bad thing, but to me golf is a complete let go for me. I use it is as something I do after a race and just to get away from the world, turn my phone off and just enjoy it."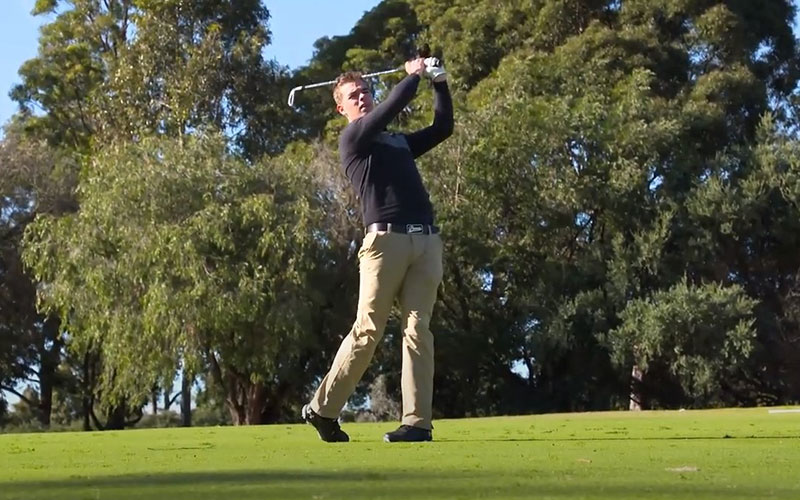 It was a small country club near the Helensvale shopping centre on the Gold Coast where Mclaughlin started playing, but it wasn't until he moved to Melbourne that the golf fire in the belly became larger.
"I moved to Melbourne and I actually become a young member at Huntingdale. I went and watched the [Australian] Masters there, and one of the sponsors I was driving for was there, Valvoline, and he basically said, "I'm a member here you should join up as a young member," because they were scratching around for young golfers and trying to lower the age and stuff like that. I think everyone's still trying to do that right?
"So it was pretty affordable for me to be involved. Obviously, the fees were quite expensive initially within the initiation period and stuff but it's something that I knew that I'd use and it was a perfect opportunity."
In his Australian bag, McLaughlin uses Callaway's Apex Hybrid irons all the way down to the Scotty Cameron putter, a Ping driver and 3-wood. But since he has stayed in the US, and didn't take his clubs with him, he has done a deal with TaylorMade.
"I'm using TaylorMade, the new sim driver and 3-wood and all the sim irons and I'm absolutely floggin[g] it. Everything I've got is TaylorMade which is awesome, I'm really enjoying it."
And his handicap looks set to improve.
"Normally, like a safe option for me, when I'm not burglarizing anyone, is probably like a 17 or an 18, but in the last couple games, I have been playing like 13. So I think if I put some effort in, and I got into it and had a couple of lessons I reckon I could get single figures but I just don't have the time to work on my game enough.
"So I call myself a golf hack because I literally go out there and hack around and enjoy it rather than worrying about it too much."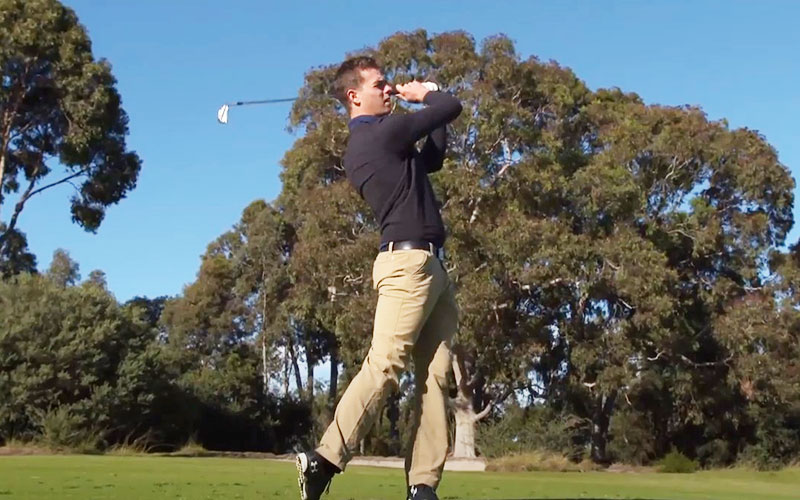 Outside of Huntingdale in Melbourne and Brisbane Golf Club, McLaughlin hasn't played too many different courses and he especially hasn't managed to play a huge amount in New Zealand either.
"I got invited to come and play in the New Zealand Open this year but Covid was sort of heating up around then, and I would've struggled to get there in time.
"But one day I'd love to try and play the New Zealand Open it would be very cool as an amateur. Mr Hart's daughter Kay Hart was President of Ford there for a little bit so I had a little connection and I've kept in touch from there so definitely, it will be on the cards one day. If I ever get back and make the times work for sure."
McLaughlin has been told he has a follow-through reminiscent of current Swedish tour player Henrik Stenson but he prefers to be compared with Rickie Fowler, just nice and chilled.
"I don't hit the ball very far, I mean when I get onto it I do, but I've got a natural fade, so I sort of lose a bit of length on that, probably I'm just like a mid-range sort of length and then I feel I've got a lot of good touch around the greens."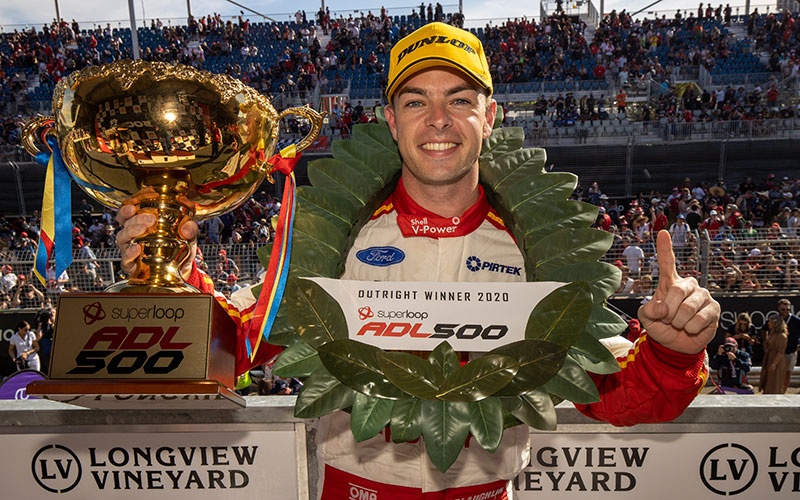 McLaughlin, like most elite sportspeople these days, is very busy on social media, and in a challenge that he has set for himself, he created a bucket list of things he wanted to do in his time in America. Things like visiting Starbucks, going to Yellowstone National Park and attending an NFL tailgate party.
But one item he has already ticked off his list was to watch his first Masters week, on tv in the US and during the day, not at 4 am in the morning as he has done for years in Australia.
"It was awesome, actually, like I wish I was in New Zealand because if I was in Australia to watch the Masters, it was terrible last year especially when they start the tee times so early. But this year I was able to watch, the final round and then jump straight into American football, which was awesome."
His love of American sports is well known, taking up supporting the Carolina Panthers in the NFL, but the Kiwi is also a huge Australian Rules fan after growing up playing the game in Melbourne.
"When we first moved across to Australia, the first thing I did was play AFL to make friends and stuff because no one really played rugby in Melbourne where we moved to initially.
"We ran the [Western]Bulldogs jumper so it was my first AFL jumper, so from that point on I just followed them."
But these days his allegiances are split as one of his best mates is gun triple premiership player for the Richmond Tigers, Jack Riewoldt who he also hosts a podcast with called Balls and Bumpers.
"I would probably have two teams in some way. So whenever the tigers and the dogs are versing each other, I go for the dogs for sure."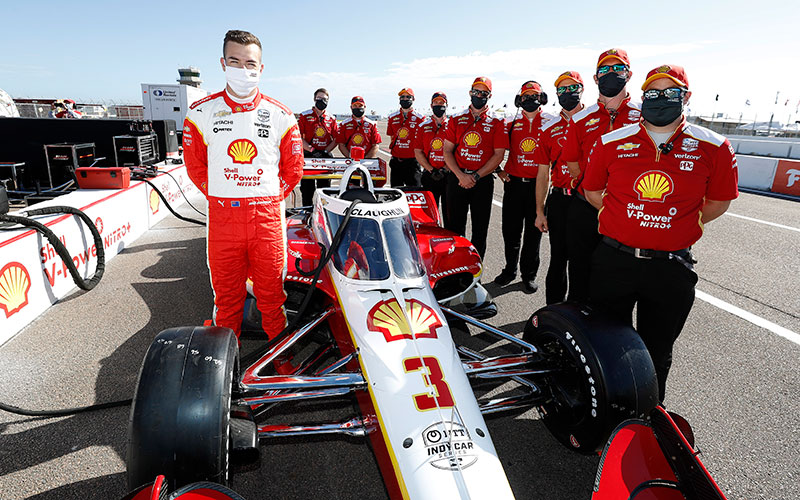 As McLaughlin heads into his first season of Indycar, there is the unknown of how he will go or how successful it will be, but he feels like he's already there.
"I've always wanted to be in America," claimed McLaughlin. "It was sort of made with Karly coming on the scene four or five years ago which gave me more of an ambition to bring her back home to America and live a life over here with her for a little bit.
"So yeah, its been an aspiration of mine for sure, but really didn't come on the cards until probably early last year.
"I'll try and succeed here first and see what happens but for me right now, like I'm in America, that's where I wanna be. If I could forge a career here and be here for the long term with Team Penske in IndyCar for me that's the ideal situation for sure.
"I'd love to dabble in some other things when the time's right, travel the world do other things. But I can still do that while I'm at IndyCar races. So, yeah, it's just a matter of juggling a few of the balls and getting it to work."
Advertisement
Sign up to our NZ Golf Updates