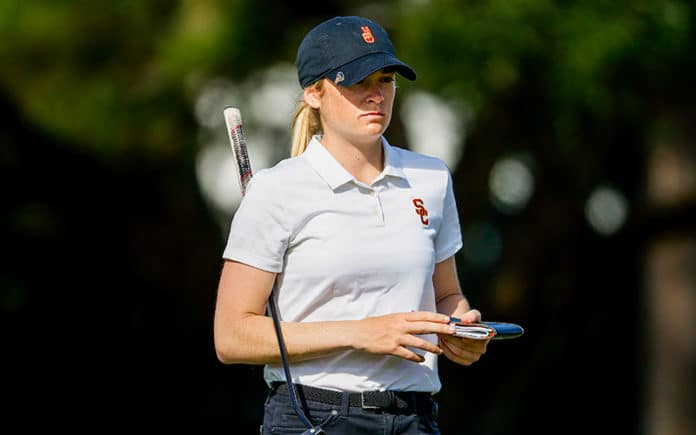 If you were playing in your first major competition, and that competition was the U.S. Women's Open then to be showing on the first page of the leaderboard after seven holes on day one would be just a dream.
Well, that was the scenario that faced Cantabrian Amelia Garvey as she walked onto the 18th hole, which was her 9th due to starting on the 10th hole at the Cypress Creek course, the dream had become a reality.
Garvey had started the tournament with three birdies and a bogey to be at 2-under for the turn and her confidence was sky-high.
"I said to my caddie when we were walking off the green, I actually thought to myself this morning, I have the game to win this thing, and then coming down 18, which was my ninth hole today, it was nice to see Garvey up on the leaderboard, so just enjoying it and enjoying being in the position that I'm in because I've worked hard and I deserve to be here," Garvey explained to the media after her round.
She finished off the round with another birdie and a couple of bogeys to end up at 1-under par, tied for 12th in her first U.S. Open.
Garvey, a senior at the University of Southern California and a member of the USC Trojans Women's Golf Programme, has been back home in New Zealand since March as the Coronavirus crippled her college and golfing year.
"I just had so much fun out there," Garvey said, "I thought after eight months I would be a bit more rusty, and nice to be 1-under, so really happy with where the game was at.
"Obviously there was a few nerves, but just tried to stay present and one shot at a time.
"I birdied the first hole, so that was a good way to start. Probably got me a little bit more nervous, to be fair. I said to my caddie, whoa, I might actually be leading the U.S. Open because I was kind of one of the first ones off.
"Nice way to start, and then settled in with a few pars, and yeah, just was really, really smart with my targets out there."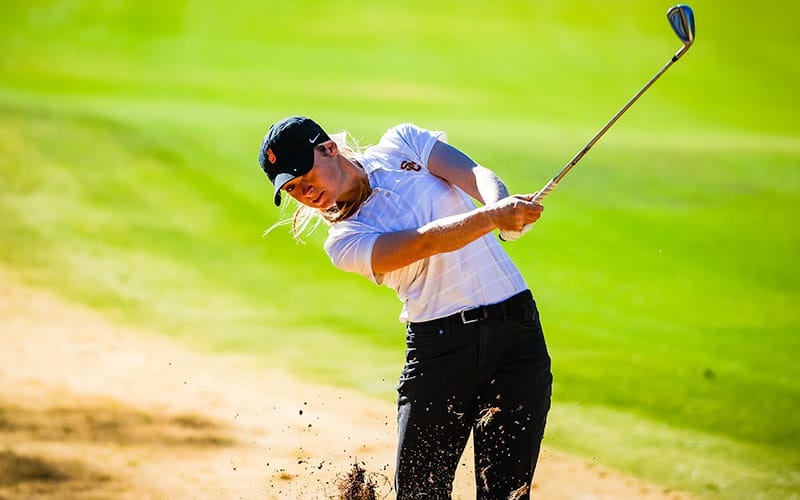 In her final practice round before the tournament Garvey played with fellow Kiwi Lydia Ko and she said it was confidence-boosting leading into the first day.
"She was just raving on about she hasn't seen me play for three years," Garvey laughed.
"The last time I sort of played with her was when I did the Lydia Ko scholarship before I went off to college, so she was just telling me how my game is there, I just need to back myself really. So that was really a good confidence booster.
"Obviously I had a few nerves playing with her, as well, so it was a nice way to set up into the first round. It was so much fun out there. It was just me and her, as well, so got to pick her brains a little bit, and just enjoy it out there with her."
On day two it was her turn to move across to the Jackrabbit course and coming off her first round in a major championship and doing so well, the second day was always going to be the test. For most of the second round on the Champions Golf Club, she held onto her overnight score of 1-under.
On the front nine Garvey had a string of pars except for a bogey on the par-3 7th and then she got back on track with a birdie on the 14th. But it was from here the walls caved in.
A bogey on the par-4 15th, a triple-bogey on the par-3 16th and a bogey on 17th effectively made the cut line impossible to make. Garvey tried to remain philosophical.
"I was grinding all day with the swing," Garvey explained. "The birdie on 14 was just a shock really.
"I've done really well all day scrambling. I was doing really well to be at 1-over at that point on 13. Yeah, just made a horrible swing on 16, and then, obviously, it's not an easy hole at all. We were waiting on the tee for a little bit as well.
"And then just one bad swing and sort of compiled from there. Wasn't playing easy coming in with this wind.
"I just don't think I had it today at all, and I knew that kind of at the start. Through nine holes was doing really well to be 1-over.
"So it was just a grind out there. When you're not swinging it well, be (wind interference) you're going to be caught out, and I eventually was really.
"I was the same mindset as yesterday. Just go out there and do the same thing. Just today it just wasn't there.
The experience has taught her one thing that this is where she wants to be.
"I know I belong here. Obviously first major experience, first proper tour competition. So I know my game is there."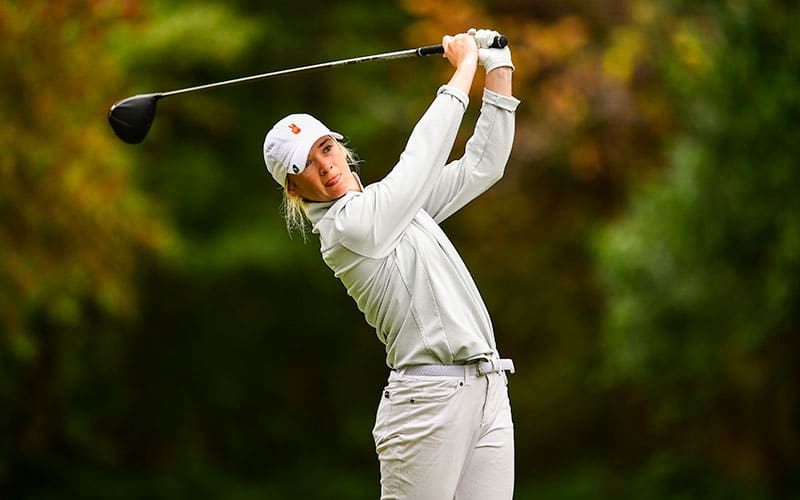 Advertisement
Sign up to our NZ Golf Updates