British favourite Tyrrell Hatton realised his boyhood dream as he won the 2020 BMW PGA Championship by four shots to secure his third European Tour title while Kiwi Ryan Fox finished tied for 20th.
Hatton produced a short game masterclass to put his name alongside the European Tour greats who have won this iconic trophy before him.
Hatton, who moves into the top ten on the Official World Golf Ranking after claiming his fifth European Tour title, finished the tournament on 19-under par after making six birdies and a single bogey in his closing 67.
Victor Perez finished alone in second on 15-under after bogeys on the 13th and 17th saw his challenge fade.
American Patrick Reed and Englishman Andy Sullivan were in a share of third another shot further back after finishing their final rounds strongly.
Fox finished with a 2-under 70 on the final day after a 1-over 73 on Saturday. His overall total of 7-under landed him tied for 20th place and allowed him to walk away with $127,000 NZD for his efforts.
After clinching the title, Hatton said he was thrilled to achieve two career ambitions at the same time.
"It's a dream come true for me really," said Hatton. "As a five-year-old walking around here I always wanted to be inside the ropes playing when I grew up.
"This is such a massive event and to get over the line and win here is such a special feeling.
"It was definitely a goal in my career to win here and I'm very thankful that I managed to get the job done today.
"Like I said yesterday I kind of expected someone to get off to a fast start and I just had to manage myself and not allow myself to get in my own way.
"It was a career goal to break inside the top ten in the World Rankings so to win here and achieve that in the same week is very special.
"I'll take confidence from this win in the remainder of the season."
When Tyrrell Hatton opened his phone on Sunday morning, he was welcomed by a message from his mother that showed the image of his five-year-old self, smiling proudly in front of Wentworth's 18th green.
It was the year that Constantino Rocca lifted the trophy in 1996, and became the first of many trips Hatton would take to the BMW PGA Championship with his father.
.@TyrrellHatton at the 1996 @BMWPGA.#BMWPGA #RolexSeries pic.twitter.com/jLGESIINWU

— The European Tour (@EuropeanTour) October 11, 2020
"My dad used to bring me up here," Hatton said.
"So it's like one of my sort of favourite things to do when I was a kid, so yeah, that's what makes this week so special, really."
The yearly tradition, which includes his earliest memory of Vijay Singh nearly hitting him by the 18th, also fuelled the beginnings of one particular career goal – to one day become the BMW PGA Champion.
Speaking in 2017, Hatton admitted that of every event on the European Tour calendar, this tournament was the one he most wanted to win.
"If I could choose any event to win, it would be probably this one, just because of how much it means to me," he said.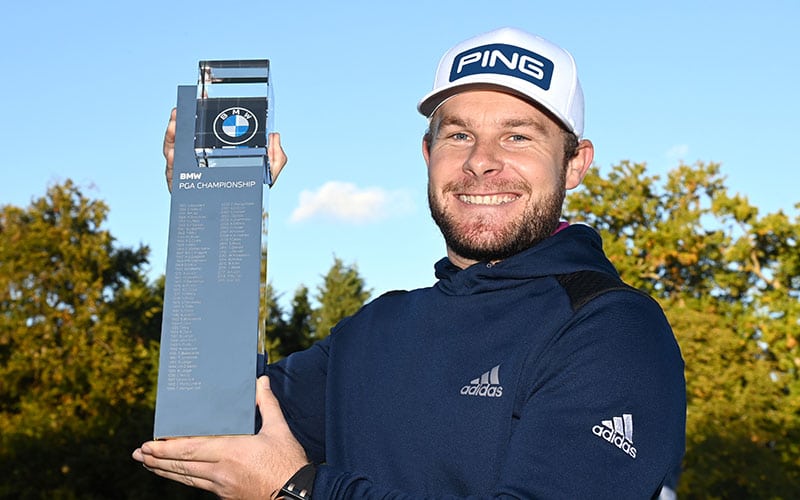 It seemed only fitting that Sunday's triumph came just a few hours later following a final round 65, and his smile on the 18th this year – a picture-perfect realisation of a 24-year-old childhood dream.
"This is the flagship event for the European Tour, it's got such history, and to add my name to the list of winners is very special and it's a dream come true for me.
"From walking the course as a five-year-old and hoping one day I'd be inside the ropes, to now holding this trophy is an amazing feeling."
Advertisement
Sign up to our NZ Golf Updates