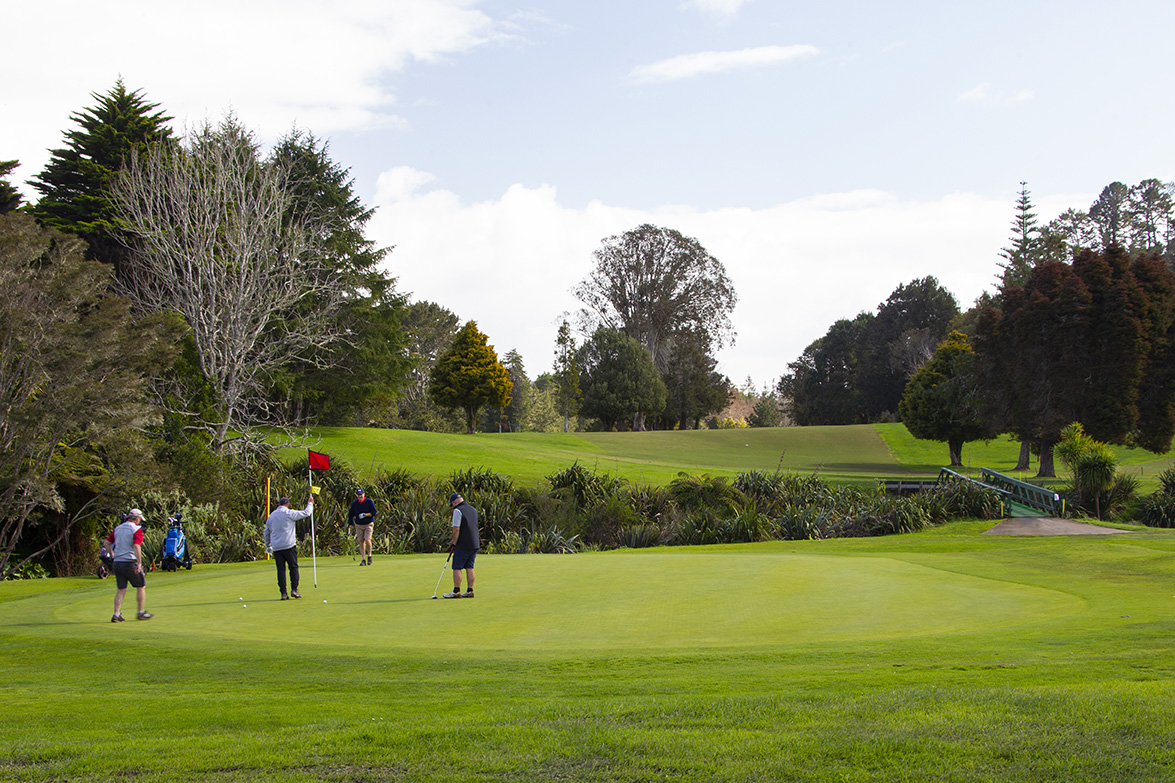 We first set eyes on Whitford Park golf course many years ago at an NBR World Corporate Golf Challenge being run by Neil Munro.
To get there in those days our trip over the Harbour Bridge was the best part of an hour, probably longer.  Today it is quick and simple. The Club is situated in the stunning Whitford Valley now only a 30 minute drive from the centre of Auckland and just 15 minutes from several main centres including Howick, Ormiston, Pakuranga, Botany and Beachlands.
The land, a former Ostrich Farm, was acquired in 1967 for the Whitford Park Golf Club. The land area was 254 acres, of which 144 acres was developed into the golf course. The cost of the land was $180,000 (a big sum in the 1960's) and the original cheques can be seen on the club walls!)
The initial Whitford Park Development Committee, led by Jack Eccles, established the Country Club concept, acquired the land, planned the golf course and club, made the funding arrangements and then secured the required members via a combination of Debenture ($330.00) or $100.00 subscription including a $50.00 joining fee. In those days not an insignificant sum of money!
The conceptual vision for the Country Club, included club rooms, restaurant, an 18 hole golf course, tennis courts, squash courts, swimming pool, children's play grounds and horse riding trails. This concept had its origins in the USA, where country clubs had by then become well established and proven popular.
At the time Golf in NZ was booming and the initial target membership of 750 was easily filled. Now, 50 years later they will be celebrating their jubilee this coming December.
The transformation from an Ostrich Farm to the course of today has been quite something. With a stream running through the course, the mature native and introduced trees lining the fairways, native birds and tree covered hills providing a backdrop it is a stunning parkland golfing experience, as is attested to by the numbers of people playing on our recent visit.
In recent years the club has introduced Windsor Green Couch fairways to compliment the already excellent greens. The layout is challenging with two distinctly different nines, but like all good courses has tee boxes that allow for rounds of golf suitable for players of all abilities.
Whitford Park Golf Club is somewhat unique, in that it has a swimming pool, tennis courts and a 20 bay covered driving range as part of its member facilities. It is looking to improve itself with course and facility improvements planned for completion over the next few years. It has also long been a club that looks after it junior players with a Junior Golf Academy for young players of any ability and headed up by NZ PGA Professional Stuart Thompson.
For a bit of relaxation either side of a round, the cafe is cosy and friendly with snacks or meals of excellent quality at fair and reasonable prices. It provides the finish to an enjoyable day out away from the bustle of Auckland city.
---
Whitford Park Golf Club
Web:
www.whitfordpark.co.nz
Address:
58 Whitford Park Road
Whitford
Auckland 2014
Phone:
Office (09) 530 8823
Pro Shop (09) 930 7267
An outstanding venue for all types of functions with elevated views across the course
Perfect for weddings, birthdays, cocktail parties and corporate golf days.
It is always possible to get a game, although in the summer months it would pay to book ahead.
The driving range is open throughout the week to members and the general public.
Membership enquiries are most welcome and there are membership categories to suit everyone with payment options to suit.
Advertisement
Sign up to our NZ Golf Updates