There is the old adage in golf, that it's not so much about 'how,' but 'how many,' and without question, there are multiple methods of playing winning golf, success invariably falling to the man – or woman – who ends the day, or the week with the fewest number of shots on their scorecard.
A game of skill, application, strength and touch, with a considerable mental dimension thrown into the mix, two similar players can reasonably and justifiably finish a round on the same score but achieve that number in vastly different ways.
And, like almost every facet of life, there is no definitive way of winning golf; often, the means will justify the ends, some will blast their way around a golf course, overpowering it and their opponents by firing explosive, heavy artillery that seemingly defies gravity and distance.
Others, more subtly, will plan and plot their way, deftly and stealthily navigating their way around the golf course and its many obstacles and obstructions using all the means at their disposal to a winning score, a sniper's bullet every bit as lethal as a bunker-busting bomb.
As a fan of golf, or a player, you pay your money and take your choice, some preferring the subtler approach to the game, others relishing the more muscular angle of attack, Bunker Mentality is an unashamed advocate of mind over body, style over brute force, the cerebral approach compared to the physical attack but others, quite legitimately prefer raw power over patience.
But the bulking-up of US star Bryson DeChambeau, and the additional power and distance he generates has now split the game into two schools of thought, same game, different modus operandi and it's a debate that looks certain to run and run, about as far as the American now hits his drives.
DeChambeau's stylistic U-turn is in and of itself intriguing; the Californian-born Texan resident's change of style perhaps mirroring his geographical journey, from the compassionate tree-hugging west coast state to the high-octane petrol-head mindset of Dallas.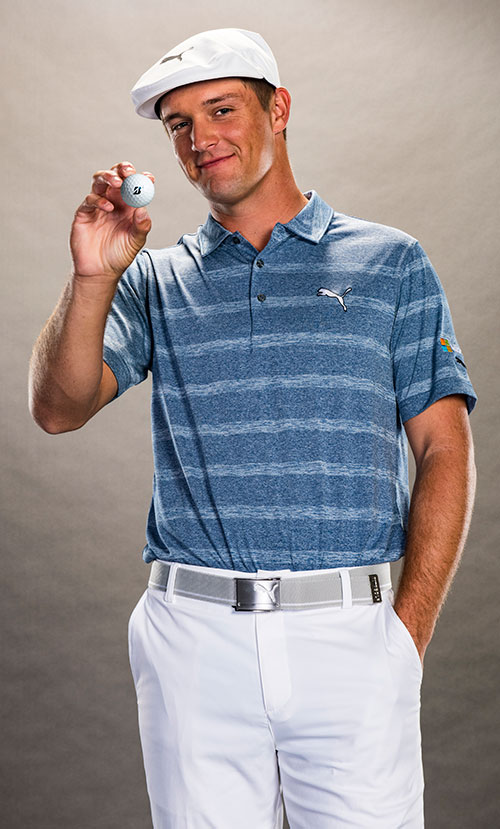 The Scientist
27-year-old Bryson James Aldrich DeChambeau has been a PGA Tour professional for a mere four-years; from the get-go, he fashioned himself as something a bit different, the thinking golfer's golfer, the physics graduate's moniker, 'The Scientist,' suggested a theoretical, thoughtful and analytical approach to golf, and it worked.
A maiden victory in the 2017 John Deere Classic in his full rookie season suggested promise and potential, but 2018 was to be his breakthrough calendar year, four wins on the US circuit, equally divided between two PGA TOUR seasons, 2017/18 and 201819, victory at the European Tour's Dubai Desert Classic suggesting global aspirations and worldwide success.
But DeChambeu's performances on the biggest stages of all, the 'Majors' proved underwhelming, one solitary top-20 finish in his first 14 'Major' starts between 2016 and 2019, not where the somewhat arrogant, outspoken American either wanted to be or saw himself, so something had to change.
And that something was to be his physique; beginning in late 2019, presumably founded on the laws of physics he had studied at Southern Methodist University in Dallas, Texas, DeChambeau set out to add muscle mass – 20 pounds(9.1kg) before the tour's break due to the COVID-19 pandemic and another 20 during the break-in order, his physics theory told him, to increase his swing speed and therefore hit the golf ball further.
The 6' 1" (1.85m) DeChambeau had been described as, 'Skinny' during his early days on Tour, weighing-in at around 90kg, just under 200lb (Approx. 14.4st), but following the President's Cup and the 2019 / 2020 Christmas / New Year break had bulked-up to 15st 10lb (220lb) by the time he played the WGC Mexico where he finished runner-up.
Along Comes Covid
The PGA Tour hiatus caused by COVID-19 between early March and mid-June afforded 'The Scientist' a further 15 weeks to bulk-up even more, returning at the Charles Schwab Challenge more than 20lb (9.1kg) heavier than when lockdown began, carrying a full 20kg more than he had nine-months-earlier.
When the tour resumed, he recorded four consecutive top-10 finishes, including a win at the Rocket Mortgage, followed by a best-yet 4th in a 'Major,' the rescheduled USPGA Championship and, hey presto, a maiden 'Major' title, winning the delayed US Open at Winged Foot, quickly moving to 5th on the Official World Golf Rankings, into a three-figure lead on the FedEx Cup and well ahead in PGA Tour driving distance, a full 12-yards ahead of next best, Rory McIlroy.
Before lockdown DeChambeau – who has always been a long hitter – was averaging around 315 yards off the tee, soon after the restart, his average peaked over 350 yards for the first time, now routinely driving the ball 50 yards past the competition, comfortably hitting his eight-iron a prodigious 230 yards.
Given the PGA Tour's aversion to routine drug testing, DeChambeau must be given the benefit of the doubt concerning his prodigious weight gain/muscle mass methodology; indeed, according to his trainer, Greg Roskopf, his client had been consuming, "Up to 5,000 to 6,000 calories a day," to pack on the additional poundage.
But even Roskopf – who also works with the NFL team Denver Broncos – was surprised at DeChambeau's ability to change his body so much over such a short period of time, observing, "I've never seen the type of changes in an athlete like the ones he's made in this last six-month period."
Meanwhile, the rest of the locker-room and golf's commentariat is split by Bryson's bulk, some in the chasing pack, the likes of a now emasculated Rory McIlroy playing catch-up, admitting to journalists he can't let DeChambeau get too far ahead.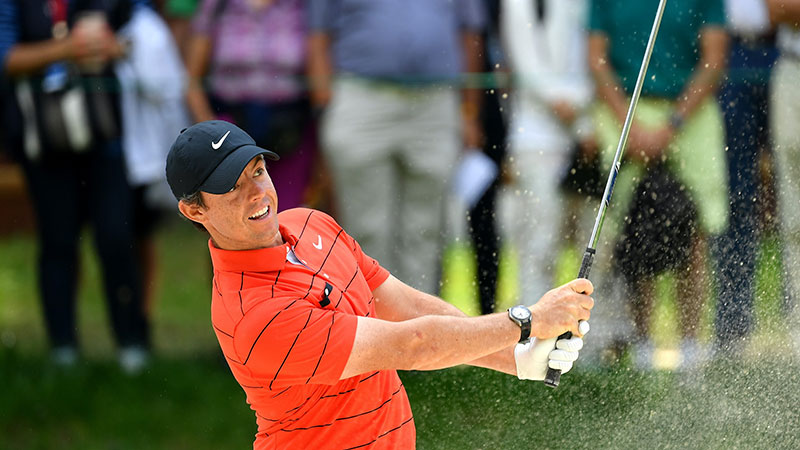 Catch-up Time
The Irishman, without a 'Major' title now for more than six years and 21 Grand Slam tournaments without a win has admitted he's experimenting, adding speed and distance to his game ahead of this month's Masters.
"From what I've done and what I've been sort of experimenting with the last couple weeks, it's the fastest I've ever moved the club, the fastest my body's ever moved," he said, whilst declining to confirm or deny this is an attempt to counter DeChambeau's added distance and obvious advantage.
"Having length is an advantage and I've always been pretty long, but I think what I want to do is at least know that I have it if I need it," was as much as McIlroy would reveal, adding, "I'm not going to try to do it all the time, I'm not trying to get my ball speed into the 190s every time I hit a driver, but at least I know that if I need to do it, I can do it."
But, standing 10cm shorter than the big-hitting Bryson, and weighing in at a dramatic weight disadvantage approaching 30kg, McIlroy resembles a mid-range family car compared to a bullet-proof Humvee, nice to look at and perfectly serviceable, but short on power and light on gravitas.
Others, current and former players, as well as golf journalists and coaches, argue that bulked-up, big-hitting bombers like Bryson DeChambeau are shifting the dial on the game and taking at least some of the skill out of golf.
Commenting at the European Tour's flagship BMW PGA Championship, world #19 Matt Fitzpatrick said, "It's not a skill to hit the ball a long way in my opinion," the 155-pound Englishman adding, "I could put on 40 pounds. I could go and see a biomechanist, and I could gain 40-yards, that's actually a fact.
"I could put another two inches [shaft] on my driver, I could gain that, but the skill, in my opinion, is to hit the ball straight, that's the skill," saying of the man 15 places above him on the OWGR but 48-yards ahead of him off the tee, "He's just taking the skill out of it, in my opinion."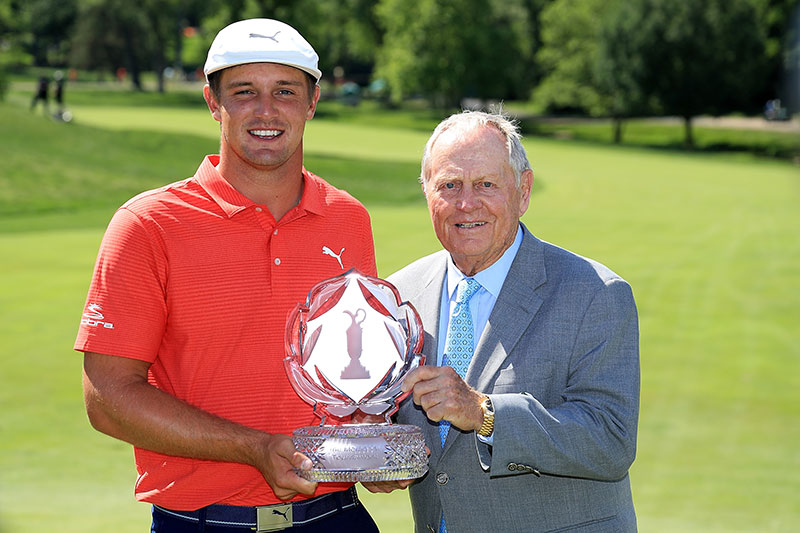 Are We Worried?
Strangely, one of the elder statesmen of the game, the venerable Jack Nicklaus, the all-time 'Majors' record holder with 18 titles was less than censorious when asked about DeChambeau's heavy bombing campaign foreshortening the world's best golf courses.
"I have nothing but respect for what Bryson DeChambeau has done. I think it takes a tremendous amount of skill, a tremendous amount of hard work," said the Golden Bear, insisting the onus on protecting courses falls on the governing bodies, not the players.
Nicklaus said, "If the stewards of the game want to defend courses, they need to dial back the [golf] ball," although one wonders what his compatriot and contemporary Tom Watson, one of the most subtle, 'Touch-and-feel' players ever to step onto the tee might make of it all.
But let's not – in the rest of the world that isn't America – get too distressed about the power and distance debate; in the USA, big is invariably beautiful, from burgers to baseball shots, super-sized SUVs and NFL quarterbacks are best on a grand scale, but, for the rest of us, style, strategy and subtlety matter as much as size.
Advertisement
Sign up to our NZ Golf Updates