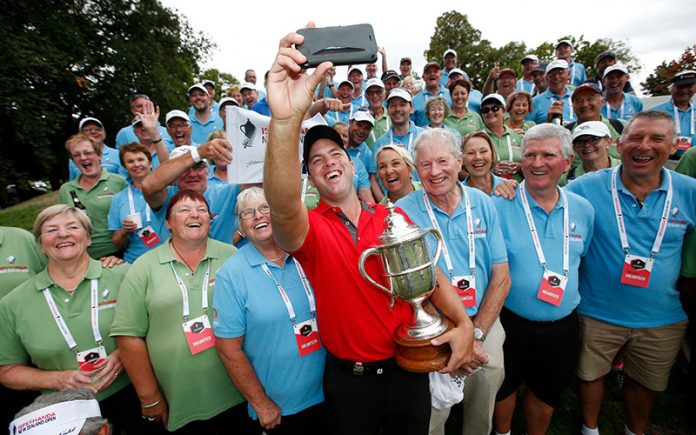 For Peter Young, to see the player he had been caddying for all tournament, end up with a top-five finish in the New Zealand Open had certainly made the 2019 tournament a memorable one.
It was Young's fifth year as a volunteer caddy in the New Zealand Open and the Otago Golf Club regular had been lucky enough to pick up a few different types of players to look after through the years.
"I have had Pro's where they were quite engaging and wanted me to help them read their putts, through to golfers that only wanted me to carry the bag," Young explained.
"It can get challenging, so you do need to keep your wits about you. The caddy mantra of 'keep up and shut up' is as important as focusing on where your player's ball has landed.
"It is also about being organised, as one minute you can be raking the bunker, or cleaning the golf ball, then getting ready to take the flag, and ensuring you are staying out of the way of other players playing their shots."
At the 100th edition of the New Zealand Open, Peter Young was caddying in one of the final groups and it was a memorable experience as he carried Brad Kennedy's bag.
"On Sunday afternoon looking up at the leaderboard and seeing your player near the top is pretty exciting.
"It was quite tense as Brad was in a birdie battle with his playing partner Ashley Hall throughout the back nine. You do feel the added pressure, but it is about relaxing and staying out of the way so that your player can get the job done."
Young is quick to acknowledge that unfortunately watching all this great golf hasn't really helped his own game. However, he has learnt to appreciate the importance of hitting more fairways and having a strong short game.
"The ball-striking is exemplary; they do make the game look easy.
"Overall, for golfers who really want to see pros that are extremely talented up close, being a caddy at this event is awesome.
"Even if you have an amateur player who is only as good as you, it can be a lot of fun, as you work together and watch the pro's in your group. I know some caddies have built some great friendships with their players and the other caddies.
"My biggest tips for golfers wanting to come and caddy is talk to the players about what they want you to do: where to stand and how they like their clubs kept clean, etc. Some players want you to do the bare minimum and others want their caddy fully-engaged and to line-up the putts.
"Turning up to the caddy barbeque has been a great place to get some good caddy tips, especially listening to Steve Williams' advice.
"I also recommend that caddies practice their bunker raking technique, know the rules of golf and when the players are putting, leave the golf bag near the pathway to the next green, as this makes it easier for everyone and speeds up play."
Over the years, two caddies from the caddy registration list have gone on to caddy for the eventual tournament winners. Tracy Tatom, from Christchurch, caddied for 2018 winner Daniel Nisbet and in 2015, Wellington golfer Jaimes Woods, caddied for Jordan Zunic. Both described it as an "incredible experience that they will never forget".
Over 120 caddies will be required for the 101st New Zealand Open, at Millbrook and The Hills Golf Clubs, being held from the February 27 March 1, 2020, NZ Golf Magazine is an official media partner.
With the format of 136 professional players and their amateur partners teeing off at The Hills and Millbrook on Thursday, and then swapping courses on Friday, the tournament requires approximately 120 caddies.
On the Friday evening, there will be a Pro-Am cut of the "Top 30" amateurs and the "Top 60" professionals (plus ties), who will go on to play Millbrook on the Saturday and Sunday.
Caddies are paid a minimum of $100 + tip per round. There is also a $39 cost to register as a caddy, and all caddies receive a NZ Open golf shirt and cap to wear while caddying and to take home as a souvenir.
Peter reminds anyone thinking of being a caddy for the New Zealand Open that the golf bag can be heavy, especially in the practice rounds.
"The golf bag can be heavy, especially in practice rounds, as the players have everything in their bags: wet weather gear, lots of balls and some extra clubs in practice, as the players work out their game plans.
"Even for an old front row rugby player, carrying a staff bag with a single strap was hard work over the first couple of rounds. As Brad played better, the bag seemed to get lighter."
Potential caddies should be social or serious golfers with a good level of fitness to carry the golf bag around The Hills and Millbrook golf courses.
Caddying at the NZ Open is extremely unique in the world of golf. Where else can a club or social golfer have a great golfing experience and enjoy a professional tournament from inside the ropes in one of the most stunning settings of our country's leading golf event.
---
Caddies will need to register on-site at The Hills Driving Range no later than 5pm on the Tuesday in preparation to caddy a practice round on the Wednesday. Most of the caddy jobs will be pre-assigned ahead of arriving at the golf course to reduce your 'waiting around' time.
Register at nzopen.co.nz
Advertisement
Sign up to our NZ Golf Updates