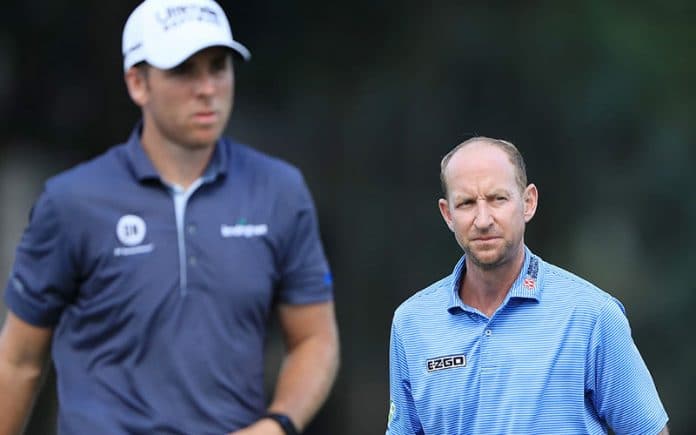 Kiwi Danny Lee is only 5 shots from the lead after day two of the RBC Heritage Tournament, a day when the first PGA Tour to test positive for coronavirus was placed into isolation and his playing partners and caddies tested again.
Nick Watney, tested positive for the coronavirus, he is the first PGA Tour player to test positive since competition resumed last week at the Charles Schwab Challenge after a three-month break due to COVID-19.
Clay Neely, a PGA Tour rules official, stopped his playing partners Vaughn Taylor and Luke List to explain that was why Watney had withdrawn prior to their 12:21 p.m. tee time at Hilton Head.
The 39-year-old had tested negative upon arrival in Hilton Head but felt minor symptoms on Friday morning and after consulting with a doctor, Watney was tested for a second time which resulted in the positive test.
According to protocols put in place by the tour, Watney – who was allowed on the grounds at Harbour Town until receiving his test results — will self-isolate and recover as per CDC guidelines and there will be contact tracing to make sure the virus is contained.
Jordan Spieth, who is on the PGA Tour Policy Board, was part of the extensive planning for just such an eventuality.
"The whole plan put in place was, not if, but when somebody tests positive, what's the protocol, and what are the next steps?" Spieth said.
"So, I feel confident, just in being on those phone calls, in what the PGA Tour's going to do going forward here, and hopefully contact tracing doesn't lead to anybody else testing positive within the bubble."
Taylor and List said that they would be tested again, as would their caddies. A total of 369 people – players, caddies and other essential personnel – were tested prior to the start of the tournament and all were negative. There were also no positive tests at the Charles Schwab Challenge last week.
"I was a little shocked, to be honest," Taylor said.
"Heart started racing, got a little nervous. Just hope Nick's doing well and we get through this."
Taylor and List, who won the Korn Ferry Challenge at TPC Sawgrass on Sunday, said it was hard not to think about Watney and the positive coronavirus test as the round wore on. Both are in the field for the Travelers Championship – as long as both test negative.
After finishing his round of 69 that left him 6 under for the tournament, Taylor said he was "little nervous" but he does not feel ill. He did not recall being in close proximity to Watney on Thursday.
"We kept our space," he said. "We didn't shake hands. Right after the round, I washed my hands. Nick never coughed or sneezed. So, I feel comfortable."
The tournament continued under the strict conditions which saw Webb Simpson hit 6-footer on his final hole for a 6-under 65 and a one-shot lead over Bryson DeChambeau and Corey Conners among early starters.
Danny Lee also started early shooting a 4-under 67 and if it wasn't for a double bogey on his final hole at 9 he would've been right in contention.
He has now tied on 22nd place 5 shots behind the leaders.
Advertisement
Sign up to our NZ Golf Updates