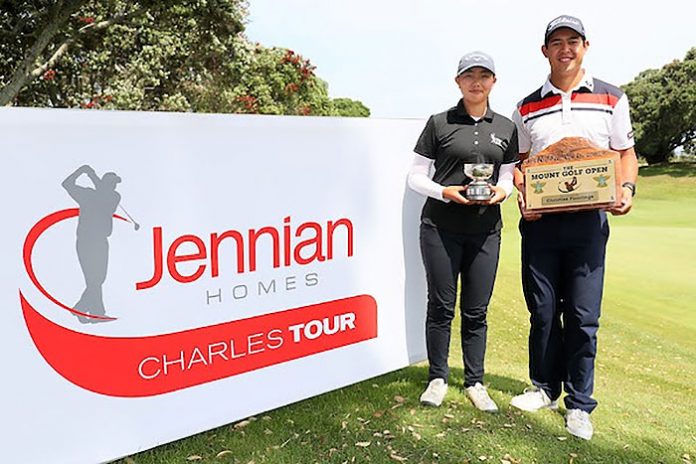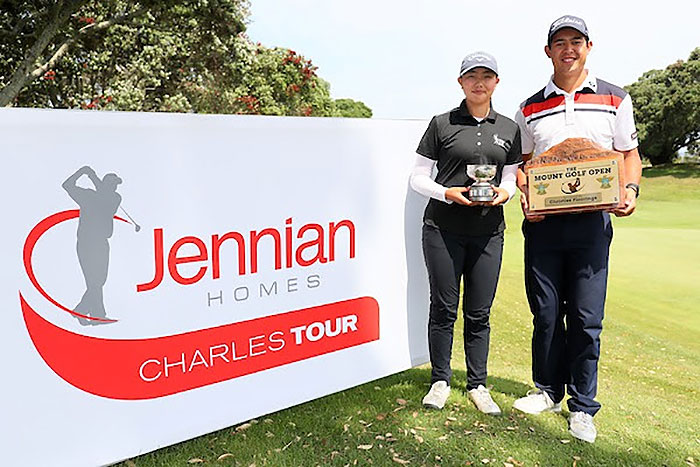 Denzel Ieremia has broken all sorts of records on his way to claiming the Christies Floorings Mount Open on the Jennian Homes Charles Tour; his first win as a professional.
In the women's event, Fiona Xu has romped to a 15-shot victory to claim the inaugural Christies Floorings Mount Women's Open and Grant Clements Memorial, breaking records of her own in the process.
Ieremia has finished 29-under par over four rounds at the Mt Maunganui Golf Course to cruise to a seven-shot victory and smash the scoring record in a Jennian Homes Charles Tour event.
Ieremia began the day with a six-shot cushion over local professional and hometown favourite Mark Brown at 23-under and said he had eyes all day at getting it to 30-under.
"I had in the back of my mind what everyone was doing around me, but I really tried to focus on myself and to keep making birdies so I could get it to 30-under.
"I came up just shy, but I played some tremendous golf all week so it's hard to complain about that," said a grinning Ieremia.
He was in a strong piece of form leading into the event with a tied for fifth at the Australian Open last week, and a sixth-place finish at the New South Wales Open the week prior.
He fired rounds of 64, 63, 66, and 66 to lift his first trophy as a professional and take a truckload of confidence into the Australian PGA next week.
"It's a real honour coming back to these events and playing the way I did. I progressed through these tournaments as an amateur and I was able to learn off all the professionals that played only three or four years ago.
"To come back and hopefully be in a position to give back to the people I play with and to continue to learn to pretty special.
"I get to travel over to Australia next week knowing I've got what it takes to win, so hopefully I can keep making lots of birdies. We'll see what happens," Ieremia said.
Fiona Xu's victory in the women's event is the most of any women on the Jennian Homes Charles Tour, showing how dominant the Auckland golfer has been all week.
Xu began the day with a nine-shot buffer but continued her impressive form to card a six-under-par 66 to cruise to victory.
She had her sights set on finishing the year on a high, and she's proud that she's done just that.
"This feels really good. It's awesome to finish the year like this and I'm happy to do it here at Mt Maunganui," said a thrilled Xu.
The Aucklander also broke her own personal milestone this week, shooting her lowest ever total in a four-round event.
"The best I have ever got to in a tournament is 10-under over three rounds. I'm a little surprised I went this low, but I guess it's a sign of good things to come," she says.
Xu has impressed all week only dropping six shots throughout the tournament.
The other trophy up for grabs was the season-long Jennian Homes Trophy awarded to the player who accumulates the most points throughout the Jennian Homes Charles Tour season.
James Anstiss had one hand on the trophy this week, and only Luke Toomey could take it from his grasp with a three-way tie for second place or better.
Toomey fought hard all week but would come up just short in sixth place at 15-under for the tournament, making Anstiss the 2019 winner of the Jennian Homes Trophy.
Advertisement
Sign up to our NZ Golf Updates