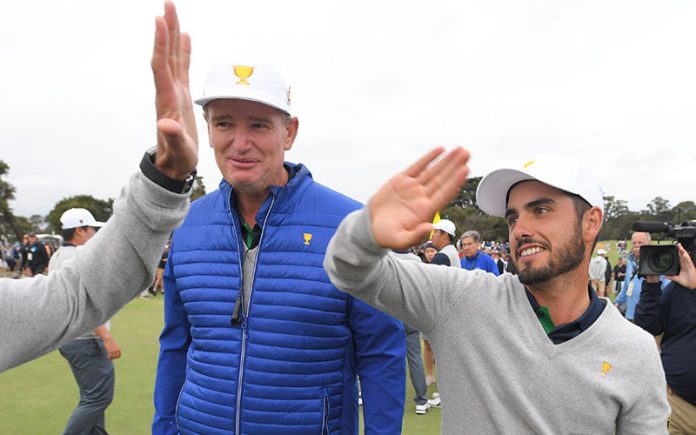 If it wasn't for some late heroics by the International team on Saturday, we would be talking about the U.S. team comeback after day three of the Presidents Cup.
Staring down the barrel of a clean sweep in the afternoon Foursomes at the hands of a rampant U.S. team, Marc Leishman and Abraham Ancer fashioned an incredible comeback to tie their match against Justin Thomas and Rickie Fowler.
Thomas/Fowler seemed to be cruising to a lopsided win, as they won five of the first seven holes and were 5 up after the 10th hole.
Sitting five down through 10 holes, the International duo came home with a flurry – including winning the last three holes.
It started with Ancer's approach at the 11th to 5 feet to set up a Leishman birdie.
Then Leishman set up Ancer on the next hole for a 10-footer. Ancer kept the match alive by rolling in a birdie putt from 20-1/2 feet to tie the 15th.
Leishman then rolled in a 17-footer for par to win the 16th. Another par at 17 after a clutch Leishman shot inside 2 feet.
Leishman, later in the day on Instagram, said it was one of the best days he's ever had on a golf course.
"Walking to that 18th tee there felt like the Tour de France, everyone screaming, it was awesome," Leishman said after the match.
"To fight back from 5-down, pretty amazing feeling."
"I just believed. We kept believing," said Ancer
"We told ourselves that we were going to keep going at it and we were going to fight until the end. We were not just going to give up.
"We've just got to find a way to get it done and we did."
The Americans were shattered for the loss after having such a commanding lead.
"It's unacceptable for us to get a half a point," said Thomas.
"I mean, they made a couple of long putts there on 15 and 16 to keep it going. You know, we had our chances, and I mean, flat honest, just didn't execute."
Byeong Hun An and Joaquin Niemann also pulled out a late tie against Matt Kuchar and Tony Finau, which could have been a win had An made a six-footer at the last.
The Internationals still haven't won a Foursomes session since 2005, but they take a lead to Singles for the first time since 2003.
Earlier, the Internationals opened up a 9-5 lead following the morning Four-Ball session which they won 2.5-1.5.
Caddy Shackled – Reed Drama Continues
The drama continued for Patrick Reed as his caddy has been sensationally suspended from Sunday's play due to an altercation with a spectator.
Tournament chiefs last night removed Kessler Karain, Reed's brother-in-law, from the American's bag for today's final round.
Karain admitted to "shoving" a fan who had sledged the world No.12 near the 16th green.
"I respect the Tour's decision," Reed said last night.
"We are all focused on winning the Presidents Cup."
But US captain Tiger Woods said alcohol was a factor and some fans had gone overboard.
"There's people who have had a lot to drink and have gone over the top," Woods said.
"All I ask for with all the galleries is be excited but be respectful of the players. All 24 of us."
Karain said he was riding on a golf cart when he heard the fan yell out to Reed, 'you f—ing suck'.
"I got off the cart and shoved him, said a couple things, probably a few expletives," Karain ­admitted.
"Security came and I got back in (the) cart and left. I don't think there's one caddie I know that could blame me. The most harm done was a little spilt beer, which I'm more than happy to reimburse him for."
Advertisement
Sign up to our NZ Golf Updates