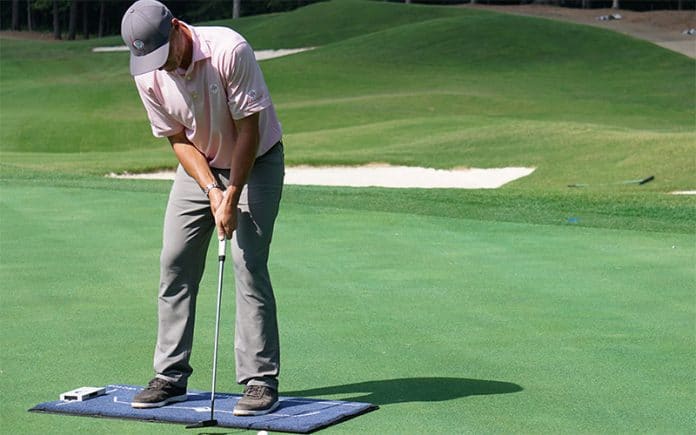 Every golfer no matter whether they are a seasoned professional, or just have a hit once in a while, are always looking for that leading edge that can improve their game.
Remember those early golf lessons that told you to keep your feet a certain space apart and move body weight from one leg to the other leg when striking the ball, it was always not an exact science, until now.
A new product, the Boditrak mat has been designed to improve a golfers game by analyzing force and pressure data of the golfer during their swing movement.
And best of all the information is available immediately after you hit the ball so that you can make adjustments immediately while you are using the mat with the help of your coach.
Proformer Director Aaron Henry said Boditrak is just one product they sell that can help both golfers and their coaches.
"Proforma has a real passion for health and fitness and a drive to create a service that engages the general population with their health and well-being on a large scale through technology," said Henry.
"The Boditrak mat is the most specific product we have for golfers and golf coaches around NZ. Our company offers a range of health and fitness testing services for various groups from individual athletes to sports teams and for the causal athlete interested in their sport."
The Boditrak mat is being used to improve power, shot shaping and swing mechanics in the short and long game.
It has been endorsed by golf coaches all over the world as an incredibly helpful tool to assist in player coaching.
"Boditrak has been designed to provide – live biofeedback," said Henry.
"Biofeedback meaning to generate greater awareness of physiological functions of one's own body, primarily using electronic or other instruments, with a goal of improving performance.
"Researchers have found that biofeedback, such as using the Boditrak can accelerate learning with regards to whichever movement you are trying to perfect. So, in this circumstance your golf swing."
The Boditrak mat can be used anywhere as long as you have a flat surface. For more information visit www.proforma.nz/boditrak
Advertisement
Sign up to our NZ Golf Updates