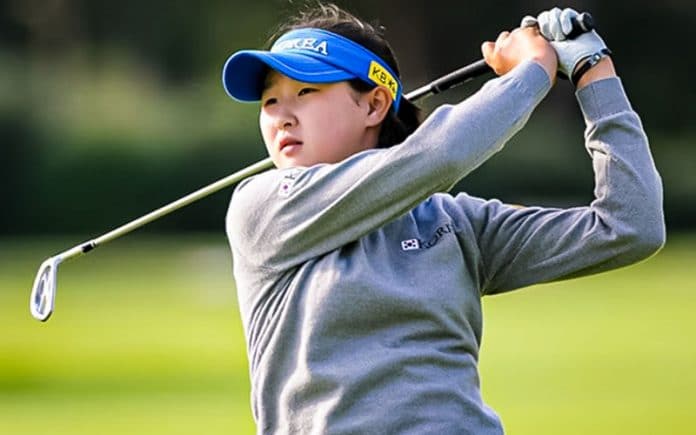 Jeong Hyun Lee has come to New Zealand and won the biggest amateur event of her career in dominant fashion at the New Zealand Strokeplay.
After the Queen Sirikit Cup in Indonesia was postponed to a later date due to coronavirus, Lee made the decision to come to New Zealand a couple of weeks ago to compete in the stretch of Jennian Homes Charles Tour events and our national strokeplay championship.
What a decision that was.
She put on a dominant display of golf all week, firing rounds of 67, 71, 68, and 66 to reach 16-under for the event and cruise to a six-shot victory over playing partner, Darae Chung.
Lee said she's over the moon with her performance.
"I'm really happy I was able to finish strong today," Lee said.
"My goal was to bounce back and win this week after I was able to put three good rounds together last week at the Super 6's but wasn't able to play well in the final round.
"To play well when there was a lot of pressure was pleasing."
She's no stranger to the New Zealand shores having travelled here for golf tournaments for the last four years.
Lee felt comfortable all day today and said remaining calm was her prime focus for the fourth round.
"I just tried to be as calm and as free as possible. I tried to focus on each shot and make pars, but I was surprised to make as many birdies as I did," she laughed.
The young Korean said while the world is going through something bigger than the game itself at the moment, her decision to come and play in New Zealand was a good one.
"I'm really happy to be here in New Zealand. Even though tournaments and sporting events around the world have been cancelled, it was a good decision to come here to play in some tournaments and see my friend," Lee said.
Darae Chung finished in second place at 10-under, whilst defending champion Carmen Lim took out the bronze medal at eight-under.
Scores after round 4 – Sun 15 Mar 2020
272 Jeong Hyun Lee (P, South Korea) 67 71 68 66
278 Darae Chung (Shandon) 71 71 68 68
280 Carmen Lim (Windross Farm Golf Course) 69 73 68 70
282 Fiona Xu (Titirangi) 68 71 71 72
283 Caryn Khoo (P, Whitford Park) 70 73 72 68
287 Marina Ito (Mt Maunganui) 73 74 73 67
292 Vivian Lu (Royal Auckland and Grange) 76 72 73 71, Eunseo Choi (Takapuna) 75 73 70 74
294 Sieun Ha (North Shore) 76 74 74 70
295 Tara Raj (Wanganui) 74 76 72 73, Caitlin Maurice (Omokoroa) 69 78 72 76
296 Yeonsoo Son (North Shore) 76 71 77 72
297 Jessica Huang (Pakuranga) 73 73 78 73
298 Danika Lee (Takapuna) 76 71 76 75
300 Amy Im (Pupuke) 78 75 75 72, Rianne Li (Akarana) 73 73 80 74, Zhuo Yi Hu (Palmerston North) 75 75 74 76
302 Misong Jang (North Shore) 78 73 76 75
307 Mimi Guo (Royal Auckland and Grange) 75 77 76 79
308 Aileen Du (Remuera) 80 80 71 77
309 Maddie May (Russley) 79 73 81 76
311 Katherine Cao (Whitford Park) 76 76 81 78
312 Erika Cui (Boulcott's Farm Heritage) 80 80 75 77, Tessa Jane McDonald (Poverty Bay) 81 74 75 82
314 Kelly Wu (Remuera) 83 74 77 80
315 Jessica Green (Wainui) 77 82 79 77
318 Lizzie Neale (Nelson Inc.) 81 77 77 83
319 Grace Zhan (Maungakiekie) 82 80 79 78
320 Mia Scrimgeour (Boulcott's Farm Heritage) 81 75 81 83
323 Faith Vui (Apiti) 81 81 80 81
327 Mia Collins (Windross Farm Golf Course) 86 80 78 83
336 Keara Harrison (Titirangi) 84 86 85 81
Advertisement
Sign up to our NZ Golf Updates