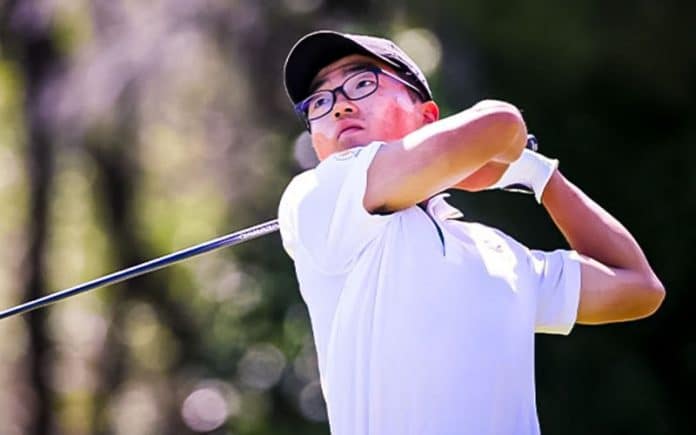 Jang Hyun Lee has captured his maiden national title in style by winning the New Zealand Strokeplay by three strokes at the Hastings Golf Club.
Starting the day in a three-way tie for the lead with Kazuma Kobori and fellow Auckland interprovincial teammate Jared Edwards, Lee got off to a slow start and quickly found himself off the pace early and was playing catch up.
He countered two bogeys in his opening five holes with birdies on the sixth, seventh, and ninth holes to make the turn in one-under-par and one shot back of the NZPGA Champion Kobori.
However, he found himself in the lead early in the second nine with a couple of bogeys from Kobori coupled with a birdie of his own at the 10th and would never relinquish his lead.
He made tournament defining putts on the 14th and 17th holes to stand on the final tee box with a three-shot lead. A tee shot leaked into the right tree's didn't make the leader panic; he hit yet another quality shot under pressure to find the green and would two-putt for victory.
After the round, Lee said he was ecstatic to get his first national championship across the line.
"I stood on the 18th tee and I thought, let's just make bogey," Lee laughed.
"I managed to make a par, and this feels amazing. I played incredibly well and recovered after a bad start on the front nine, but I managed to make birdies when it really mattered down the stretch.
"I honestly just feel so amazing right now."
Lee was able to compose himself after a slow start today, and credits last weeks close runner-up finish at the Super 6's event on the Jennian Homes Charles Tour as a key learning experience to get the job done today.
"I just focused on my own game for the whole day today. I just wanted to shoot somewhere around two-under, and I thought that would get me somewhere around the lead. It seemed to work today.
"I finally did it," he cheered.
Lee carded rounds of 71, 69, 65, and 69 to win three over Kobori who finished in second place.
Equal course record holder Charlie Smail wrapped up the bronze medal at 10-under, one shot ahead of Edwards.
The New Zealand Strokeplay will take place at Paraparaumu Beach Golf Club in 2021.
Scores after round 4 – Sun 15 Mar 2020
274 Jang Hyun Lee (Titirangi) 71 69 65 69
277 Kazuma Kobori (Rangiora) 69 69 67 72
278 Charlie Smail (Walton) 75 63 70 70
279 Jared Edwards (Royal Auckland and Grange) 69 68 68 74
282 James Hydes (Gulf Harbour Country Club) 70 71 69 72
284 Samuel Jones (Manaia) 68 73 70 73
285 Reid Hilton (Russley) 73 69 69 74, Mako Thompson (Maraenui) 71 71 68 75
286 Jaeseung Na (Pakuranga) 73 76 69 68
287 Kerry Mountcastle (Masterton) 71 72 72 72, Zachary May (Russley) 69 76 70 72
288 Kit Bittle (Gulf Harbour Country Club) 81 70 70 67, William Howard (P, Cook Islands) 74 74 68 72, Stephen Liu (Pakuranga) 72 71 71 74, Jayden Ford (Judgeford) 72 72 69 75
290 Jonathan Cane (Royal Wellington) 72 75 72 71
291 Joshua Bai (Akarana) 71 71 76 73, Daniel Freeman (Remuera) 70 70 78 73, Mitchell Kale (Tauranga) 74 74 68 75
292 Robby Turnbull (Remuera) 71 73 77 71
293 Jordan Woodall (Cambridge) 73 73 72 75
295 Callum Judkins (Otago) 74 78 70 73, Jesper Bengtsson (North Shore) 77 72 72 74, William Newman (Rotorua) 76 70 70 79
297 Zack Swanwick (Napier Inc.) 75 71 78 73, Ben Slaven (Walton) 70 75 78 74
298 Johnny Tynan (Titirangi) 73 73 79 73, Tae Min Kim (Gulf Harbour Country Club) 75 72 77 74
299 Matthew McLean (Harewood) 76 76 77 70, Harry Ward (Paraparaumu Beach) 77 73 78 71, David Kim (Akarana) 75 77 76 71, Kevin Koong (Muriwai) 72 79 72 76
300 Nick Ludbrook (Greenacres) 76 73 76 75, Liam Finlayson (Feilding) 75 72 76 77, Brad Rowland (Miramar) 75 72 73 80
301 Owen Lloyd (P, Te Marua) 76 73 76 76, Adam Winter (Maraenui) 77 74 74 76
302 Paxton Jones (Royal Wellington) 72 74 79 77, Sam Marsters (Miramar) 73 74 78 77
303 Matt Matheson (Maraenui) 74 79 71 79
305 Joshua Morris (Taupo) 77 78 75 75, Steven Oh (Remuera) 74 74 79 78
306 James Fellows-Ford (Hamilton – St Andrews) 79 73 80 74, Thomas Woods (Miramar) 73 78 80 75, Kahu Tataurangi (Remuera) 73 84 73 76, Jonathan Blair (Walton) 76 77 73 80
307 Dylan Bagley (Hastings) 78 76 81 72, Kameran Clarke (Nelson Inc.) 82 69 74 82
308 Lio Vui (Apiti) 77 80 78 73, Hayden Robertson (Taieri Lakes) 76 79 76 77, Jordan Burgess (Boulcott's Farm Heritage) 79 72 78 79
310 Sungwoo Han (Queenstown) 73 84 75 78, Ross Allott (Waitemata) 79 71 82 78
311 Will O'Connor (Royal Wellington) 78 79 75 79, Sebastian Kettle (Napier Inc.) 75 75 80 81
312 Liam McFarlane (Omanu) 82 73 81 76
314 James Watkins (Royal Wellington) 70 86 83 75, Andrew Drummond (Shandon) 82 72 85 75
323 Joshua Robinson (Reporoa) 77 80 87 79, Ian Blount (P, North Shore) 78 77 81 87, Giles La Ville (North Shore) 76 78 79 90
Advertisement
Sign up to our NZ Golf Updates