After an extremely close and tense final Canterbury have won the 2020 New Zealand Men's Interprovincial Championships over a gallant North Harbour, claiming the title for the first time in 20 years.
The week-long tournament played at Whitford Park Golf Club came down to a dramatic conclusion with the final match-up resting on the number one players of both teams.
North Harbour's James Hydes had been in control for most of the afternoon but Canterbury's Kazuma Kobori started to mount a come-back winning the 14th, 16th and 17th holes to turn a two-hole deficit into a one-hole lead standing on the 18th tee.
With Hydes having to make an aggressive play on 18 to extend the match his approach shot was wide and he was unable to chip in giving the title to Canterbury, much to their jubilation.
Raising the title for the first time in 20 years, team captain and 34-year-old veteran of the team Mike Toeke was rapt.
"We have been together three years and in the past have fallen short, but this year the boys dug in," Toeke explained.
"We came to do a job and we did it.
"This one is for the province and the people back home in Canterbury. 20 years is a long time between drinks but we will savour this, were looking forward to enjoying it."
The day started with both Canterbury and Harbour having reasonably comprehensive semi-final wins over Hawkes Bay and Taranaki respectively. Both Hawkes Bay and Taranaki defied the odds to make the semi's and had enjoyed fantastic weeks, but the last challenge was a bridge too far.
With the final getting underway in blustery conditions it was the Canterbury team that was strong out of the blocks and thru nine holes had their noses in front with only number one Kobori down to Hydes.
The Harbour team however who had bounced back from a poor start to the tournament showed their fight and started winning holes to put their noses in front.
Harbour secured the first point of the final with a 4&3 win to Jesper Bengtsson over Reid Hilton and when that match was won Hydes had a two-up lead over Kobori, with Jerry Ren up over Zac May and Jason Gulasekharam all square with Mike Toeke.
Gulasekharam the North Harbour reserve, who had come into the team in round three following their poor start of a loss and a half, had turned Harbour fortunes around and led the team out strongly for the remainder of the week.
Toeke and Gulasekharam went to the 18th all square, but an out of bounds tee shot on 18 would prove costly for Harbour, with Canterbury's team captain Toeke winning the first Canterbury point.
Moments later Ren won for Harbour and Matt McLean won 2&1 over Kit Bittle leaving things tied at two-all and attention all falling on the number one players. And the rest is history with Kobori taking the victory.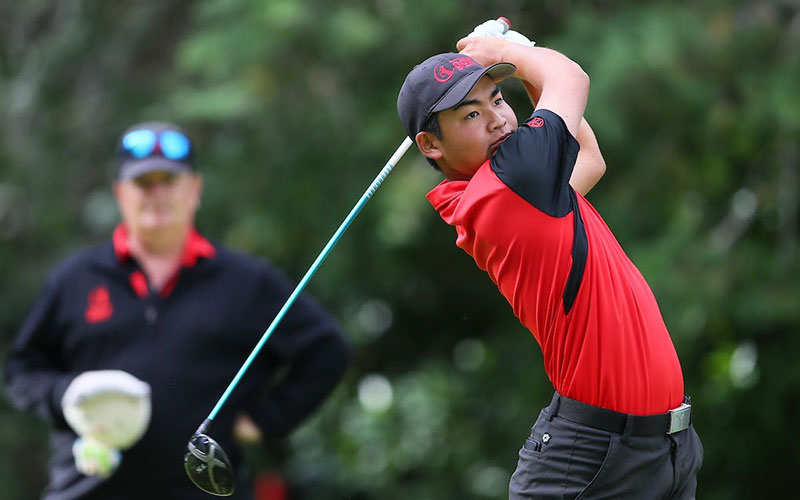 With seven wins from eight starts and his only loss coming in the semi-final win against Hawkes Bay, Kazuma Kobori was named player of the tournament.
Kobori thrived on the pressure of being number one and each round collected key wins to help Canterbury claim the title.
While he had to concentrate on his own match Kobori was keeping a close eye on the drama unfolding in front of him.
"I thought we were out of it. Down the stretch when I was on 15, I thought we were in trouble. I was two down, but I sort of pulled my game together from there," he said.
Kobori is elated his Canterbury side were able to get the job done.
"It's great, I knew my game was in a great position to make birdies so I wasn't exactly nervous, I was just happy to get the job done."
After an exciting week of action attention now turns to the Akarana Golf Club with the New Zealand Women's Interprovincial starting there on Tuesday.
2020 New Zealand Men's Interprovincial
Semi-Final Results
North Harbour 4 Taranaki 1 James Hydes def Sam Jones 5/3, Kit Bittle def Ethan Jones 5/3, Jesper Bengtsson def Joseph Doyle 2/1, Jerry Ren lost to Chris Charlton 3/2, Jason Gulasekharam def Caleb Symes 3/2
Canterbury 3 Hawkes Bay 2 Kazuma Kobori lost to Mako Thompson 1up, Matt McLean lost to Russell Mitchell 1up, Reid Hilton def Tyson Tawera 5/4, Zach May def Stu Duff 4/3, Mike Toeke def Zach Swanwick 2/1
Final Results
Canterbury 3 North Harbour 2 Kazuma Kobori def James Hydes 1up, Matt McLean def Kit Bittle 2/1, Jesper Bengtsson def Reid Hilton 4/3, Zac May lost to Jerry Ren 2/1, Mike Toeke def Jason Gulasekharam 1up.
Advertisement
Sign up to our NZ Golf Updates