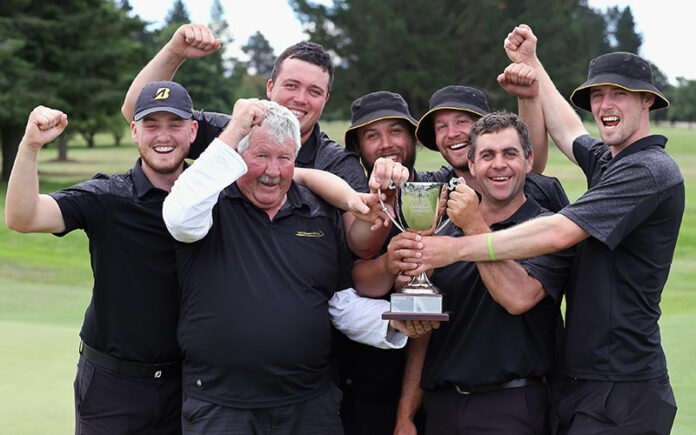 Taranaki has won its first New Zealand Men's Interprovincial title by defeating Hawkes Bay in the final at Ashburton Golf Club by a margin of 3 – 2, completing an undefeated week in the Aorangi region.
With both teams looking to make history, it was vital for the guys heading out early to get their noses in front and put points on the board.
Taranaki number five Joseph Doyle followed the script to a tee, putting his Hawkes Bay opponent Josh Dasent under pressure early to earn himself an unsurmountable 4up lead through nine holes. He went on to win 6&4 to put the first point on the board for Taranaki.
Taranaki captain and number four Andrew Searle made sure he followed suit. After halving the first three holes against Russell Mitchell, he never looked back as he made the turn at 3up and closed the match on the 16th to win 4&2.
Taranaki had the trophy in their sights and only needed one more point to win.
Taranaki number three Ben Joseph recovered from a shaky start to have a 1up lead through nine holes. Birdies at the 10th and 13th holes with a couple of bogeys from his opponent Tyson Tawera was enough to win his match 3&2 and grasp the trophy with two hands.
Hawkes Bay number two Zack Swanwick fought admirably to win his match against Cam Harlock 1up to go undefeated with seven wins.
Mako Thompson was able to get another point on the board for Hawkes Bay with a 1up victory over Sam Jones, but it wasn't enough.
Taranaki captain Andrew Searle said it's amazing to get over the line.
"This feels really good," Searle said.
"I've played in nine of these; four with Canterbury and now five with Taranaki. It was fantastic to make the final and get through with a great bunch of guys.
"We've had plenty of support from everyone back home all week; our phones have been blowing up since the results got through. It's great to play so well and bring it home."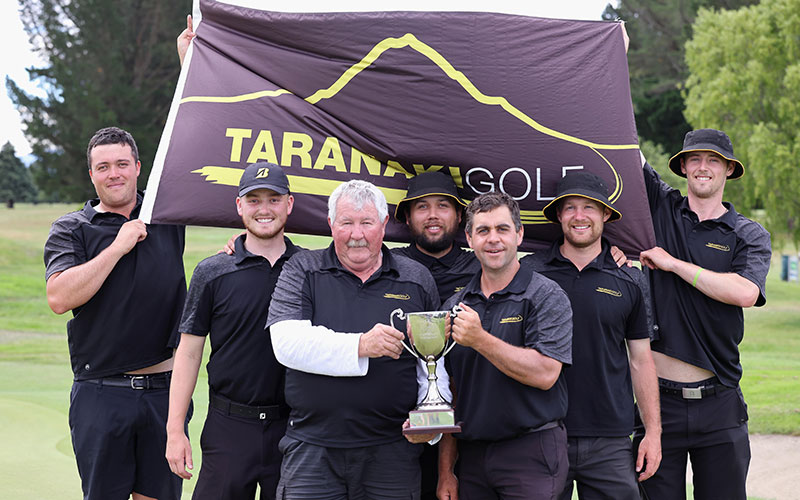 The Player of the Tournament award went to Taranaki number one Sam Jones who's only stumble came in the final. He won seven from eight matches.
He said the key for the team the whole week was taking it one match at a time.
"We had a few close matches early that we managed to pull through and we performed better against the tougher sides. I think we were taking after the Taranaki rugby side, who went 10 zip this year, and we managed to go through eight zip.
"Between us and them, it's been a pretty good year for Taranaki sport," he said.
Jones form was solid all week, and although he lost his final match, he said there is no sour taste from the week.
"I putted really well this week. The course was in amazing condition, the greens were awesome and my putting kept me in a lot of the matches.
"It was a little gutting to lose that last one, but after I heard the boys had won I wasn't too worried. I just wanted to make sure we got three points on the board. That's all I was worried about."
As the men celebrate, the women gear up for the New Zealand Women's Interprovincials at Timaru, which start on Tuesday.
Advertisement
Sign up to our NZ Golf Updates