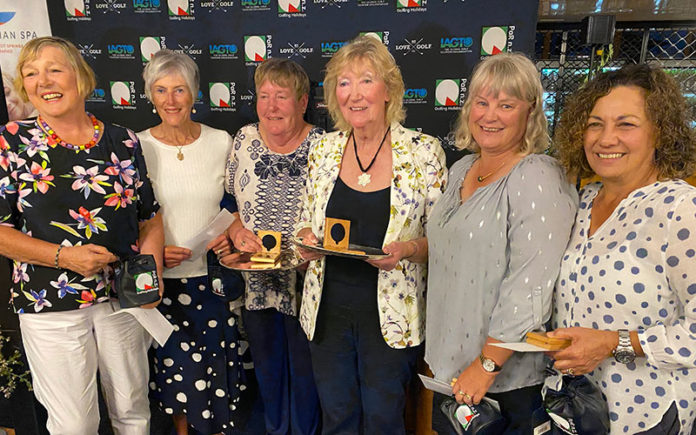 Ruth Clapperton and Maureen Carter have claimed the 48th New Zealand Golf Women's Seniors Foursomes after taking victory at the challenging Arikikapakaopa layout in Rotorua.
Playing alongside 126 other senior ladies aged 50 plus, the local pair battled through the squalls and heavy rain during the event to secure the Division One final victory against Taranaki representative Joanne McDonald who was paired with Pene Trousselot 5 and 4.
Their first match dashed hopes of Waitomo's Peg Purdie and Wendy Thomspon, tournament regulars who went down 3 and 2.
Clapperton and Carter then won on the 17th, 2 and 1 against Janice Grant and Jenny Smith (Pupuke) before their final against McDonald and Trousselot.
The plate in the championship was won by Janne Moyle and Norrey Simmons from Paraparaumu Beach.
The tournament, that was first played at Manukau in 1973, has never been played at Rotorua.
Despite a long spell since the thermal-based course has hosted a New Zealand national event, the club including the board, management and all staff including the professional and greens teams, turned it on welcoming the players from 42 different clubs nationwide from the welcome to closing prize-giving dinner.
The tournament was played in the same format as first introduced by the then Ladies Golf Union. The 64 pairs qualify by net in the first instance and are then seeded into four x 16 pair draws.
Mrs SS Wilson is the trophy for the players seeded in the second division and was won by Christine Pears (Akarana) paired with another district representative Lynda Tate (Wainui).
Tate and Pears won their final match 4 and 3 against Jennifer Parkinson (Sherwood Park) and Diana Wright (Waipu). The plate winners were Pupuke's Susan Binks and Karen Purdy.
Karen Dye and Jo Stallard from North Shore won the 3rd Divisions ADLGA Trophy with a win of 4 and 3 against Christine Mackenzie (Matamata) and Sherrill Jeeves (Sherwood Park). Plate winners were Liz Banton and Debbie Erceg, another Pupuke pairing.
Plate winners included Lis Stringer & Jo Free (Napier), Felicity Clark & Shirley Otton (Waitangi / Whakatane), Vickey Mackintosh & Yvonne Mehertens (Omanu / Mercury Bay), Judith Simpson & Di Taylor (Pupuke / Mangawhai), Judy McKenzie and Maree West (Nelson), Mary & Kate Wilson (Paraparaumu Beach), Jan Aickin & Alwin Thoms (Pupuke) and Lorraine & Molly Langan (Weedons).
Advertisement
Sign up to our NZ Golf Updates