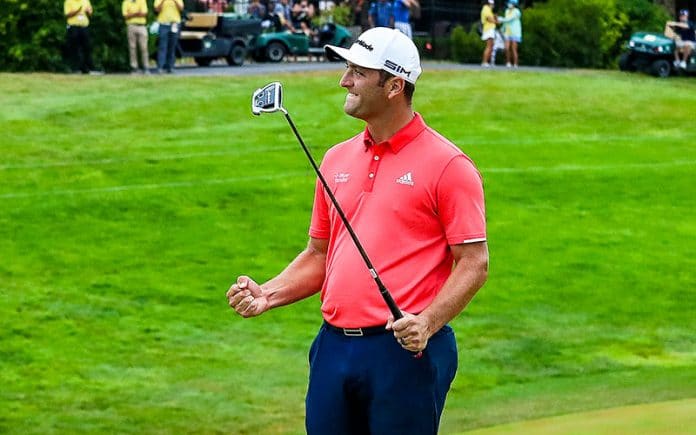 Jon Rahm has become only the second Spaniard to secure the World Number One ranking joining champion Seve Ballesteros to reach the pinnacle of the sport after a victory in the Memorial Tournament at Muirfield Village Golf Club in Dublin Ohio.
Rahm built an eight-shot lead at the turn, only to see it reduced to three shots with three holes to play and holding on to that lead to finish with a 3-over 75 and 9-under.
American Ryan Palmer was second on 6-under one shot ahead of Matthew Fitzpatrick on 5-under.
In trouble behind the green on the par-3 16th, with Ryan Palmer facing a 12-foot birdie putt from the fringe, Rahm hit a flop shot from deep grass that came out perfectly.
It landed on the fringe, ran toward the hole and dropped for birdie as the fiery Spaniard let out a ferocious fist pump.
The only issue was the score. A replay of Rahm's chip appeared to show the ball moved ever so slightly when he placed his lob wedge behind it.
PGA Tour officials reviewed it and gave him a two-shot penalty. It didn't affect the outcome.
Rahm was surprised when it was mentioned to him after he finished and said he didn't realize anything was wrong.
"It doesn't take anything from the shot," he said.
"It's not going to take anything away from today."
The victory was the 10th of Rahm's career, his fourth on the PGA Tour and he moves past Rory McIlroy in the world ranking by winning against the strongest field of the year.
It was the strongest test, too, with the rough not being cut and the greens allowed to bake out because they are being replaced. The fifth green already was stripped as the leaders were on the back nine.
Only five players broke par, the fewest for a final round since the Memorial began in 1976.
The average score of 75.932 was the highest for the final round since it was 75.972 in 1978.
Witha 4 shot lead at the start of the round, Rahm was asked about his attitude and mentality today given he went into the round which such a lead.
"You know, conditions were so tough," Rahm said.
"I knew I wasn't going to play 18 perfect holes. I knew at some point something was going to go south.
"For the most part on the front nine, I got pretty good breaks, and I was able to get it done."
After watching his hero Ballesteros as a teenager, Rahm decided that he wanted to be the best player in the world, today he achieved it.
"I don't know how to describe it. It's been a goal since I was 13, 14 years old.
"I remember I heard a story on the radio from my swing coach back in Spain, Eduardo Celles. We were driving somewhere and he asked me what my goals were and my ambitions and this and that, and I remember telling him, I think 13 or 14 years old, it's like, I'm going to be the best player in the world, and that's what I set out to be.
"Every day I wake up trying to be a better player, a better person, every single day, a better husband, and that's how I can sum it up.
"Any time I can join my name to Spanish history or any kind of history, it's very unique.
"Seve is a very special player to all of us, and to be second to him, it's a true honor."
That honour now sits with Rahm, who only five years ago was at the Memorial to receive the Jack Nicklaus Award as the nation's best college player.
On Sunday, Nicklaus was there to greet him behind the 18th green.
Nicklaus revealed earlier Sunday he and wife Barbara tested positive for the coronavirus in March, and they have since tested positive for the antibodies.
"Jon Rahm played beautifully," Nicklaus said.
"He leaked a little oil at the start of the back nine, but he played so well, so much better than anybody else was this week, with staying with it, with staying with the conditions, so forth and so on.
"I'm very happy for him. I think he's a great winner."
Tiger Woods, in his first competition since February 16 due to the COVID-19 pandemic, shot 76 and tied for 40th.
"Tough, tough conditions to start out my first week back, Thursday and Sunday," Woods said.
"But it was good to get the feel and the flow of competing again."
The only Kiwi in the field, Danny Lee had to withdraw on Friday citing an ankle injury.
Advertisement
Sign up to our NZ Golf Updates