What makes a group of guys from counting up the number of golf courses in the Taranaki region to actually physically accepting the challenge of playing every hole on every one of those courses and doing it within three days?
The chance to showcase Taranaki golf courses and at the same time play speed golf to raise much-needed funds for Kidney Kids NZ.
It all started when three mates Mick McBeth, Bernie Smith and Reeve Barnett were catching up and joking about playing all of the 18 courses in Taranaki. It was then suggested they do it to raise money for a charity when they realised the magnitude of what the Covid-19 lockdown had done for charity funding channels.
Reeve's sister Adelle McBeth was diagnosed with kidney disease at 12 years old, was on dialysis at home within 18 months and had a kidney transplant at 15 years old. Unfortunately, the disease that caused her kidneys to fail reoccurred in her transplanted kidney which eventually meant back on dialysis and she received a kidney transplant from Reeve four years ago almost to the day of the Taranaki challenge.
Bernie is a long time friend and Adelle's colleague for over ten years and Mick is Adelle's husband. Along with Reeve, they decided to invite Jamie Reid, currently ranked number one in the world for speed golf, to join the craziness.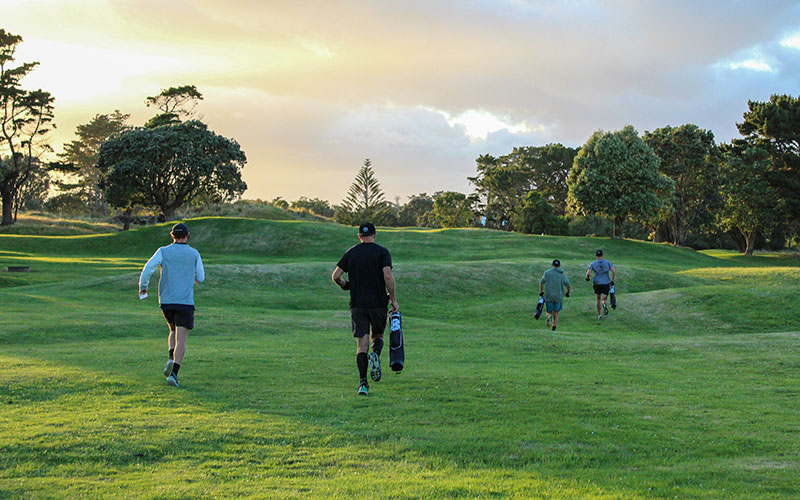 Along with the support crew of Adelle, Lacey Sims(Adelle and Reeve's younger sister), Ashton Sims(Lacey's husband) and Zac Bingham (long time friend) and many others throughout the journey, they embarked on the challenge from January 28 to 30, covering 18 courses; that's 324 holes, 134 kilometres, 5980 shots over 20.23 hours of golf with the aim of raising $30,000 for Kidney Kids NZ.
Speaking with NZ Golf Magazine following the record-breaking challenge, Adelle Mcbeth said the players endured the harsh elements, injuries and all manner of aches and pains and still made the final course ahead of schedule and finished with smiles on their faces.
"Jamie pulled up on the 8th hole of the 7th course (end of the first day) with a strained Achilles," Adelle said. "He tried treatment overnight and then tried to run first thing in the morning at Eltham but wasn't happening so borrowed a bike and played with one club for most of the second day until he got his own bike and had his partner Anna caddy for him so he could use multiple clubs on the last day.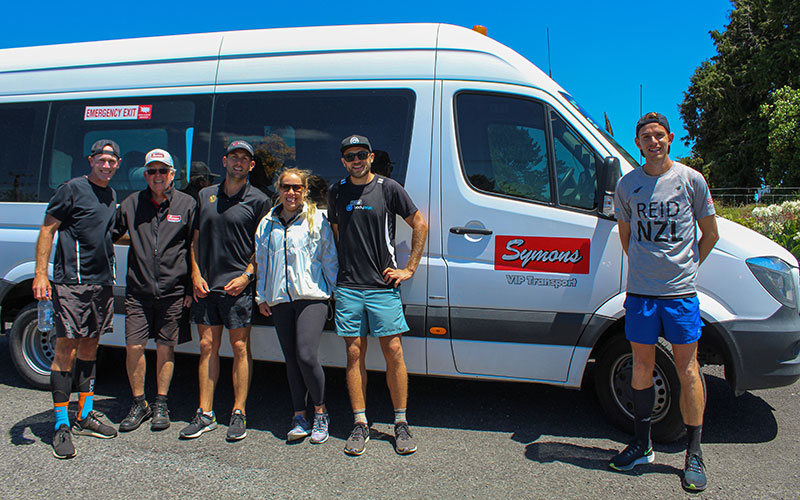 "Bernie had no visible knee cap on the second night as the quad muscle swelled up. The second night he spent some time in compression pants, massage at 3 am and stretching, anti-inflammatories and a compression bandage to be ready for 6 am tee off the next morning.
"Mick & Reeve had golf niggles, back and ribs, had to alter their swings slightly to keep going."
Coordinating a team to make this challenge happen is extraordinary but also getting the buy-in of every club in Taranaki was surely an amazing feat in itself.
"The clubs were amazing to deal with, all more than happy for us to do it and arranged golf carts where possible and sent out information to members to join in and come watch," Adelle explained. "We couldn't be at all the clubs at ideal times for them but the ones in 'normal' hours had members out watching, carts available for the support crew, photos and scoring. A lot of them did their own fundraising and donated money toward Kidney Kids NZ which was amazing.
"Strathmore moved the sheep off the course for us (the volunteer greenkeeper offered when we were down there around Christmas, we said not to worry but he still did) – it probably took them twice as long to move the sheep as it did for the guys to finish the course.
"Saturday we thought we would have to run through groups but Kaitake closed their course until 10 am so there were no hold-ups and then Westown which had their open day with a full field sounded a horn when we got there and players just cleared the way all the round with zero hold-ups, except for a group of kids doing a haka to support the guys at one of the holes.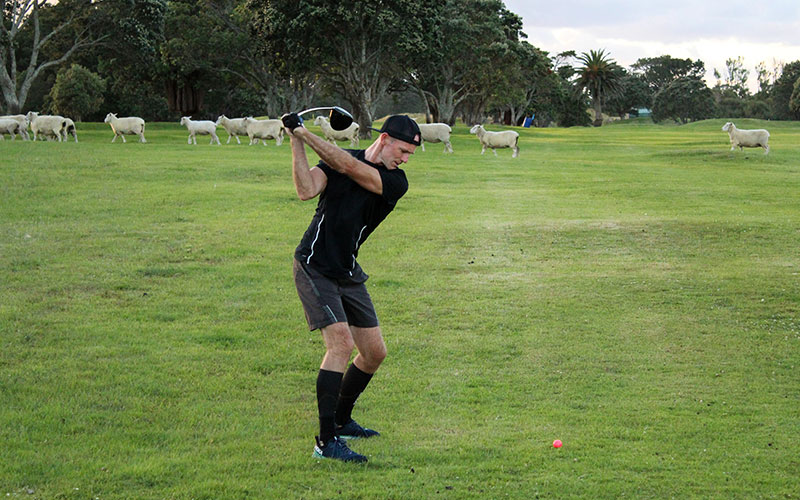 "We had anticipated getting behind schedule on the last day because of more people on the courses on Saturday but we were well and truly on track and they had a small break before the last round at their home course Fitzroy.
"Fitzroy was an amazing finish with about 300 people out to watch them finish."
Along the way, the players refuelled with whatever they could get their hands on, or in their mouths, and the clubs assisted as well.
"There was a lot of water consumed (they had their sensible moments), KFC, McDonald's, hangi (provided at Manaia golf club), whiskey (at Patea Golf club – it was about 10 degrees and the guys were drenched so they think this was a bit of a turning point for them), Shining Peak Highway Man beers, creamed rice, one square meals, pizza flavoured shapes, Powerade, doughnuts, plain bread rolls.
"As you can see there was not much thought to nutrition, it was just about getting calories in when there was time as there wasn't much chance to stop and eat properly.
"We had expected it to be a lot hotter and thought hydration would be the biggest issue but it wasn't that hot in the end so less of an issue and it was mostly about making sure they kept eating anything and everything."
Across the three days, all players had their moments when they thought they couldn't keep going but they found the will and strength to fight to the end.
"All agree that there were some dark places in both Waverley and Patea where it was pouring with rain (and we weren't very prepared, in Patea they all borrowed rain jackets from members)," Adelle said.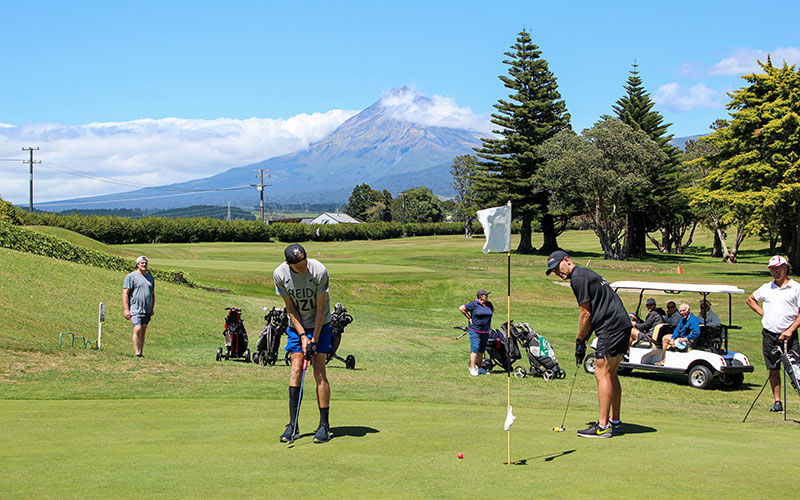 Jamie especially had a long list of moments he would rather forget given his Achilles went halfway through day one.
"Waking up at 4.30 am after playing 13 rounds of golf in 2 days," Jamie said. "First shot at Opunake (day 3, 6 am) with no warm-up and a body that does not want to move. Swinging with a cardboard body is hard. Walking the last 8 holes on day 1 at Stratford with a bung Achilles."
"Definitely motivating myself to play in Patea, with only shorts and tee-shirt that were already wet," Explained Reeve. "Trying to find my ball on the 17 at Manaia and just watching the rest of the group run to the 18th as they had finished the hole. Toughest part of the challenge."
"Waking up not being able to walk to the bathroom after the first day and having to get the legs moving again at 3 am," claimed Bernie. "Sucking on cramp spray every hole on the last round on the last day."
"After the first round my back was really, really sore so not wanting to let the boys down at Ngamutu played too aggressively (swinging too hard) and running too fast so was questioning how on earth I could do another 17 rounds but thankfully after the first day it got better," said Mick. "Waking up on the second day felt much better. Playing the first three holes at Patea were probably the worst conditions you could ever play golf in, cold, wet and windy (blowing in the face), thankful for the whiskeys at the end."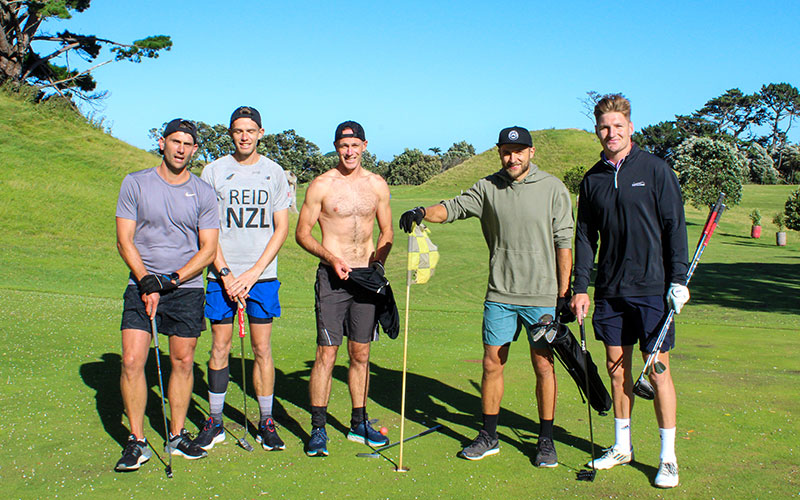 But there were some inspiring moments along the way as well.
"As far as the good times the team definitely picked up when people were there to watch/run with them and support, they had a big group at Pungarehu (including Jordie Barrett) so perked up there and then Fitzroy with all the friends and family and other support really lifted them up and they played amazingly and while they were expecting to be crawling to the finish line and going really slow they did it in an hour," Adelle said.
"They all play and did most of their training at Fitzroy so we're basing a lot of their assumptions on this course and it turns out that Fitzroy is the shortest course in Taranaki so it turns out they might have underestimated it.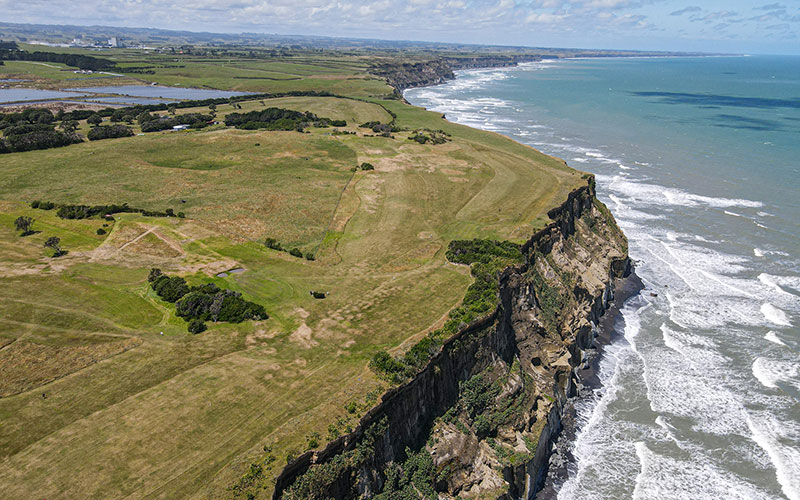 "Still hard to believe they got through it and are all pretty okay, the 134km on its own is crazy.
"The goal was for $30,000 and now we are at $42k but with other donations going direct to Kidney Kids we could be up closer to the $55k but we would love now to say we doubled the original target. Kidney Kids are beyond stoked.
"We have been overwhelmed by the support of people with this, there are so many causes that people can put their money toward so we appreciate every dollar. As well as the straight-up donations we had a lot of people make pledges around paying a certain amount for how many pars, birdies, eagles etc. that the team got so scoring was really important."
The final tally included: Total shots – 5980, Eagles – 5 (Bernie 2, Jamie 2, Reeve 1), Birdies – 92 (Bernie 42, Jamie 37, Reeve 7, Mick 6), Pars – 463, Bogeys – 464 and Double Bogeys – 210.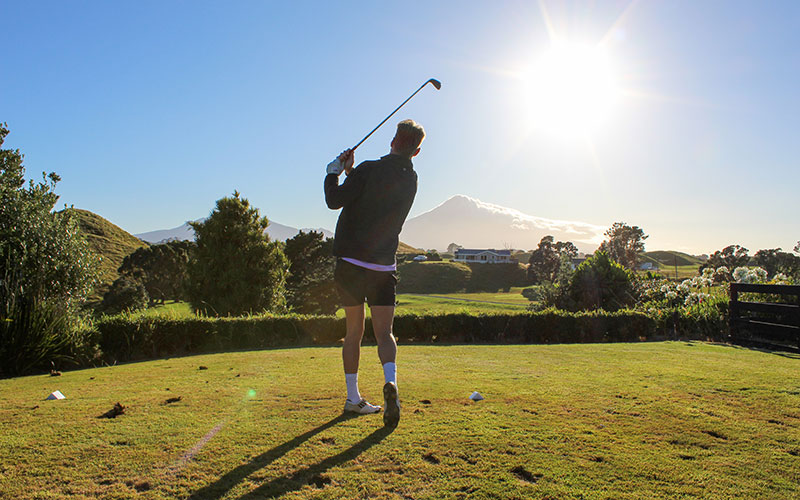 All in all an amazing three days of golf and surely it is set to become an annual event.
"While this was a one-off event we would love to create an association with speed golf at Kidney Kids NZ, kids with kidney issues need to slightly adapt to make their life as normal as possible and that is kind of what we see with golf, slightly changing something existing to make it work for others," Adelle said.
"Not sure we would have many takers to make this a regular thing."
If you wish to donate to the Taranaki 18 Charity Challenge just go here.
Advertisement
Sign up to our NZ Golf Updates