New Zealand's Jimmy Zheng has tied for the lead after the opening round of the 12th Asia-Pacific Amateur Championship (AAC) at Dubai Creek Golf & Yacht Club.
Zheng shot a 4-under round of 67 to finish tied with six other players including two of the world's leading men's amateur golfers, Keita Nakajima and Yuxin Lin.
The Duke University student was on fire early with an eagle on the par-five 4th hole before going bogey, birdie, bogey to finish the front nine at 1-under. He then finished the round with three birdies on the way to his 4-under round.
Nakajima, the World No. 1 amateur from Japan, and Lin, the two-time AAC champion from China could not have had more different starts to their rounds as Lin opened with a bogey, while Nakajima started with a birdie then made a double bogey on the very next hole when his tee shot went out of bounds by inches.
Joining Zheng, Lin and Nakajima at the top of the leaderboard is Hong Kong's Alexander Yang, who notched up two eagles, two bogeys and finished with two closing birdies. Korea's Wooyoung Cho, WAGR No. 14 Sam Choi of Korea and Lukas Michel, the 2019 U.S. Mid-Amateur champion from Australia, round out the group of seven tied for first after today's opening round.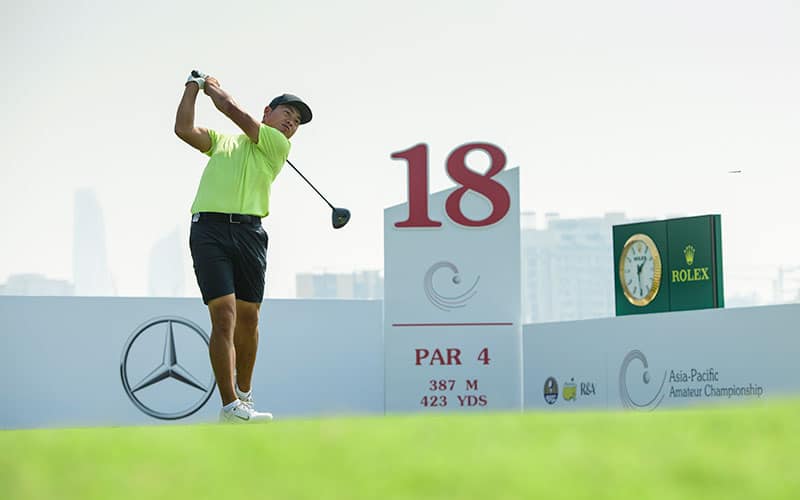 UAE's Ahmad Skaik, the top-ranked player in the country, had the honor of hitting the inaugural tee shot of the championship. He finished with a creditable two-under-par 69 made even more impressive by his efforts to manage a neck injury.
A bogey on the tough closing hole, where he found water with his tee shot, left a sour aftertaste, as a three-under-par round would have been the best ever by a UAE player in the history of the championship (Ahmed Al Musharrekh, 2011, second round).
View this post on Instagram
Created in 2009, the AAC was established to further develop amateur golf in the Asia-Pacific region. The champion receives an invitation to compete in the Masters Tournament and The Open, while the runner(s)-up gain a place in Final Qualifying for The Open.
The 2020 AAC was cancelled due to the COVID-19 pandemic. The 2021 championship marks the first edition held in the UAE, one of the APGC's 42 member countries, and joins the numerous professional and amateur events Dubai hosts annually, including the European Tour's Dubai Desert Classic and DP World Tour Championship.
Over the AAC's 12-year history, the championship has served as a springboard to some of the world's top players today, including Matsuyama, a two-time AAC winner and 2021 Masters champion.
Advertisement
Sign up to our NZ Golf Updates