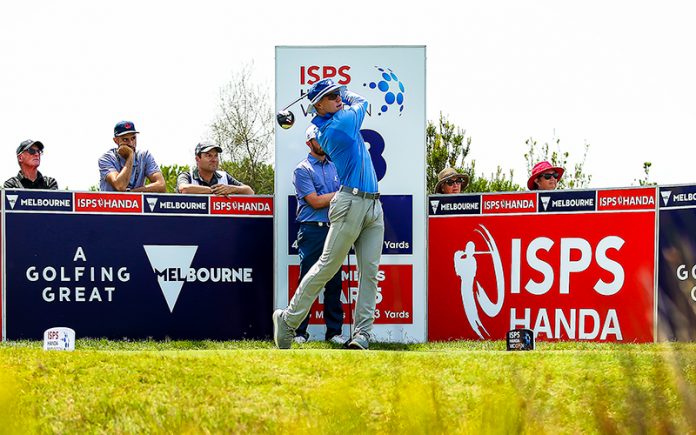 Ryan Fox, Mike Hendry and Gareth Paddison have all shot 5-under rounds of 67 to be just four shots off the lead after the opening round of the 2020 Victorian Open.
Played across the two stunning 13th Beach Golf links courses at Barwon Heads Fox started well on the Creek course hitting birdies on the 1st, 3rd and 6th before dropping a sho at the 8th.
On the back nine, he grabbed birdies and 13 and 14 before an eagle on the par 5 17th. Unfortunately, he gave one shot back on the 18th but all in all, was really happy with his first-round efforts.
"The golf courses are tricky enough," Fox claimed after his round.
"Probably the greens aren't as good as what they would like with the weather they've had, so it was tough to hole some putts. I've been struggling with that anyway.
"So I hit a lot of good shots today. I probably left a couple out there, but you're never going to complain too much with 5 under as a start."
Hendry and Paddison were also on the creek course starting their rounds from the 10th.
Hendry birdied 10, 11 and 15 before a bogey at 17. On the front nine he eagled the 2nd, birdied the 3rd and then went bogey and birdie on 8 and 9 to finish nicely placed.
Paddison also started his round at the 10th with four birdies in the opening 9 holes at 10, 12, 14 and 17. He then came home with two birdies and a bogey to finish on 5-under.
Spains Alejandro Canizares leads the field on 9-under after a round of 10 birdies to finish with a 63 ahead of a group of Aussies on 7-under.
Ryan Fox has been playing the Middle East recently as part of the European Tour and said he prefers the greens back in Australia.
"I think it's a bit easier to see the lines. I grew up on very similar greens to these, so it's easier to see the lines whereas the Middle East for me, they're so pure but there's a little bit of grain in them at times and sometimes it's really hard to see it.
"I struggled the last three weeks on the greens and it was nice to see a couple go in today. I certainly left a couple out there."
Other notable Kiwi performances today included Daniel Hillier and David Smail who was just behind the Kiwi trio on 4-under, James Anstiss hit 69 to be 3-under, Taylor Hill and Denzel Ieremia both finished with 2-under and Luke Toomey managed to find a couple of birdies on the front nine to finish on 1-under the card.
Advertisement
Sign up to our NZ Golf Updates