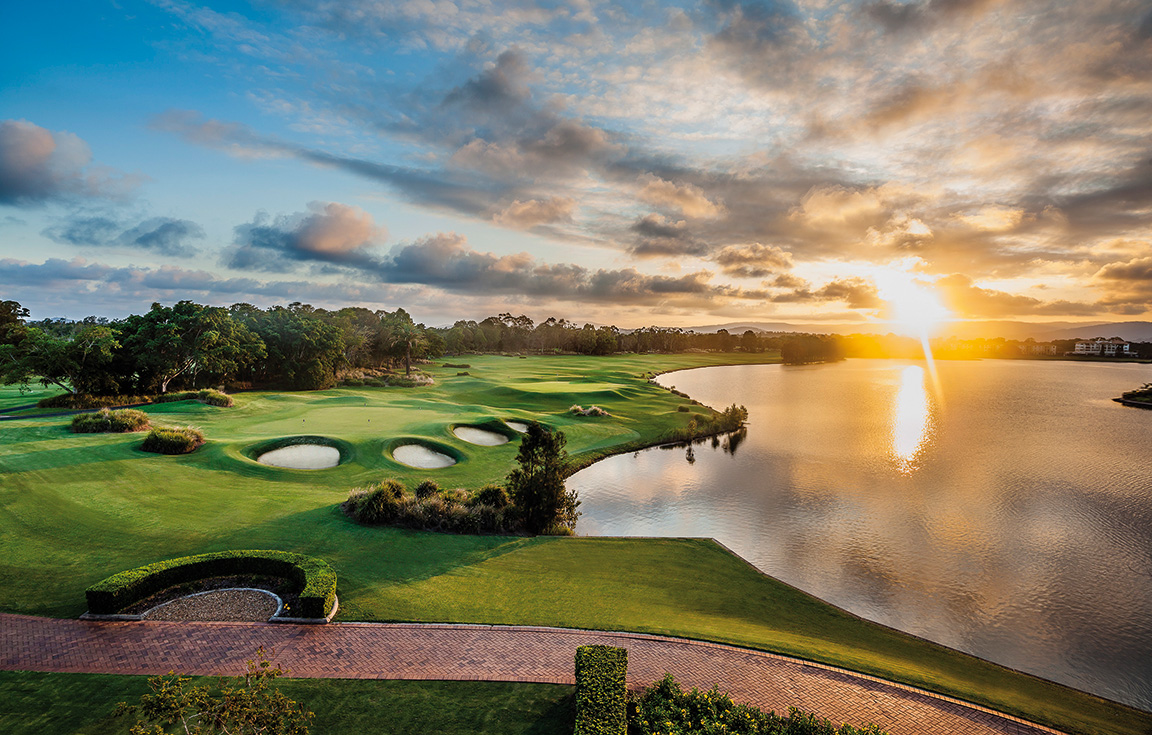 With direct flights to the Gold Coast from both main New Zealand islands, it's little wonder that so many Kiwis are choosing to cross the ditch for their annual holidays.
Each year, more than 500,000 New Zealanders make the trip – attracted by the weather (even in the depth of winter the temperature rarely drops below 17 degrees), tourism attractions and the hospitality of the locals.
Many come to play some of the outstanding golf courses that have made the Gold Coast a mecca for golfers from throughout the world.
Ask Peter Senior – everybody's favourite professional – and Andrew Daddo, host of Fox Sports' nationally-televised The Golf Show, and they'll tell you the best course in the region is Links Hope Island.
With its five-star facilities, superb links-style layout and outstanding customer service, Links Hope Island is something special.
Conveniently located 20 minutes from Surfers Paradise and 40 minutes from Brisbane, the golf complex is the centrepiece of Hope Island Resort.
From the moment you arrive at the lovely Mediterranean-inspired clubhouse and are greeted by the concierge, you realise Links Hope Island is not just another golf course.
The facilities – the exceptional Links restaurant and bar, an aquatic driving range, a Golf Shop featuring the latest in golfing fashion, and state-of-the-art motorised carts – are remarkable.
But it is the golf course itself that sets Links Hope Island apart.
Designed by Peter Thomson and Mike Wolveridge, the course is reminiscent of the famous old links-style courses of Scotland and northern England.
Set in a 360ha residential resort community, Links Hope Island is a beautiful 6500m, par 72 layout, with 128 bunkers and plenty of water to hold any player's attention.
It has a unique aquatic style driving range, excellent practice putting, driving and chipping facilities, a concierge bag drop and a fleet of new GPS golf carts.
Links Hope Island is a comparatively new course. Work began in 1991, and the entire area needed to be raised between 2m and 6m to prevent flooding. Then, a metre of sand was overlaid over the course.
By 1993 it was ready to play.
Despite its short history, Links Hope Island has hosted a Johnnie Walker Classic (won by Ernie Els in 1997), a BMW Cup national final and a Qantas Legends Golf Classic, and is on just about every golfer's 'bucket list'.
While it's by no means an easy course, playing Links Hope Island is a joy, and there are rewards for golfers who thinks their way around.
When designing the course, Peter Thomson, a five-time winner of the British Open, decided to keep the best for last.
The signature par-three 17th hole is a challenge for any golfer. At 230m off the black tees, and 180m off the whites, the hole typically plays into the wind, and many locals play it as a par four.
The 511m, par five 18th hole provides golfers with a superb view, but don't become distracted. The green is surrounded by bunkers, with a tricky hollow in front. A par here is a great score.
Not only is the layout cleverly designed, it is lovingly maintained, ensuring Links Hope Island is a regular fixture on the list of Australia's Top 100 courses.
When the round's over, golfers have the opportunity to enjoy a drink or dine at the restaurant and bar, overlooking the course. It's open every day from 6am to 6pm.
Links Hope Island is justifiably proud of its Golf Shop. It is forever sourcing and stocking the latest in golfing fashion, and offers the sort of apparel you would expect to find in boutiques in Sydney, Melbourne or Auckland.
The shop is known for its range of ladies and men's wear, with international labels such as Jamie Sadock of New York, Daily Sports of Sweden and Bivo of Canada.
And we haven't even mentioned the extensive range of outstanding golf equipment.
For a course of such fine quality, Links Hope Island is remarkably welcoming to visitors. Staff are friendly and obliging and visitors are greeted with warmth and hospitality. Staff and management are proud of their course and keen to show it off.
Casual green fees (for 18 holes) are set at $140 ($150 on Fridays and weekends), but frequent special offers allow golfers the opportunity of playing this wonderful courses at discounted rates.
For example, golfers pay only $79 if they tee off later than 2pm, and only $59 if they start playing after 3pm.
Because Links Hope Island is owned in the same interests as Noosa Springs, on the Sunshine Coast, it is possible to buy a World Class Golf Pass and play both outstanding courses for a discounted rate of $199. The passes can be bought at the Golf Shop at either course, and include the use of a motorised cart.
LINKS HOPE ISLAND
Springfield Drive, Hope Island 4212
Phone: +61 (0)7 5530 9000
Website: www.linkshopeisland.com.au
Email: golfmail@linkshopeisland.com.au
Advertisement
Sign up to our NZ Golf Updates