For the second year running at his home course, Luke Toomey has won the Carrus Open by one shot after a final round 68, 2-under the card, to finish on 14-under for the tournament at the Tauranga Golf Club.
On a day where Toomey started two shots behind overnight leader Ryan Chisnall, he began well on the front nine with an eagle on the 6th hole, for the second day in a row, before dropping a shot on the next to share the lead with James Hydes after seven holes.
Toomey began the back nine in style making birdies at the 10th and 11th holes to move two shots clear with seven holes to play.
Toomey made another birdie at 15 to be in full control of the tournament and keep the challengers at arm's length with three holes to go.
He hit a speed bump at the penultimate hole, losing his tee shot down the left to bring both Woonchul Na and James Hydes back into the tournament.
Disaster looked like it was about to ensue as he hit his fourth shot into a fairway bunker about 40 metres short of the hole. He hit a miraculous bunker shot to six-feet and holed the putt with authority and a fist-pump and walked to the 18th tee holding a one-shot lead.
Par was good enough to win his second Carrus Open in a row, one shot in front of Woonchul Na and Hydes.
After the victory, Toomey said it was the perfect way to give back to a club that has given him so much.
"This feels bloody awesome," Toomey said, "Like I've said, being able to give back in that fashion means everything to me and I know it does to them to, I'm ecstatic.
"I told myself all week to expect the unexpected and take everything as it comes. I told my caddie, Nick, after I lost the ball on the 17th that I should just make birdie with the second ball.
"I made a remarkable up and down out of the bunker to make double, and that was just enough to spur me on and give me the energy to make par up 18 and win the golf tournament and bring it home.
"This means everything."
His Jennian Homes Charles Tour tally is starting to add up, and he will have the opportunity to add another trophy to his cabinet at the Taranaki Open next week at New Plymouth Golf Club.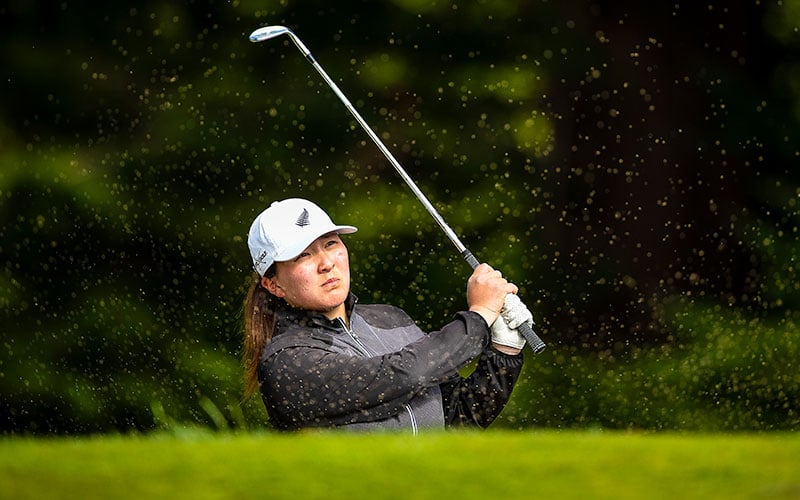 Darae Chung finished as the leading female at nine-under and in a tie for ninth, after making history being the first female to tee it up in the final group of the new-look mixed-gender Jennian Homes Charles Tour events.
"I just wanted to learn as much as I could today as it was an amazing opportunity for my development," Chung said after the round.
"I love how New Zealand Golf has given us this opportunity to test ourselves against the best players in the country."
Final Scoreboard
-14 266 Luke Toomey (PGA New Zealand) 69 68 61 68
-13 267 Woonchul Na (PGA New Zealand) 64 69 66 68, James Hydes (Gulf Harbour Country Club) 64 65 69 69
-12 268 Chang Gi Lee (PGA New Zealand) 69 66 65 68, Ryan Chisnall (PGA New Zealand) 62 69 65 72
-10 270 Harry Bateman (PGA New Zealand) 66 68 71 65, Mark Brown (PGA New Zealand) 66 70 67 67, Jim Cusdin (Tauranga) 65 66 70 69
-9 271 Taylor Gill (PGA New Zealand) 70 70 66 65, Jimmy Zheng (Howick) 66 67 71 67, Kazuma Kobori (Rangiora) 68 70 65 68, Dongwoo Kang (PGA New Zealand) 65 72 65 69, Gareth Paddison (PGA New Zealand) 71 64 66 70, Darae Chung (Shandon) 64 68 66 73
-8 272 Trent Munn (Manawatu) 62 70 71 69
-7 273 Jared Pender (Te Puke) 62 63 74 74
-6 274 Luke Brown (PGA New Zealand) 71 69 65 69, Samuel Jones (Manaia) 69 70 65 70, Sam An (Titirangi) 66 68 70 70, Tae Koh (Windross Farm Golf Course) 67 66 70 71, Josh Geary (PGA New Zealand) 65 68 69 72, Mako Thompson (Maraenui) 70 65 67 72
-5 275 Daniel Hillier (PGA New Zealand) 68 73 71 63, Michael Hendry (PGA New Zealand) 67 66 67 75
-4 276 Hiroki Miya (Russley) 64 71 73 68, Pieter Zwart (PGA New Zealand) 68 70 67 71
-3 277 Matthew Morris (Royal Wellington) 63 72 74 68, Jayden Ford (Judgeford) 68 72 68 69, Peter Fowler (PGA New Zealand) 67 71 68 71, Trevor Marshall (PGA New Zealand) 69 66 69 73, Mitchell Kale (Tauranga) 64 70 70 73, Cameron Jones (PGA New Zealand) 67 69 67 74
-2 278 Eunseo Choi (Takapuna) 64 74 69 71, Kieran Muir (Omokoroa) 70 67 69 72, Munchin Keh (P) 64 69 72 73
-1 279 Momoka Kobori (Rangiora) 71 68 70 70, Jerry (Xiangming) Ren (P, Gulf Harbour Country Club) 68 73 68 70, Lachie McDonald (Marton) 67 73 66 73
E 280 Tyler Wood (Palmerston North) 68 70 72 70, Fraser Wilkin (P, PGA New Zealand) 71 71 67 71
+2 282 Kit Bittle (Gulf Harbour Country Club) 68 72 75 67, Daniel Pearce (PGA New Zealand) 66 74 73 69, Dominic Brettkelly (Hororata) 71 71 70 70
+3 283 Zachary May (Russley) 72 65 68 78
+4 284 Shaun Campbell (Omanu) 68 71 72 73, Cameron Harlock (Royal Auckland and Grange) 66 70 73 75, Fraser MacLachlan (PGA New Zealand) 70 71 67 76, Joshua Bai (Akarana) 69 65 74 76
+6 286 Sung Jin Yeo (PGA New Zealand) 70 72 72 72, Aileen Du (Remuera) 68 70 75 73
+7 287 Ethan Jones (Manaia) 69 68 80 70, Fiona Xu (Titirangi) 68 70 70 79
+9 289 Caerwyn Ross (Paraparaumu Beach) 68 72 77 72, Jesper Bengtsson (North Shore) 67 72 72 78
+10 290 David Kim (Akarana) 67 72 77 74
+12 292 Hayato Miya (Russley) 68 71 79 74
+13 293 Misong Jang (North Shore) 69 73 77 74, Kevin Koong (Muriwai) 71 71 74 77
+14 294 Stephen Liu (Whitford Park) 70 70 78 76
+18 298 Logan Madden (Morrinsville) 70 72 72 84
Advertisement
Sign up to our NZ Golf Updates