The Manawatu Golf Club's Hokowhitu course in Palmerston North will be in magnificent condition for the second instalment of the Brian Green Property Group NZ Super 6 starting on Thursday.
Palmerston North is celebrating its 150th year in 2021 and Manawatu Golf Club is proud to be able to bring the NZ Super 6 back to a city that supports major events.
Manawatu Golf Club General Manager Warren Collett said the city patronises its sporting events.
"We are proud to be able to bring this event to the city," Collett said. "Straight after us, we've got the NZ Rural Games, the Central District Field Days, the Festival of Cultures and NZ Superstock Car Championships were held recently so there's always something going on in this city and its nice that we can be part of that during the 150th celebrations."
Brian Green Property Group NZ Super 6's is the first event of 2021 on the Jennian Homes Charles Tour, last year Daniel Hillier won a thrilling shootout on the final day to claim victory.
"The Sunday morning of the Super 6's was like the T20 of cricket," Collett explained, "there were players coming up the 6th hole, which happened to be the 18th hole outside the clubhouse, and there were people in the playoff to see if they were going to go through to the next round and I think at once stage we had three matches going on at the one hole with shootouts and things like that.
"It was pretty hectic there for an hour and a half, to see who was going through. Everybody's positioned around the 18th green and they're all watching players either shooting out or driving into it, it's a fair bit of pressure.
"This year we are going to change it for people who are in the shootout if they are tied after the six holes. They will tee off from the side of the 18th green going back to the second green so they'll have their backs to a lot of people standing there up very close and watching what's going on. It will be totally different for the players and I'm sure they'll be feeling the heat a little bit."
The advent of Covid-19 and the lockdown for the club caused some heartache early on, but Collett said the end of year result was exceptional given the circumstances.
"Back in April, we didn't have a clue as to what the hell we were going to do when we came out of this. I spent a couple of weeks writing a recovery plan but I've never looked at it since because we came out of the blocks running and we've been running ever since," Collet said.
"We've had an exceptionally good year. Obviously helped by the government subsidy. Our members couldn't go away, we have a membership that likes to get away overseas during the winter months. This year they couldn't so we sold a lot of hardware and equipment.
"We had an AGM a couple of weeks ago and I was pretty proud to sit there and look at those numbers that's for sure."
The Manawatu Golf Club was founded in 1895 at Hokowhitu, which continues to be its current location. The club hosted its first New Zealand Open Championship in 1922 with others following in 1930, 1946, 1957, and in 1973. Many major championships have been played on the course, including seven New Zealand Amateurs and five New Zealand Ladies Amateur Championships. The NZPGA was held at the Manawatu Golf Club in 2017 and 2018.
For a town like Palmerston North, an event on the Jennian Homes Charles Tour is super important and for a club like Manawatu, it introduces them to a whole new audience of potential visitors.
"It's very important, in exposing our club," Collett claimed. "Palmerston North is not a tourist destination but what we've seen since we've done a couple of NZ PGA's and the Super 6 last year, we are seeing a big increase in numbers of groups of people from different parts of New Zealand coming here to play. Most of them haven't been here before, so it's been really good for us in that department.
Due to changes in tournament schedules this year, players such as last year's winner Daniel Hillier won't be able to attend but the club is still excited about the exceptional field lined up for the tournament this year.
"I've just had a look at the entries, it's a very very impressive line-up of amateurs in this country," Collett said.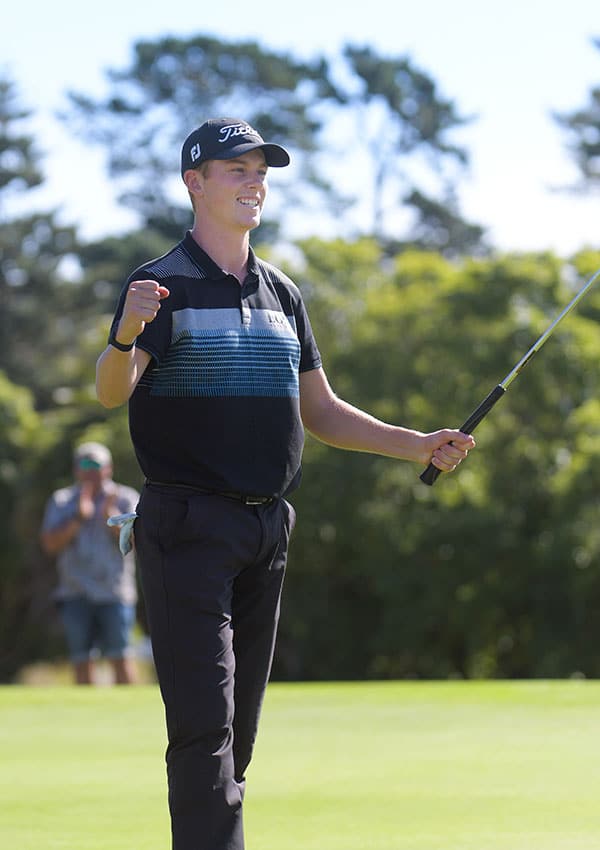 "Obviously we are not going to have last year's winner Daniel Hillier here, he's in Australia, Mike Hendry is in Australia as well as James Anstiss, so it's a shame we haven't got those.
"Nick Voke was here last year, and we were very lucky to have him, he was a beaten semi-finalist. Covid has certainly thrown some curveballs, but we have been fortunate a lot of people have stayed on board including sponsors so we will be in for a good week."
The Brian Green Property Group NZ Super 6 Manawatu will be held from February 25 to 28, 2021 and the first players tee off on Thursday at 8am.
Advertisement
Sign up to our NZ Golf Updates