Ryan Fox has shot a 6-under 66 on day two of the Autex Muriwai Open to join overnight leader Daniel Hillier on top and is one shot ahead of Josh Geary heading into the weekend.
Fox started the round well with five birdies in the first ten holes before the 13th where he made his first blemish of the day with a bogey.
The European player then shot a birdie, another bogey and then an eagle two on the par 16th.
Fox said it was a solid day at the office.
"It was a solid day out there today. I holed a couple of putts and it looked like I was going to get it going after about 10 holes but had a couple of scrappy holes on the back nine, but I made a nice eagle on the 16th to rectify that," Fox said.
"I'm where I want to be after two rounds, and we'll see how I go in that bad weather tomorrow."
The European Tour winner is excited about the prospect of going back-to-back on the Jennian Homes Charles Tour.
"That would be really cool. I haven't played an event in six or seven years, so it was nice to get another win on the board last week and I'd certainly like to go back-to-back.
"Obviously Josh [Geary] is playing well and I played with Dan for the first two rounds, and he's played really solid for the first two rounds and I might have a battle on my hands over the weekend with them as well as the elements."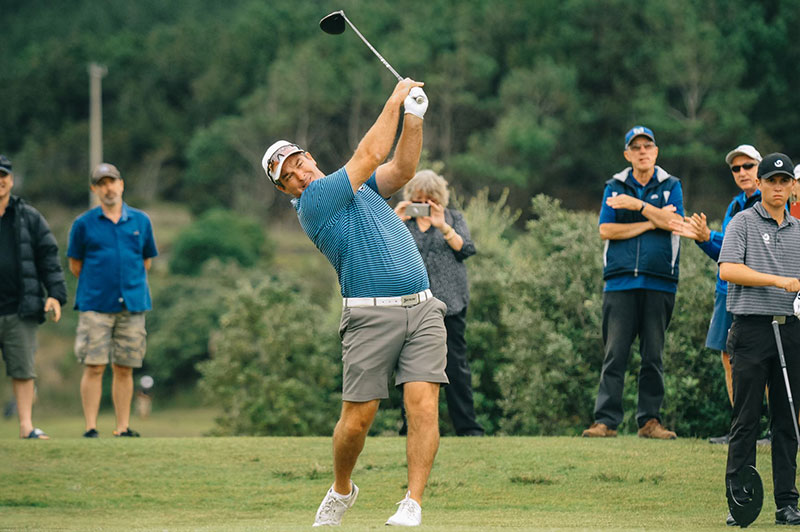 He'll be paired with Hillier again tomorrow after Hillier backed up his opening round of 64 with a round of 67 today to get to 13-under for the tournament.
Hillier had a blemish-free round today and made birdies at the second and fourth holes and would make the turn at two-under-par.
He made further birdies at the 11th, 15th, and 17th holes and signed for a second round of five-under.
Hillier said he's excited at the challenge of going against a European Tour winner over the weekend.
"It's nice to have a couple of good rounds of golf and Foxy is obviously in some pretty good form and he could have been a few better today but it's nice that we are going toe-to-toe. It should be a great weekend," Hillier said.
The bad weather looming won't dampen any plans Hillier has to attack the course this weekend as he believes he will need his best stuff in order to lift the trophy come Sunday afternoon, which is a challenge he is looking forward to.
"There will be a bit of wind to contend with, so I've just got to keep myself in position as there are plenty of chances out there.
"I've just got to eliminate the bad holes."
The pair hold a one-shot lead over Josh Geary, with Lachie McDonald and Kieran Muir a further shot back at ten-under.
Leaderboard Day 2
T1 Ryan FOX                -13 65 66 131
T1 Daniel HILLIER        -13 64 67 131
3   Josh GEARY            -12 68 64 132
T4 Lachie MCDONALD  -10 66 68 134
T4 Kieran MUIR           -10 66 68 134
Advertisement
Sign up to our NZ Golf Updates