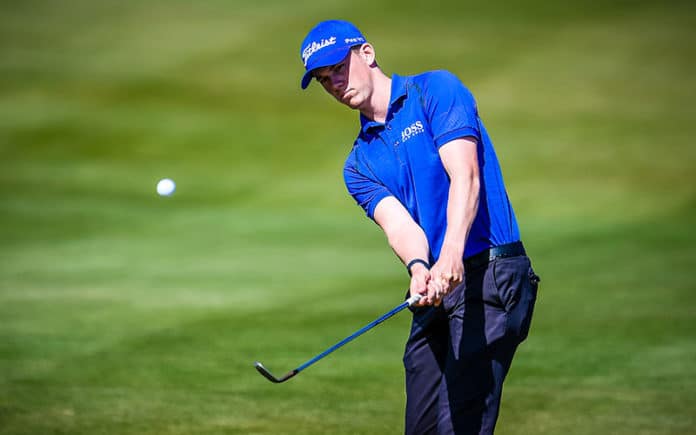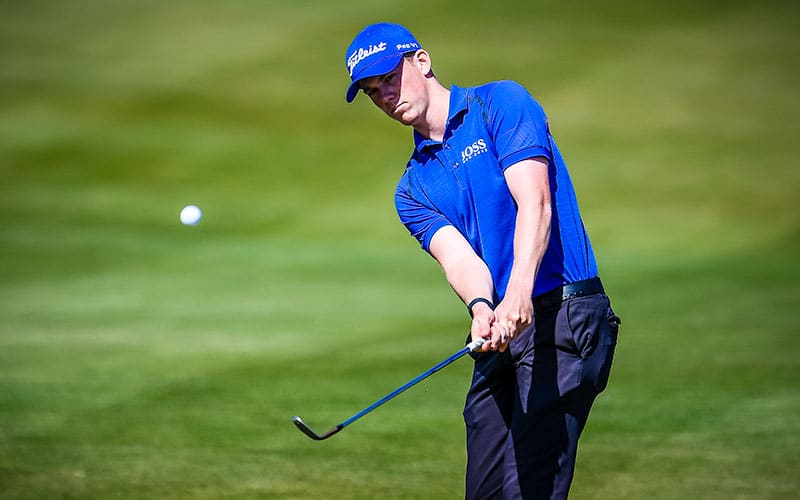 Daniel Hillier has scored two eagles and Luke Toomey has had a faultless round to both shoot rounds of 8-under 64 on the first day of the Autex Muriwai Open as part of the Jennian Homes Charles Tour at Muriwai Golf Club today.
Hillier and Toomey lead rising amateur Mako Thompson and last weeks winner Ryan Fox by one shot at the end of the first day with Lachie McDonald, Luke Brown, Kieran Muir and Tae Koh another shot further back.
A dual Charles Tour winner in 2020, Hillier has spent the past couple of months in Australia where he picked up four top-ten finishes before heading home and just escaping hotel quarantine last weekend as The Clubroom Gulf Harbour Open got underway.
He started his round on the back nine with bogey, birdie before shooting an eagle three on the 14th and a birdie on 17. He then turned played the front nine in stunning fashion with three birdies in five holes before an eagle three on the 6th hole.
Hillier said it was a solid day at the office after a couple of weeks of no golf.
"It was really fun out there today with Foxy and Jimmy who were playing some really good golf as well. We were feeding off each other really nicely as well," Hillier said.
"I got off to a slow start with a bogey on the first [hole 10] and then managed to get into a bit of a rhythm and made a few birdies coming home.
"I knew the course record was nine-under and I had a couple of really good chances coming in but unfortunately I couldn't get the outs to drop but I'm always happy with eight-under and I had a good time out there."
Multiple Charles Tour event winner and a past series winner Toomey hit his straps on the first day at the 5th hole where he started a run where he shot seven birdies in ten holes.
He finished his round with a birdie on the 18th to join Hillier in the lead.
The Autex Muriwai Open is also playing host to the final stage of PGA Tour of Australasia's Q-School which Toomey has entered.
Toomey said it's nice to get off to a fast start.
"I've been getting off to slow starts lately in these events and I've been trying to play catch up," Toomey said.
"It's finally nice to hit the ground running and be in contention right from the start.
"Ball-striking was nice today. I think I hit all 18 greens today and I gave myself a lot of looks at birdies and had a couple of nice two-putts for birdies as well as a nice 20 footer on the last.
"I still feel like there is a lot of room for improvement on the greens. I'm prepared for the fact that I'm not going to hit 72 greens this week and not every par 5 in two and at some stage I'm going to have to start rolling in some 10 footers."
Two cards for the PGA Tour of Australasia are on offer this week, with Luke Brown currently occupying the final spot.
Day 1 Leaderboard
T1 Luke TOOMEY         -8 64
T1 Daniel HILLIER       -8 64
T3 Mako THOMPSON    -7 65
T3 Ryan FOX               -7 65
T5 Lachie MCDONALD  -6 66
T5 Luke BROWN          -6 66
T5 Kieran MUIR           -6 66
T5 Tae KOH                -6 66
Advertisement
Sign up to our NZ Golf Updates