This year's Masters was a strange affair, Augusta National shorn of its traditional optimism, bright colourful flowering shrubs and it's spectators – or as they like to call themselves down Magnolia Drive, 'Patrons,' an uninspiring autumnal scene, a parody of its traditional springtime splendour, perhaps reflecting the 200,000-plus funeral corteges across the country in the immediate and acrimonious aftermath of a bitterly-disputed US Presidential election.
Add in COVID-19-enforced withdrawals, an ethereal atmosphere and an understandable failure to emulate last year's epic ending with the Tiger Woods renaissance and this was a Masters like no other.
The media in general and TV, in particular, tried to cheer proceedings up, but somehow, Augusta National 2020 was out of sorts, arguably a reflection of the backdrop against which the 84th Masters was taking place, displaced from its April optimism, bounced into the gloom of a November like no other in the Land of the Free, perhaps taking place only because it could.
And, at the end of four drab, dismal and downcast days where the eternal enthusiasm of a southern state's spring rarely shone through, golf got the cheerless champion the occasion probably demanded, Dustin Johnson, a tall, languid, characterless automaton of a man and an athlete who, were he to participate in almost any Olympic sport other than golf would not have been permitted to play.
Perhaps a scintilla of celebration is due, down to the fact the Masters got played at all, but Bunker Mentality finds the solemn ceremonial conviviality normally associated with the season-opening 'Major' difficult to buy into, but Masters 2020 was a tournament stripped to its underpants by death, destruction and political deceit and won by a charmless man with – and let's be honest – a well-chronicled history of alleged drug misuse and, if the tabloids are to be believed, the morals of an alley cat.
The saying goes that, 'Context is everything,' and if that's true, then it's hardly surprising that the 84th Masters at Augusta National turned out to be a downcast, drab and downbeat reflection of what had been brewing in the United States of America ever since the inevitable decision was communicated, perhaps appropriately, on Friday 13th March this year, to postpone golf's springtime pièce de résistance.
25 days from the start of the 2020 Masters masterpiece came a missive from Fred Ridley, chairman of the venerable Augusta National Golf Club, a dispatch that was as inevitable – if belated – as it was cloying in a way only the until recently racist, sexist and still self-serving and sanctimonious exclusive golf club can be.
"On Wednesday, March 4, we issued a memo stating that our plans to host the Masters Tournament, the Augusta National Women's Amateur and the Drive, Chip and Putt National Finals had not changed.
"Unfortunately, the ever-increasing risks associated with the widespread Coronavirus COVID-19 have led us to a decision that undoubtedly will be disappointing to many, although I am confident is appropriate under these unique circumstances.
"As COVID-19 continues to impact the lives of people everywhere, we seek your understanding of this decision and know you share our concern given these trying times. Thank you for your faithful support."
The venerable Masters was subsequently reinstated in the 2020 / 21 PGA Tour schedule, meaning there will be two Green Jackets awarded in the same season, if not calendar year – such are the vagaries of the scheduling, hence Dustin Johnson will – assuming he fails to hold onto his title assuming golf is back to, 'Normal,' by April 2021 – become the shortest-serving Masters champion in history.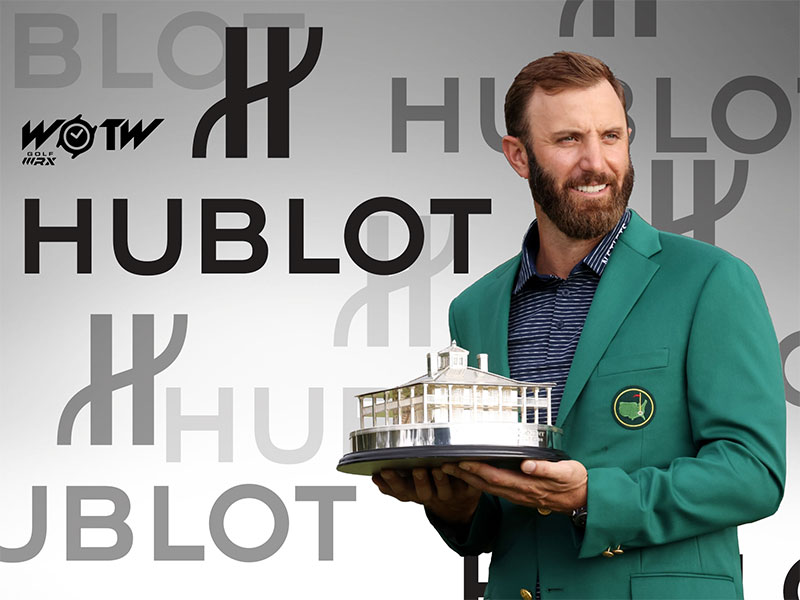 Poetic justice perhaps?
The tournament suffered an early blow when two players, the 2017 champion Sergio García and young Chilean rookie Joaquín Niemann both tested positive for COVID-19, both having to withdraw, the field reduced to 92 on the eve of the rescheduled event.
Bunker Mentality has never made any bones about DJ, no doubt a very fine – if terminally dull – golfer and, to be fair, a remarkable athlete, but with an admittedly well-disguised history of abusing recreational drugs, so much so that, had he been as proficient in almost any other sport, with three relatively recently failed drugs tests against his name, he would have been banned, therefore precluded from stepping onto the first tee at Augusta National last month, never mind winning one of the game's top four titles.
Hence, Bunker Mentality is snorting with derision, yet the game of golf and the media pack that runs in tandem with the elite end of the game barely mentioned Johnson's shady past, preferring to focus on a present tense that, at the very least, saw the Masters take place, albeit against the backdrop of a Coronavirus worldwide health emergency.
Although the PGA Tour is coy in the extreme when it comes to such sensitive matters as failed drugs tests – it prefers to maintain an undignified silence, disproportionately respecting a player's right to anonymity, but then it is as much as a trade union as it is a governing body – its rules more ambiguous and therefore much more difficult to enforce, a classic case of don't test, won't find.
The recently-crowned Masters champion represents an interesting example, a classic case in point, where ambiguity and obfuscation – as opposed to rooting out the scourge of doping that affects professional golf more than anyone would care to admit – is the name of the game.
Dustin Hunter Johnson turned pro in 2007, a tall, awkward and some might argue, 'Naive,' 23-year-old, but, two-years-later, he failed a PGA Tour drug test for the first time, testing positive for marijuana, a violation – all be it a relatively minor one – of the World Anti Doping Agency (WADA) code, before, in 2012, once again, failing a drug test, this time for cocaine, a second and more serious offence.
Two strikes – enough in some sports that take doping much more seriously than the PGA Tour or the International Golf Federation (IGF) for a significant ban – and you're out, but publically at least, no action was taken against Johnson for his second recreational drugs violation.
Johnson appeared to have cleaned up his act, going two years without drama, but he had another failed test – again for cocaine – in 2014; following Johnson's third failed test, he was suspended for six months by the PGA Tour.
Shortly afterwards Johnson himself announced he would be taking a break from professional golf, citing "Personal challenges," and unspecified, "Demons," which he needed to deal with, away from the glare of golf.
Typically, was Johnson a Track & Field athlete, an Olympic swimmer or an ATP Tour tennis star, with such a record – albeit for recreational as opposed to performance-enhancing substances, which the World Anti Doping Agency (WADA) does not differentiate between – 'Would' – Bunker Mentality says, 'Should,' – have received, under Article 10.2 of the WADA Code, Anti Doping Rules Violations, for a "First violation, Two (2) years' Ineligibility," and for a "Second violation," receive a "Lifetime Ineligibility," in other words, banned from golf for life.
Some might say, with some justification that Dustin Johnson has buried his demons and cleaned up what was for too long a grubby act littered with lurid headlines and defined by well-documented doping violations, and, if so – ignoring the age-old adage that a leopard never loses its spots – good on him.
Indeed, if he has got his off-course act together and aligned his personal conduct with his professional physical and psychological demeanour – perhaps fatherhood had burnished the rough edges – inside the ropes, then that makes for a compelling package worthy of top spot on the world rankings.
But, given what has proceeded him – with numerous well-publicised and serious lapses in judgement and conduct – the simple fact remains that were Dustin Johnson a 400m hurdler or a world-class tennis player, rather than a professional golfer, he would have been unable to reach the heights he did last month at Augusta National.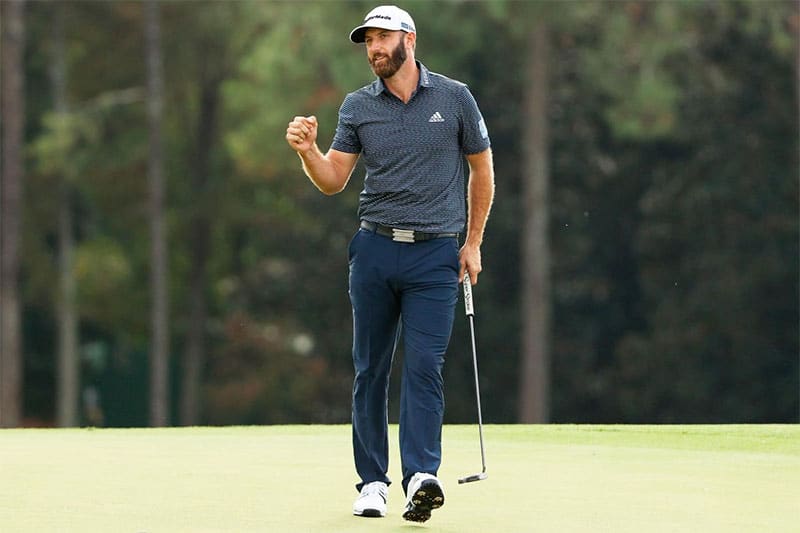 Without doubt, the bitter divisions of the US elections, still playing out in Georgia as the 2020 Masters got underway, together with the grizzly COVID-19 statistics reaching 10-million infections and 248,000 deaths by the time the Green Jacket was being tried on for size by our new champion impacted on the atmosphere under which this tepid and at times tedious Masters was played.
Similarly, the tumultuous scenes at August National on that fateful Sunday of 14th April 2019, when Tiger Woods defied logic to win his fifth Masters title and 15th 'Major' in all had also cast a shadow over its immediate successor, not so much a hard act as an impossible one to follow.
As they say in England, 'After the Lord Mayor's Show.'
And, whilst Woods himself is far from perfect, a flawed man by his own admission, he's a paragon of virtue compared to his immediate Masters successor, but then if things really do happen for a reason, then the 84th Masters – and the United States of America – got the champion they both deserved.
Hopefully, with a COVID vaccine ready to roll – ironically, a case of positive, medical drug use for the ethical purpose they are designed for – the worst of a global pandemic that has shaken the world in general and sport in particular to its very foundations will be past and a degree of normality can follow.
And, fingers crossed, the rancorous political and social divisions brought about by the 59th US Presidential election, which has convulsed the country will have subsided by April next year and the Masters can go ahead with all its pomp and ceremony.
Meanwhile, the 84th Masters, uniquely – and uncomfortably – staged late in the calendar year between the dual distractions of a public health emergency and an acrimonious ballot for America's Commander in Chief, is, for Bunker Mentality at least, best forgotten, first for its relative irrelevance in the context in which it took place and, secondly, because, like it or not, it produced an illegitimate champion who, had golf adhered to the WADA rules, would have been ineligible to play in the first place.
2020 had already been a difficult year in very many ways, for life in general and golf in particular, ending – rather than beginning – with an out of place Masters, mixed-up as it was with external factors it could neither control nor ignore perhaps reflecting the uneasy backdrop against which it took place; add-in for good measure a discredited champion with multiple doping violations and who in most sports would have long since been banned for life and this was as close as it gets to a Masters Disaster.
Advertisement
Sign up to our NZ Golf Updates