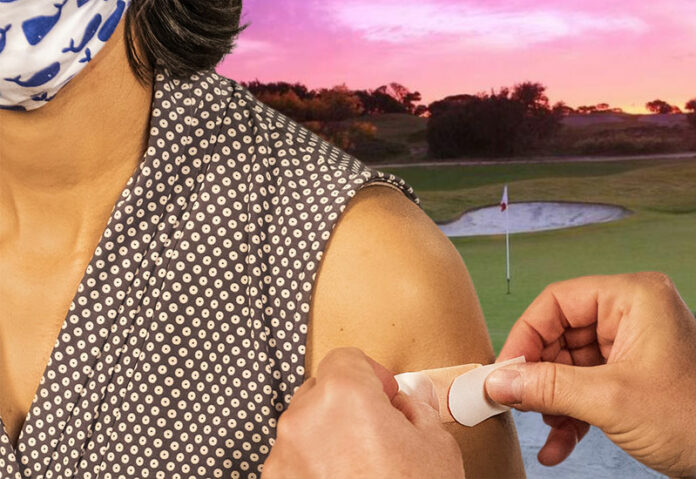 Golf may never be the same again as the world-famous Royal Melbourne Golf Club is starting something that could reach and change the golf scene throughout Australia and New Zealand.
Royal Melbourne recently made the decision to only allow vaccinated players from COVID-19 onto the golf course. This comes as Victoria will finally allow golfers the chance to play golf for the first time this coming week since locking down in early August.
Sandringham Golf Club and several other leading Melbourne clubs and the New South Wales club will also pursue the exclusion of unvaccinated players.
Royal Melbourne is proud to have led the way in being Covid safe for players. Proof of at least one vaccine will be required although that would not apply to anyone with a genuine medical exemption.
There will be zero tolerance for anti-vaxxers and the policy appears to have been a winner with members.
Golf Australia has given full support for the move. CEO James Sutherland said that mandating vaccines is an obvious next step for golf and a no brainer considering the current situation.
"By and large most golfers will have had at least one jab," Sutherland said to the Herald Sun.
"It goes to encouraging people to get vaccinated but also provides a gateway for golfers to get back on the course.
"People have a right to choose to be vaccinated or not, but if this allows the powers that be to have confidence in golf courses and golfers being a safe environment, then this is the way to go and we are leading on that front."
Back in New Zealand, Golf NZ CEO Dean Murphy is aware of at least six clubs throughout the country that are seriously considering the same stance including clubs in Auckland, Wellington and Christchurch
"At this stage, our position is that it will be over to the individual clubs to make their decisions," Murphy said.
Steve Brocklebank from St Clair Golf Club in Dunedin said the issue is a discussion they may need to have in the future while those at Otago Golf Club have not discussed it.
New Zealand Open Tournament Director Michael Glading has suggested it may be something they are considering for their tournament in March.
"It may be very difficult to monitor any restrictions for spectators but it may well be something we need to consider for players and others involved in the running of the tournament," Glading said.
"Especially when you consider almost all of those hospitalised [from COVID-19] are unvaccinated."
Advertisement
Sign up to our NZ Golf Updates