13-year-old Queenstown youngster Noah Novacek is a person you immediately take a liking to. He exudes a maturity beyond his tender years in his attitude and behaviours in his golf and everyday life.
Noah's exploits on the international scene to date reveal the potential of this talented junior golfer. We enjoyed getting to know Noah and his father Shane Wairau while walking the fairways at two recent tournaments and then sitting down for a meaningful chat with them.
New Zealand Golf Magazine delved into the life of Noah so far. Born on September 1, 2007, he has a younger brother Monty who is 10. Father Shane is Maori while his mother Suzie is Czech. Her family surname is Novacek, hence Noah's surname with a difference. Shane met Suzie in Invercargill where her parents emigrated to in the late '60s. Her dad liked the sound of living at Ocean Beach, possibly a tropical island in the South Pacific. It was Bluff and they stayed.
Noah is schooled at Kings View Christian School where he has won the Sportsman of the year award six out of the last seven years. This award recognises the conduct and encouragement of others as well as achievements.
NZGM asked Noah several questions.
Where did your golf interest begin?
"I went to the Wakatipu Junior Golf Club free coaching mornings at Frankton when I was 5yo." He became hooked after a Junior fun day. He has been a member of their Junior Golf program ever since and is a favourite at his now home club of Arrowtown.
"I used to follow Dad around when he played. When I was seven I had to decide whether to be serious about golf or skiing and I chose golf. Haven't done much skiing in the last 2 years. Dad Shane pipes in, "tell him why".
"About 3 years ago I broke my leg at the Remarkables skiing the last run," Noah explained.
What do you like about golf?
"I love the competition. The more the better. You never really win and you can always do better so you have to keep pushing yourself. You don't beat the golf course. Other people shoot their scores but you have to be concerned about what you shoot." He started playing competitions when he was eight.
Where have you played overseas?
In the USA I played Pinehurst which has nine courses. When I was there they were also building a nine-hole par 3 course which I was able to play. About three years ago in Sydney I played Royal Oak where I got a hole in one and also played Moore Park. We were to play the European Championship late last year but that was cancelled because of Covid. I would have been able to play St Andrews.
Favourite courses?
Pinehurst is hard to beat. Not so much hard but if you are not in the right position it will beat you up, or miss the green then you can struggle.
What about New Zealand courses?
"I have played some flash courses like Windross, The Hills and Jack's Point. I've played Wainui near Auckland which is pretty brutal." Noah recalled with delight his one round at The Hills about three years ago.
"I got to play with Jordan Zunich (former NZ Open winner) which was fun. I also played The Farm Par 3 course a few times."
The Hills supports the Wakatipu Junior Golf Club with playing opportunities at The Farm and also with fundraising initiatives associated with tournaments. Father Shane said, "if it wasn't for WJGC Noah would not be where he is today. Noah added, "Simon Boland (the coordinator) taking us to Hamilton and Auckland is great for experience in tournaments and playing different people. So while golf is an individual sport staying and travelling together as a team is a great environment." Mature words indeed.
Favourite players?
"No one in particular. I like James Anstiss and would like to follow his example. Rory McIlroy and Tiger Woods are inspirational."
What about Goals? Short term? Long term?
"My intermediate goal is to play the Charles Tour. Probably my immediate goal is I want to get my handicap down to zero. Long term I would like to play College Golf in the USA and study to become a Sports Psychologist which would be cool." Then he will consider turning Professional. "Through my training with Otago Golf I am loving the mental side of the sport. It won't be cheap though." He laughed.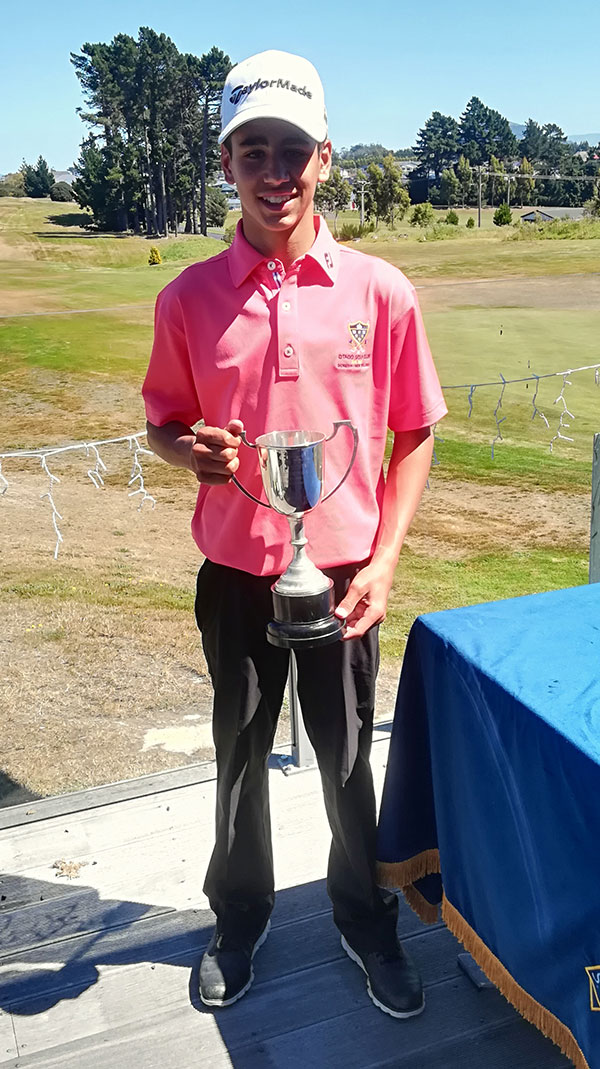 What tees do you play from?
"Currently I usually play from the blue tees although for some tournaments it is black tees. Before the end of 2020 I played off the black tees at the Auckland Under 16 Age Group Championships and the NZ Under 16 Champs in Hamilton." Although only 13yo he has to play under 16 as there are no longer under 13s. He did well to comfortably make the cut against much older boys and finish in the 20's.
"I played the interprovincials when I was 11 at Cambridge for the Otago under 16 team which was good fun and I won 5 out of 6 matches. It is a cool atmosphere with all the best players there. I think we finished 6th out of 14 teams."
Father Shane said, "There are gaps in the abilities with age groups now but the Sean Foley World Stars of Golf and US Kids Golf which is based in Auckland are filling the gap that NZ Golf has left. These are tough tournaments with kids from all over New Zealand. This has provided opportunities to get to the US where the bigger scale of things on the world scene inspires the children. Their eyes are opened and motivated to progress. The likes of Justin Thomas played in these."
How far do you hit your driver?
I hear you drove the green at the 300-metre par 4 seventh hole at Arrowtown last year. "That was an exception. I probably average close to 250 metres." Depending on the conditions he was achieving this at times at St. Clair in the South Island Amateur. "Nine iron? About 120 metres."
Your coach has had a big influence?
Micah Dickinson who was at Arrowtown but is now at Millbrook came along at the right time. Noah has had different coaches over the years but they move about. Father Shane said, "When Noah had no coach Micah saw him and offered to take him under his wing. Their relationship is more than coach and player. They have become good friends. Noah's game has gone to a new level with Micah."
What has given you the most pleasure so far with golf?
"I think the fact you can represent NZ at such a young age and that there are so many good young golfers in our region. We get lots of help with golf clubs and equipment." Noah first represented NZ against Australia when he was 7yo and has continued that each year. A big highlight was getting to lead the NZ team in the parade of all the teams at Pinehurst as an 11yo.
Father Shane is a golfer?
"I'm a tragic golfer. I used to play a lot of golf. I would take little Noah with me and he would ride on the seat of my trundler like a little hobby horse. He was only 4 yo when I cut down a couple of clubs so he could start swinging. He could hit the ball so well I stopped playing golf and watched him. It has been a blessed journey, to say the least. We have travelled to places I never dreamt we would.
Pinehurst, Las Vegas and played nearly all the best courses in Auckland. It was never an ambition but only happened because of his skill and what he has achieved. As a father and son, doing these things together has been a blessing."
Noah has a 10 yo brother Monty who can also hit a good ball. However, he is a bit of a free spirit and loves to do anything and everything. Noah's maturity has been assisted through playing golf with people much older. Father Shane said, "It has been a treat to watch him progress through the different tees and now hit the ball way down the fairway. I struggle to remember he is still just 13 years old."
A further mark of Noah's engaging maturity is his oft-repeated favourite mantra "failing to plan is planning to fail." Watching him play golf shows he lives by this.
So to some of his successes.
*Three Holes in one. Jacks Point, Royal Oaks (Sydney), Gulf Harbour.
*NSW State Age Group Champion-Aged 8. Represented NZ against Australia each year since.
*Youngest Intermediate Club Champion ever at Arrowtown when 10 y.o.
*Captain of NZ US Kids Golf Team vs Australia when 10 y.o.
*Otago Golf Under 16 team when 10 y.o.
*Southland Under 19 team when 13 y.o.
*The World Junior Championships have over 1,500 entries from all age groups worldwide who qualify in their home country tournaments. The top 160 players in each age group worldwide are then invited to play at Pinehurst in North Carolina.
*Noah has qualified and played each of 2017,2018,2019 finishing 41st/153, 25th/146, 22nd/153. 2020 was cancelled.
*The all-time favourite performance for father Shane watching him play the US Kids at Millbrook. With nine holes to go, he was eight shots from the leader. He stormed home and birdied the final hole to force a playoff which he won with a birdie.
It seems young Noah has the determination, temperament and composure to continue his fine progress to full maturity as an accomplished golfer.
Advertisement
Sign up to our NZ Golf Updates