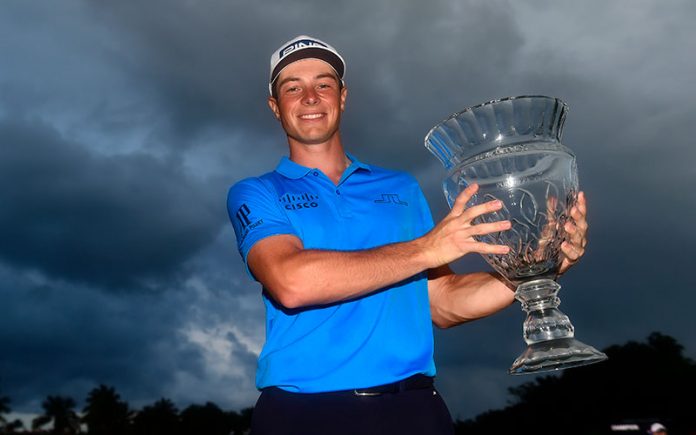 Rookie Viktor Hovland has earnt his first PGA Tour victory in winning the 2020 Puerto Rico Open on the weekend and becoming the first rookie to win this 2019-20 season, snapping a streak of 18 events which is the longest start to the tour without a rookie win since 2009.
The native of Oslo in Norway, this is his first victory in just 17 starts and at the age of 22 years, 5 months and 5 days place him in some esteemed company such as Jordan Spieth, Justin Thomas and Hideki Matsuyama who have all won their first title at 22.
Hovland won the tournament with a 20-under par 268, one shot ahead of Josh Teater in outright second.
The first Norwegian to win on the PGA Tour, Hovland held onto the lead in the tournament from the end of day two and even with a triple bogey on the par-three 11th hole couldn't be beaten in the end after birdieing the final hole.
"It was certainly a day of lots of up and downs," Hovland said.
"I was cruising along very well the first ten holes, to be 2-under par and the course is playing pretty tough today compared to the first three rounds, obviously the triple bogey on 11 put me back, it should have been just a bogey but my short game held me back a little bit, but obviously the putt on 18 was a great way to win my first tournament.
"I pretty much left every single other putt short so I thought [on 18] I'm not going to let this putt short and had a good line on it and whacked it and thankfully when it was 5 or 6 feet out I knew it was looking pretty good.
"I've done a really good job this week of not getting super mad, this week I've been really Ice Cold.
Hovland has long been touted as the next big thing in golf so very few watching were surprised for this victory but sometimes expectations can affect young players.
"It's hard to deal with expectations because they are usually higher than what are realistic.
"If you were to ask me a year ago whether I would've won a PGA Tour event in my 17th start as a 22-year old that would be nuts. The pressure comes from myself, I want to perform.
"There's no fun showing up here or trying to just make the cut, I just try and stay within myself and in the present and try and get better every day.
Hovland becomes only the fourth past U.S. Amateur champion to win on the PGA TOUR before turning 23, joining Phil Mickelson, Tiger Woods and David Gossett.
He moves up forty places in the world rankings to number 60 and the win grants him exemptions for the PGA Tour through until 2021-22 season and is qualified for several select events, including 2020 THE PLAYERS Championship and 2020 PGA Championship.
Viktor Hovland can't stop smiling after his first win. 🏆🤳 pic.twitter.com/NTFQJa0viu

— PGA TOUR (@PGATOUR) February 24, 2020
Advertisement
Sign up to our NZ Golf Updates