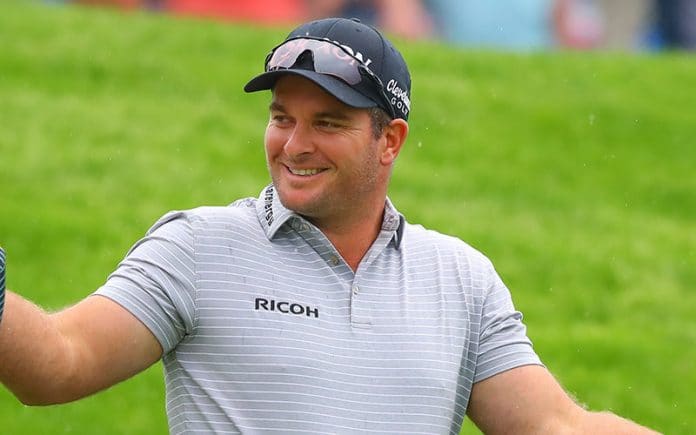 He moved house just before the level 4 lockdown and had a few weeks without picking up a club, but since golf has been back on Ryan Fox has been in full-scale preparation for a resumption of competitive golf, even if it is just in New Zealand. As we now head towards Level 2, today we have a Quick Round with Ryan Fox.
How old were you when you started playing golf, who got you started? And where did you first play?
I always had clubs growing up and hit balls in the back yard. My first rounds were playing with Dad when I was 10 or so, in the odd corporate day, and I first joined Whitford Park GC at 13 which was about 10 minutes from where I grew up.
What was your lowest round and where did you score it?
I have shot 59 twice (13 under) in practice; once at Royal Auckland off the white tees, and once at Beaverbrook in London. I also once shot 60 at Royal Auckland after being 2 over through 3 and that was probably the most ridiculous score I've had. The best I've had in a professional event was 60.
How many holes in one have you had?
I have had five hole-in-ones, but I haven't had one as a professional. I have had a couple in practice rounds that don't really count. I have never had one as a professional but I have had an albatross, and also a 'hole-in-three' with my provisional ball (on a Par 3) after losing my first ball in a gorse bush after shanking the first attempt.
How far do you hit your 7-iron?
Normally my carry is 172m.; I can get 5m. or so more out of it if needed.
What is the strongest part of your game?
Probably it's my driving. I've always hit it far but I have managed to figure out how to keep it on the planet in the last few years.
What is your biggest frustration (or pet peeve) when playing golf? There's quite a few: the biggest would be slow play (ironic I know). I am also not a huge fan of sand divots in fairways or people that can't rake bunkers properly either. (It's not much of an issue on tour, thankfully!)
What is your most memorable golf shot or putt that you have made?
There have been quite a few over the years, but the one that springs to mind was holing an 80-90ft putt for birdie over a couple of swales on the 71st hole in the British Open (Open Championship) at Portrush last year (2019). Conditions were terrible and that putt got me to 2-under for the day and I finished in the Top 20.
What is your favourite golf tournament? Why?
For me, it must be, The Open Championship. Both the history of it, and the golf courses are just so special. It's got a different feeling about it compared to other events. I've been lucky enough to play four now and they have each been an amazing experience.
What was your golf highlight from 2019?
The highlight was getting my first European Tour win in Perth.
Who is the most famous person or best golfer you have played with?
That's a tough one. I have played tournament golf with eight former No.1 players in the world and I have played practice rounds with others, including a hole with Tiger. In some of the Pro-Am events we play, I have been lucky enough to play with some other celebrities and sportspeople including Huey Lewis, Piers Morgan, Shane Warne and Michael Vaughn. My most memorable group was getting paired with Sir Viv Richards at the NZ open and we played with Sir Ian Botham. Having grown up with cricket as my number one sport made that pretty special!
What is the most memorable time or experience you have had on the golf course?
See question #10 above: to get two days on course with two cricketing 'Sirs' was something I will never forget. The other most memorable time would have been playing with DJ and Rickie on Saturday at Abu Dhabi in my second event as a European Tour member.
If you could pick any three people, alive or dead, to play in a four-ball with, who would they be and any particular reason for your choices?
My first pick is Ben Hogan – to see the best ball-striker in person. Then Michael Jordan – he would have some great stories and is arguably, the most iconic sportsman in recent times. And then, Tiger – for obvious reasons!
Who would you get the most satisfaction out of beating on the golf course and why?
It would have to be my golfing mates that I grew up playing with. We have played together for 20 years and still play a lot together now, when I'm home. They are all golf nuts and try to make me playoff +8 when I play with them. We generally play some silly version of Wolf Hammer in pairs and it gets very competitive!
How many flights did you take in 2019?
I would say 75, I think. Probably a few more than a normal year as my wife and I did a bit of travel around our honeymoon.
What is your favourite city or place to visit on tour?
It would have to be Ireland and Scotland. The golf courses are phenomenal and the people and towns we visit are great. Italy is a close third, mainly because of the food.
What would your "Champions Dinner" menu look like?
Kingfish sashimi as a starter, Lamb Racks as a main and Chocolate Mousse for dessert.
What is your favourite golf movie?
Happy Gilmour.
What for you has been the best part about the Covid-19 Lockdown?
I have enjoyed spending time at home and in one place. It is the longest I've spent at home in NZ continuously for at least 10 years, so that has been a good part of it.
---
See also, the Quick Round with Nick Voke here.
See also, the Quick Round with Tom Walsh here.
See also, the Quick Round with Stephen Fleming here.
See also, the Quick Round with Sean Fitzpatrick here.
Advertisement
Sign up to our NZ Golf Updates