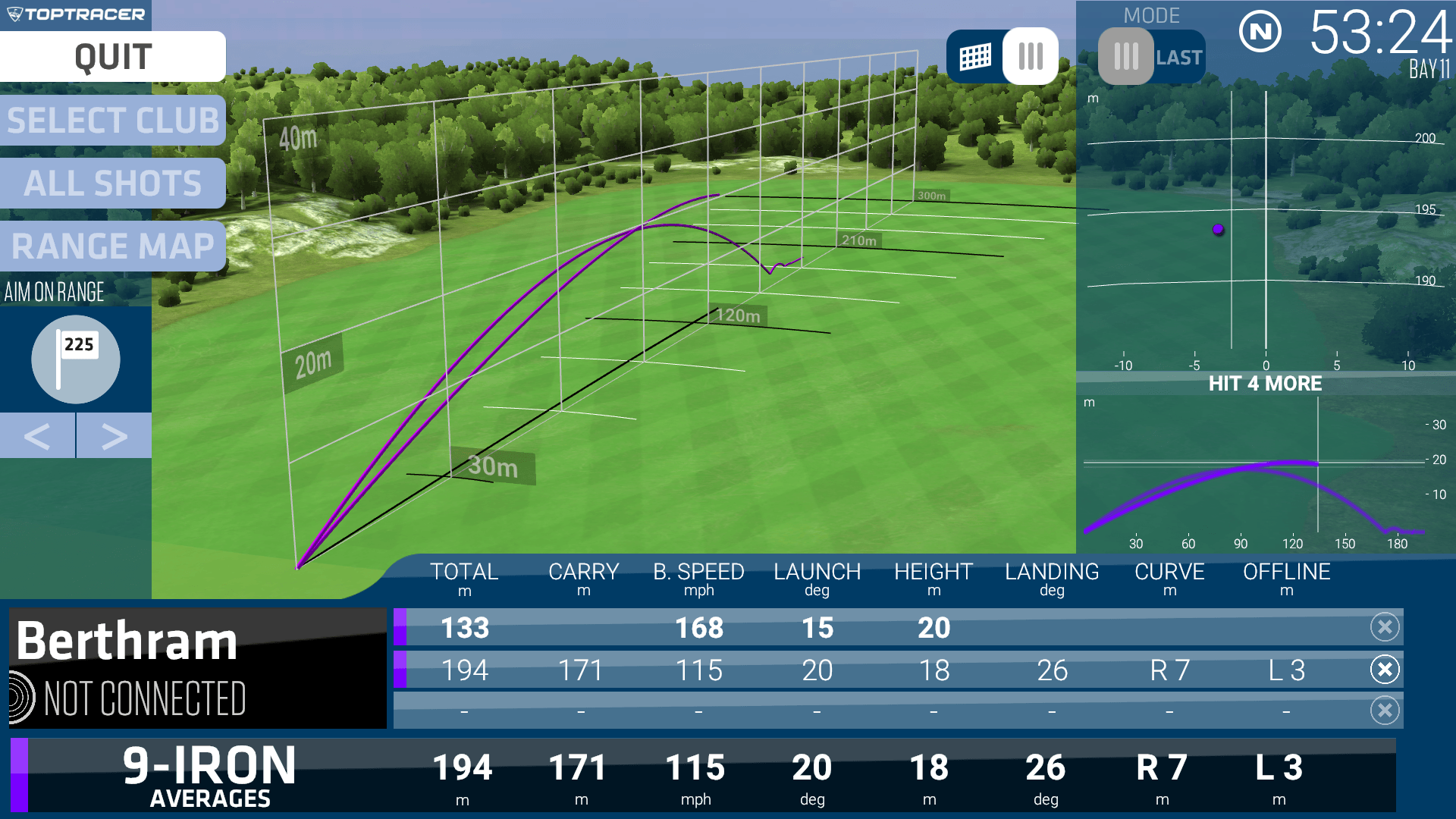 Toptracer has been revolutionising how people watch golf on TV. Utilising advanced proprietary technology, Toptracer tracks and displays ball flight in real-time during more than 100 broadcasts per year—making it the most used ball-tracking technology in golf.
Toptracer Range was launched in 2012, the first range prototype used the original Toptracer TV technology to track and analyse golf shots on the driving range. Toptracer Range uses cameras and monitors in each bay, that displays the flight path of the golf balls along with valuable shot data, including distance, speed, launch angle, shape and more.
The technology has redefined the driving range experience — with the focus on visual enhancement through 'digital gamification' of the sport, the result provides a more engaging and rewarding practice experience for players. Along with improvements in visual technology and game options, range design changes were developed to lift group and social play putting a new twist on social / leisure entertainment. This has seen the range experience move beyond just golfers, appealing to a much wider audience, including casual and non-golfers alike.
The technology provides instant shot replays and statistical feedback on interactive game screens in your hitting bay, which allows players to make swing adjustments and immediately see the impact on their golf shot. For groups the game options, environment and easy to use technology makes the whole experience fun and engaging.
Remuera Golf Club – FIRST to Launch Toptracer Range in New Zealand
Remuera Golf Club is renowned as one of the best natural range facilities in the country coupled with full service facilities and being one of the country's finest golf courses in central Auckland, meant it was ideal to introduce Toptracer to New Zealand.
Remuera Golf Clubs vison centralises on an ongoing commitment to provide enhanced leisure services for its members and wider communities into the future. The new Remuera Toptracer Range hits the sweet spot and is a real game changer, a fun, engaging and tech-driven experience with different modes and games viewed on screens, suited for all ages and levels of experience that appeals to seasoned players, range rivals, friends, family members, and first-time golfers.
Remuera offers two ways to use their range, either PRACTICE or PLAY.
PRACTICE is similar to the past in that you show up grab a bucket and your good to go, enjoying enhanced and improved individual game play. For PLAY however, bays are set up for group play and are booked by time. With full online booking available for the 4 PLAY Bays, these bays have been redesigned to accommodate groups. Each bay provides booking for up to 4 players per bay with unlimited balls, full menu catering and covered seating and social areas for group hospitality, all located in the play area. Being able to offer full-service areas for social interaction and play is an exciting game changer for Remuera delivering a fun, relaxing and social space for groups, colleagues and families to enjoy the sport.
Remuera's new Toptracer Range, offers games and modes to suit all levels, whether honing your game, challenging your mates in a Longest-drive competition, playing with family/friends or colleagues in a fun game of closest to the pin or a virtual game on some of the world's greatest courses (you can even play Pebble Beach), golfers or non-golfers alike will love the engagement.
Guests can use the Toptracer Range Community App to link their personal profiles to access their entire history of shot data, including specific club performance details, as well as how they rank against other players on leader boards.
You can check out Remuera's Toptracer Range online at www.rgctoptracer.com.
Advertisement
Sign up to our NZ Golf Updates