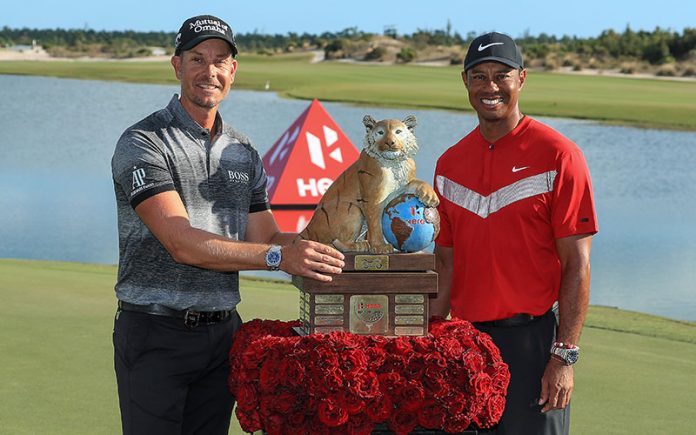 Henrik Stenson shot a final-round 66 to win the Hero Challenge in the Bahamas on Saturday.
His topsy-turvy back nine included a 30-foot par save on the par-5 11th hole and a tap-in eagle at the par-5 15th.
He made three pars to secure the unofficial victory by one over Jon Rahm (66), marking Stenson's first trophy of any kind since the 2017 Wyndham Championship and taking home $1million USD.
Patrick Reed (66) finished third and was the top American of the 11 U.S. players who's 8 p.m. charter flight out of Nassau was bound for Melbourne and the Presidents Cup.
Stenson and his wife, Emma, were left to celebrate the win in this vacation paradise with family friends from Lake Nona.
"It's been a very average season," he said, "but it finished on a high."
Perhaps it was the presence of tournament host Tiger Woods (69, solo fourth), or the fall play of Brendon Todd (two straight wins and nearly a third), but it was hard not to take Stenson's win as yet another reminder of the value of resilience, and the multitude of comeback stories in golf.
Before Tiger Woods jetted off to Melbourne he praised Stenson for his ability to return.
"He completely lost his game there for a while and couldn't hit it on the map. … The way that Henrik has fought his way back, the countless hours he's hit golf balls to figure it out – there aren't a lot of guys who lose their golf swing and come back."
Stenson's ball-striking was solid, as usual, but not without flaw in the final round. His putter saved him. Unlikely pars on 11 and 14 kept him going, and a long two-putt on 18 salted away the win.
Rahm, the European Tour's recent Race to Dubai winner, was left to lament the close call and said that without scoreboards he didn't know he was a shot behind coming up the last hole.
"I played it 20 feet short of the pin thinking I was at least tied for the lead," he said.
Still, if he had to rate this season, Rahm said, he would give it a 9 out of 10.
The US players that will be teeing up next week at the Presidents Cup finished like this; Patrick Reed 3rd -16, Tiger Woods 4th -4, Justin Thomas T5 -13, Gary Woodland T7 -12, Rickie Fowler T9 -10, Xander Schauffele T10 -7, Webb Simpson T10 -7, Tony Finau T10 -7, Matt Kuchar 14 -4, Bryson DeChambeau 15 -3 & Patrick Cantlay 17 -1.
Advertisement
Sign up to our NZ Golf Updates