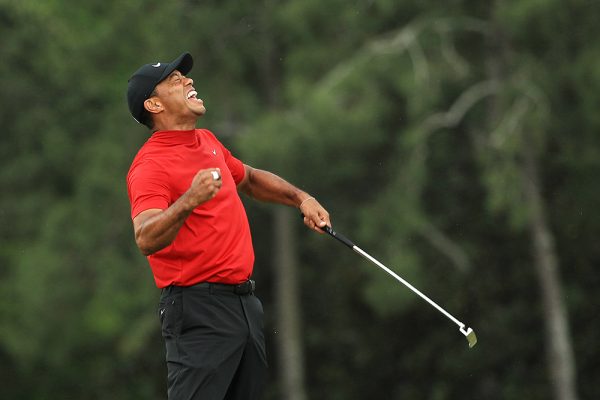 Tiger Woods won his fifth Masters on very early this morning in dramatic fashion, taking the lead on the 15th hole and sending the spectators at Augusta National into a frenzy as they witnessed one of the game's greatest players of all time claim his 15th major championship.
The naysayers, of which there were thousands all predicted this would never happen. They all failed to factor in Wood's immense mental capacity and will to win. The roars were never louder.
Round 4 had been restructured to a 3 player grouping with a two tee start as major thunderstorms were predicted for the afternoon.  This of course threw some TV programming and fan viewing plans out of the door, us included!
"It's overwhelming, just because of what has transpired," Woods said. "Last year I was lucky to be playing again. At the previous year's dinner, I was really struggling. I missed a couple of years not playing this great tournament. To now be the champion … 22 years between wins is a long time. It's unreal to experience this."
Some interesting points:
Tiger hit10 of 14 fairways, 15 of 18 greens in regulation, and only 32 putts. We heard, maybe, that he did not play a driver all day but that cannot be verified.
Tiger had never come from behind to win a major – until today.
It was his 81st PGA TOUR victory, leaving him one short of Sam Snead's record set in 1965.
This was his first win since winning the TOUR Championship to end last season.
Tiger entered his final round at 11 under. Each time he's been 11 under or better through 54 holes at Augusta National, he's won (2005/-11, 2002/-11, 2001/-12, 1997/-15)
His 205 score (11 under) marks his best opening 54-hole total since 2005 (74-66-65—205), his last of four Masters wins.
At No. 12 in the Official World Golf Ranking, he was the highest-ranked former champion in the field
At 43 years, 3 months, 14 days on Sunday, he became the second-oldest winner: Jack Nicklaus/1986 (46 years, 2 months, 23 days) is the oldest winner of a green jacket.
He became the seventh player in his 40s to win the Masters (Jack Nicklaus/46/1986, Ben Crenshaw/43/1995, Gary Player/42/1978, Sam Snead/41/1954, Mark O'Meara/41/1998, Ben Hogan/40/1953)
For those who missed the action here is a hole-by-hole look at Woods' final holes in Round 4.
15 (530 yards, par 5): Tiger's strong driving continues with another high fade into the fairway. He hit the middle of the green with a 217-yard approach. The two-putt gives Tiger Woods his first solo lead of the week. He's 13 under, one shot ahead of three players. (Overall: 13 under, solo leader)
16 (170 yards, par 3): Tiger, now the solo leader of the Masters, takes advantage of the traditional Sunday hole location, hitting an 8-iron within 3 feet of the hole, and making the birdie putt. Now a TWO SHOT LEAD. (Overall: 14 under, solo leader)
17 (440 yards, par 4): Tiger is now in complete control. Another tee shot down the middle of the fairway and an approach shot safely onto the green. Woods hit his approach shot to 10 feet, then two-putted for par to take a two-shot lead to the final hole. (Overall: 14 under, solo leader)
18 (465 yards, par 4): Tiger fits his tee shot between the trees, and it leaks just into the second cut. He has a two-shot lead, so he only needs a bogey to win. His second shot nicks a tree limb, though, and falls short and right of the green. He'll have to get down in three from about 50 yards away and he pitches safely to 10 feet with his par putt just sliding by the hole. The stage is clear for Tiger Woods, and he taps in for his 15th major championship and fifth Masters title. (Overall: 13 under, winner)
Top 10 Money List US$
1: Tiger Woods – $2,070,000
T2: Dustin Johnson – $858,667
T2 : Brooks Koepka – $858,667
T2: Xander Schauffele – $858,667
T5: Jason Day – $403,938
T5: Tony Finau – $403,938
T5: Francesco Molinari – $403,938
T5: Webb Simpson – $403,938
T9: Patrick Cantlay – $310,500
T9: Rickie Fowler – $310,500
T9: Jon Rahm – $310,500
The full leaderboard can be found by clicking here
Advertisement
Sign up to our NZ Golf Updates