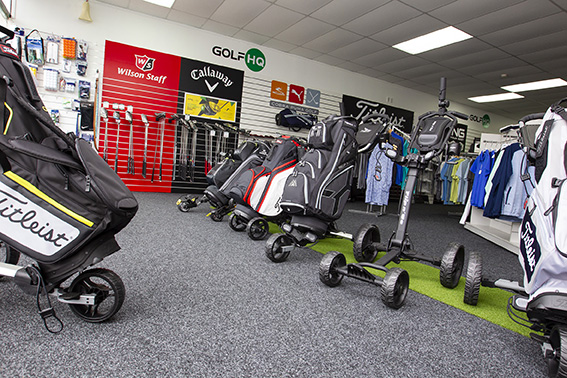 I have spent over 35 years in the golf industry and I have seen it change quite radically over that period. From the introduction of the two piece golf ball and metal woods, through to the use of launch monitors, variable weighting and adjustability in drivers. Even the variety of golf shoes and golf balls that are available has changed dramatically. So, I contacted six NZPGA golf professionals and one golf industry leader to see how they saw today's golf industry and the challenges in the marketplace.
HOW LONG HAVE YOU BEEN IN THE GOLF BUSINESS?
Jimmy Napier: I have been in the golf business for 20 years. Starting as a salesperson at a driving range, I then started my three year traineeship as a golf professional a year later. I have worked both on-course in a pro shop and off-course at golf retail store.  I taught overseas for a period and for the last five years I have been the Head Professional at the Mount Maunganui Golf Club.
Alan Hyatt: It's been 12-years in the golf business for me. I started my NZPGA Traineeship in 2007 at the Manawatu Golf Club. I gave playing competition golf a go, like a large majority of us, but I found that coaching was probably a more reliable pay cheque. In 2011, I moved back to Palmerston North and became the Assistant Pro at the Manawatu Golf Club. In 2016, when the golf club purchased the golf shop, I became the Head Golf Professional/Director of Golf at the Manawatu Golf Club.
Rhys Bishop: I have been in the game for 35 years as a NZPGA Golf Professional and have spent the last 24 years with Golf Warehouse. I was teaching at the driving range at Takapuna when Eric Faesenkloet purchased the driving range and established Golf Warehouse. Twenty-four years later I am the CEO and a shareholder of Golf Warehouse. During this time, I have continued teaching, club-fitting and managing a golf distribution network and the largest golf retail operation in New Zealand.
Patrick Moore: I have been involved for 14 years starting with my traineeship in Taupo, then working at the New Plymouth Golf Club. I am now the Golf Professional at St Clair Golf Club in Dunedin.
Jamie McIsaac: Twenty-four years ago I started my NZPGA traineeship with Mal Tongue at Manor Park Golf Club, before moving into the role as the Junior Development Officer in Wellington for five years. I was then appointed the Golf Professional at the Masterton Golf Club. In 2009, my family and I moved to Queenstown when I took up the Head Professional role. In 2013, I moved across to a 9-hole golf course and driving range at Frankton, where I now lease the shop from the Queenstown Lakes District Council (QLDC).
Brett Allan: I have been involved for 14 years. I started working in the golf shop at the old Peninsula Golf Club in 2005. I then entered into the NZPGA traineeship in 2006 and haven't looked back. I am currently the Head Professional at the Bridge Pa Golf Club
Sam Sullivan: I have had 32 years working in the golf industry. My father was a NZPGA Golf Professional for many years and I grew up around the golf shop. I played representative golf in my younger days and I still play off a three. I started out as a club-maker for Dunlop Golf and have been involved in retail, marketing and wholesale sales roles.
WHAT IS THE BIGGEST CHANGE YOU HAVE SEEN IN THE GOLF MARKET DURING YOUR TIME IN THE INDUSTRY?
JN: The biggest change in my 20 years has been the growth of the internet in two ways; firstly, online purchasing and secondly, the information shoppers have at their finger tips
AH: I think the biggest change in the golf market is the way the golfer shops. When I first started in this industry, purchasing products online wasn't a common thing, but now it is huge. A lot of us enjoy shopping online because it is so easy – and purchasing golf gear online is the same. This increase in online shopping means that consumers are more aware of what products are out there so we, as PGA professionals, really need to understand the products we sell and have a greater overall knowledge of them.
RB: I believe its customised clubs. I remember, my first set of customised golf clubs took 13 weeks to arrive. Now they come in two weeks! Most of the top manufacturers have full service operations in Melbourne, so the sets are assembled there no matter what the specs. My first titanium driver had a retail price of $1,400 which probably equates to around $2,800 today.
PM: The emphasis on club fitting has amazed me. It is dramatically more specialised today as the fitting process incorporates a launch monitor and the clubs are then able to be fully customised to meet the specs of the player.
JM: I never expected to see so many people buying golf clubs through the internet. The Internet has changed the amount of information that people have absorbed about golf equipment, both positively and negatively.
BA: For me it's the launch monitors! Golfers who want to improve no longer go online and buy "XYZ club" hoping to hit it further. The smart ones who want to invest their money (because they are investing money in their game when they buy the newest driver) in a prudent manner, book in to be fit by a properly trained club-fitter who has many options from the leading brands on the market.
SS: There is now such a high level of club-fitting and the ability to build custom built golf clubs. A keen player now has the opportunity to be fitted and have clubs specially built to the kind of spec that was the reserve of a tour player.
SO WHAT IS THE BIGGEST CHALLENGE FACING THE GOLF RETAIL MARKET TODAY?
JN: The biggest challenge in the golf retail business is because of the internet. It's critical to gain loyalty from the members and local golfers and attract them to make a purchase in a store.
AH: For us, we see the biggest challenge facing the golf retail market is the decreasing number of golfers playing golf on a regular basis. If there is a golf shop at a golf club with 1000 members for example, and the membership drops by 10%, they are losing 100 members. So that is 100 less people walking though the shop. Of those 100 people, not all of them would have been big spenders but most of them would have bought a drink, food, tees, balls – the essentials that you need to play golf day-in and day-out. It all adds up. This also applies if you are a golf store which is not based at a golf course. If there are less people playing golf, then there are less customers visiting the shop!!
RB: Online is a challenge. There are horror stories that we see online such as the big box retailer; it is a reality especially when you look at the US market and see retailers like Costco, and Amazon. We also see our customer base is on average 55 years old and NZ Golf tells us that the average club member is 62 years old. We are also challenged by the 30 year old golfer who is looking for a $100 driver; we need to be showing them that quality is important and they have to pay a little more for it.
PM: Internet and the big retailers with their purchasing power is a major challenge, especially when they buy up last year's models and inventories and sell them off. To counter this, I focus on having the latest and best products with personalised service.
JM: The internet has changed the playing field, especially in providing an opportunity for golfers to make purchases from overseas retail sites. The market in NZ is super-competitive with margins being much slimmer than they used to be. So we are needing to work smarter and provide an excellent level of customer service. As a PGA Pro, we use our knowledge so club -fitting is a major point of difference in the business.
BA: I think the biggest challenge is educating people. There is so much information online available to golfers, that they can think 'Oooh, I need ABC when they actually need XYZ', so educating them and providing the correct advice is key.
SS: I think it's important that we think of the retail market as not just the brick and mortar stores, it's also e-commerce. The retailers that are needing to meet the online challenge; it is absolutely critical to a sustainable retail business.
WE APPROACH THIS CHALLENGE BY…
JN: We gain the loyalty by making sure that we provide a good custom-fitting service that is an experience for our members and customers. We provide them with their new purchases at competitive prices and follow-up with a check of their equipment a month after the purchase to make sure the customer is 100% happy and that no tweaks are needed.
AH:  We focus on being proactive instead of reactive.  We are always trying to find new ways to improve what we do.  I guess, that age-old saying "Never rest on your laurels" is always on my mind. In terms of growing membership numbers, we help control our own destiny in the golf shop through coaching.  Running beginner golf programmes is one way and our junior golf programme is another. We run many different forms of beginner golf programmes throughout the year. We also get around 100 kids that go through our junior programme
RB: We are a big box retailer and offer everything! We do have large inventories, so there is something for everyone as we are able to carry a lot more stock than the average club pro-shop. We have bounce and loft available and can change lie angle. Touch and feel is important, no matter what the club is, plus it is about offering the personalised service.
PM: For me, it really is about providing personalised service and getting to know the customer. I like to spend time watching them hit golf balls so I can put them into the right equipment. Seeing the ball flight, how does ball curve and what is the trajectory? What do the divots look like? What are they after? I believe anyone wanting to buy new clubs is really looking to purchase a better golf game and that's my goal for them!
JM: We focus on buying smarter and partnering with our suppliers much better. We offer a great selection of brands so the customer can compare and make their selection. Combined with providing a full service golf shop, including club repair, we are able to cater to anyone that visits us. It is about helping them with their game and adding value to the purchase whether is with lessons or by playing golf with them. We do take a vested interest in our customers, as we love seeing them telling their friends and returning to the golf shop.
BA: I spend as much time talking to members and helping them understand their game as I can! I enjoy hanging out on the putting green, just talking golf to members and answering their questions.
SS: As a supplier to the golf industry, we are able to assist the retailers by providing them with the tools to market online with things like web banners and imagery. We want to assist them to grow their business.
Advertisement
Sign up to our NZ Golf Updates