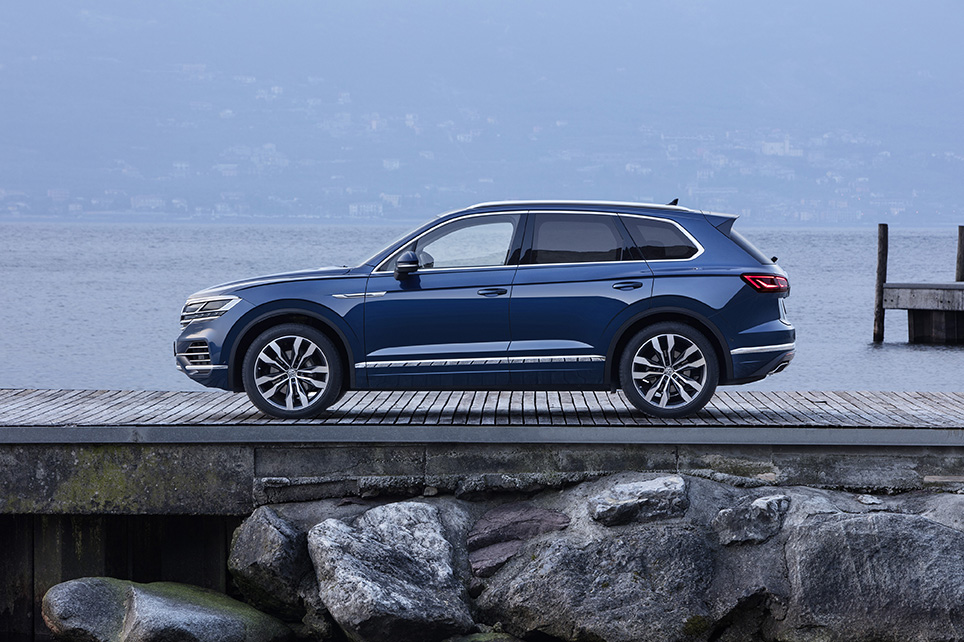 Part 1 – A boys view
I learned to drive a car on a windswept and abandoned RAF airstrip in Germany, driving a VW Beetle.
Wow have times changed. Volkswagen now has a new flagship vehicle – the Touareg. It is the most intelligent and technologically advanced production car to come out of Germany and is now in its third-generation, Volkswagen's big SUV has sacrificed its off-road features to become more of a premium, hi-tech SUV for the road.
I had the pleasure of driving the TDI V6S 7 seater Touareg for a few days and it is a giant of a machine. The electronics are very sophisticated and the massive 15 " Screen Display is the centerstone of the cockpit.
I am not a petrol head and will not talk about torque and stuff like that, but what I can talk about, from a "Boy's View" is the sheer power of this vehicle. The brochure states an "Innovision cockpit with "Discover Premium" 15 inch glass covered touch screen with navigation, gesture control, wireless charging(Qi) and 12.3inch TFT Active Info Display".
What this means in real terms is a massive, user friendly and easily readable touch screen that you can use your hands and fingers to navigate through. It is dynamic, fun and very skillfully designed. It is also fitted with advanced voice control functionality as well.
It can be set up into a number of different driving modes. Economy, Sport, Off Road, Comfort, Hills and Snow and of course NORMAL!. This basically, in terms of performance and reaction to the driver, offers up seven different suspension settings giving different driving experiences. Some of the changes are subtle some not so. Take for example Sport Mode, wow that is very quick and powerful, so much so you can be pushed back in your seat. If I drove this car on my own it would be permanently locked into the Sports Mode!!
So, this is NOT a vehicle you can easily step into and drive off. There is a lot of understanding and set up before you can safely go on your way. The car seats need to be adjusted to suit your frame, and there are a number of options here for other regular drivers to choose their own settings as well.
The Touareg also comes with just about every conceivable comfort and convenience item, along with many of the active safety bits like blind spot monitoring, lane departure warning, active cruise that works to a standstill (good for the motorway grind) and autonomous braking. Recently added to the specification list are a powered panoramic sunroof, LED taillights, and an enormous Dynaudio sound system operated through 12 speakers.
Other standard features include a power tailgate, a full surround camera with front and rear parking sensors, and even a chilled glove compartment. I live in a part of Auckland where the night time road lighting is not the best and this is one area where this car excelled. The LED beams of the optional night vision system in the car can generate a thermal image of the surroundings, including people and animals, in the cockpit.
Put simply, it's Volkswagen's incredibly stylised answer to the other premium vehicles of its type, like the Audi Q7, Porsche Cayenne, Mercedes GLE and BMW X5. Now, that's a tough market, so can the Tuareg cut it.
YES IT CAN!
This vehicle ticks all my boxes. It is so comfortable, it fits all my golf clubs, it is safe and well protected from other cars and for the price at just under $110,000 it is very well position in this luxury SUV market.
Would I buy one
YES I WOULD!
Advertisement
Sign up to our NZ Golf Updates