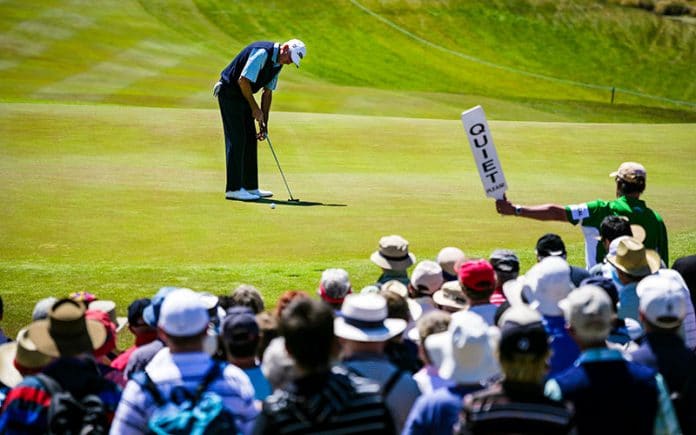 This March, the New Zealand Open will celebrate the 10th event being staged at The Hills near Arrowtown.
The National Open, which is co-hosted by The Hills and Millbrook in Central Otago, has become a permanent fixture in New Zealand's tourism capital.
The Hills is closing in on the record as the course to host the New Zealand the most times – that currently sits with Paraparaumu Beach which has famously held the event 12 times from 1959 – 2002.
To mark the milestone of a decade in the sun, we look back on some of the memorable moments from the NZ Open in Queenstown.
2007 – Inaugural event staged at The Hills
When he was 11-years-old, Michael Hill created his first golf course on the lawns around his family's house in Whangarei.
He mowed little circles for greens and implanted baked bean tins for holes.
Hill, who would go on to become one of New Zealand's most famous businessmen, also showed his entrepreneur spirit.
He collected fees from the kids in the neighbourhood who were allowed to play the course and he ran little tournaments offering prizes for the winners.
Many years later when Hill moved to Central Otago, he looked out at his property, a former deer farm, and thought how nice it would be to have his own putting green.
He asked good friend and renowned designer John Darby to help him out. One green became another, then another.
Before he knew it, he had three greens, bunkers and a selection of tees around his house.
The end result was a championship course of over 7,000 yards and a layout that is regarded among the best in New Zealand.
Sir Bob Charles was invited to visit the property and suggested the course was good enough to host the New Zealand Open.
The first event, the Michael Hill New Zealand Open, was staged in November/December of 2007 and co-sanctioned on the European Tour.
All of a sudden, The Hills was on the map.
2007 – Charles winds back the clock
New Zealand's greatest golfer Sir Bob Charles has achieved more than most in his remarkable golf career, but in 2007 he played a starring role in the inaugural NZ Open at The Hills.
The 1963 Open Champion wound back the clock when he became the oldest golfer (71) to make a cut on the European Tour. Charles shot a four-under-par 68 in the second round, beating his age by three strokes.
The four-time New Zealand Open champion, 53 years after he won his first event as an 18-year-old at Heretaunga, put on a putting masterclass.
He was the talk of the galleries all over The Hills. He would go on to finish in a tie for 23rd place.
For the record, Englishman Richard Finch won the first NZ Open at The Hills, but anyone who was there will always remember the performance of Charles.
Advertisement
Sign up to our NZ Golf Updates