Rising New Zealand golfing star Amelia Garvey has qualified for her second US Women's Open after prevailing in a playoff at pre-qualifying.
The 20-year-old has earned her place in her second major championship which is being played from June 4 – 7 at The Olympic Club, a day after her 21st birthday.
She carded rounds of 74 and 72 to finish at two-over par at Brentwood Country Club in Los Angeles, which meant she was in a three-person playoff for one spot in the US Women's Open field.
Three extra holes wasn't enough to separate the trio who were forced to come back this morning after running out of daylight yesterday. Garvey proceeded to hit her second shot on the fourth playoff hole to a foot setting up a tap birdie to cement her place in a major championship field for a second time.
Garvey qualified for the US Women's Open last year through her World Amateur Ranking and sat inside the top-15 after her opening round of one-under. Unfortunately, she went on to miss the cut after a second round of five-over.
Garvey said it's an exciting feeling knowing she's going to tee it up on one of golf's biggest stages once again.
"It doesn't feel that long ago I played in my first one and it's pretty cool to get the opportunity to hopefully perform a little better than last time now the first major pressures are off my shoulders and I've been there before," Garvey said.
"Last year was my first time playing in a major and I really wanted to go out there and enjoy it, but now I feel like I belong there a little bit more and I proved to myself last year that I can compete with these girls."
After waiting by the phone to see if she was in the field a year ago, Garvey had a little more control over her destiny this year despite having a few things go against her.
The University of Southern California student had never played Brentwood Country Club prior to the first round, and players weren't allowed a practice round due to covid-19 safety concerns.
Her preparation consisted of using Google Earth to figure out how she might attack the golf course, which appears to have paid off.
"The first round was pretty much my practice round and it was nice to stay in the mix. It was playing really tough, really long, and it was really windy.
"Heading into round two I thought I had no excuses now that I knew where the pins were and I had seen the course, so I decided to go for it.
"I got off to a really hot start and was three-under through six holes. I had a bit of a speed wobble on the 15th making a double bogey. My caddy was checking the leaderboard and I ended up making a six-footer on the last to get into the playoff which I was stoked with."
She then went toe-to-toe with amateur Katherine Muzi and a professional she looks up to, the sweet-swinging Anne Van Dam.
"The playoff was crazy. I was up against Anne Van Dam and I was kind of fangirling a little bit whilst also trying to beat her. She was on the tee for the playoff last night and I was so intimidated!
"She ended up getting the first alternate spot so hopefully she will get a start in the tournament come June."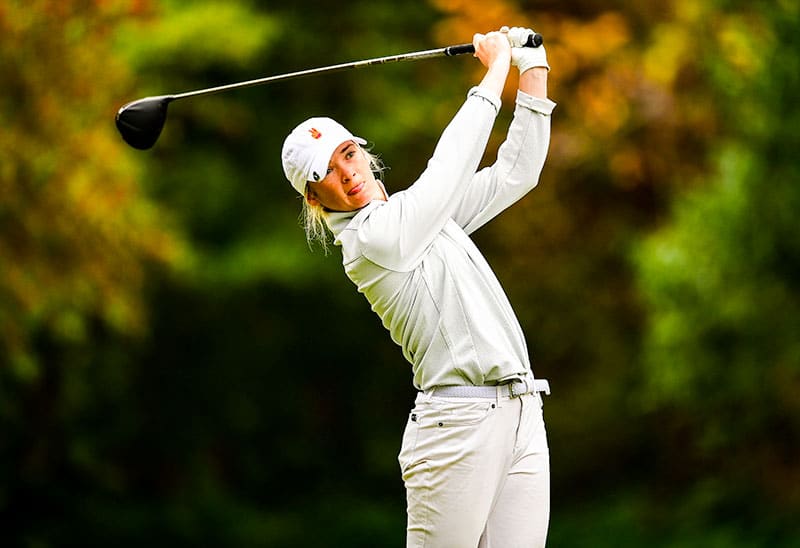 Garvey will tee it up for round one a day after her 21st birthday and if things go according to plan, her birthday will be a day to remember.
She has sent messages to three major champions in the hope of playing a practice round with them.
"I've messaged Lydia [Ko], I've messaged Patty [Tavatanakit], and I've also sent a message to Hannah [Green] who is one of my really good mates as well. I'm trying to get a good practice round group together which would be a pretty good way to spend my birthday.
"It's not the one I wanted as I'm not back home in New Zealand, but if I can pull this group together it may top what I may have been doing back home."
Garvey's recent form has been formidable as she has recently had her best college result; a second place at the Pac-12 Women's Championship.
She leaves to play regionals on Saturday night and hopefully the NCAA Championship at the end of the month, and still has eyes at playing the LPGA Tour's qualifying school in August.
Advertisement
Sign up to our NZ Golf Updates