Today, when you think of some of New Zealand's best golfers, John Lister is a name that is sometimes overlooked. Lister was one of the best drivers of the ball and someone who, on his day, putted as well as anyone. He dominated the New Zealand Professional Golf Circuit, at one stage winning ten of the twenty-five events played between 1972 and 1977; he played in eleven major tournaments and won once on the USPGA Tour, where he played with the best for over 12 years. He then went on to forge a career as one of the best promoters of New Zealand as a golf tourism destination and mentored one of our best players! So, who is John Lister?
John was born in Temuka and raised in Timaru. He was fortunate when his parents moved to a home right across from the Highfield Golf Club when he was 11-years old. There, he and his mates would play all sorts of games on the golf course property. It was their local sports ground until a local businessman, Harold Coxhead, took a great interest in junior golf. He set up and funded a junior golf club at the Timaru Golf Club. There was coaching every Saturday morning and according to John, they had a structure that Mr Coxhead's friend, who was the Head Professional at Phoenix Country Club in Arizona, put together for him. At its peak, there were over 185 junior members with lots of competition amongst Otago and Canterbury schoolboys. It was a strong group of players with some other notables playing such as Peter Hayes and Jim Lapsley.
After leaving school, John's first job was in the seed department at Wright Stevensons (later to be Wrightsons). As John tells it, "We had a pet cat and we chased mice around but the job suited me with all the golf I was playing. I played one Freyberg Rosebowl at Russley and then after the event, I got talking with the professional there, Mike Wolveridge; he suggested that I consider turning Pro." So at 18-years old, and with some local sponsors, John headed off to Australia to play professional golf. Although he never made a cent, John found it to be a great learning curve.
On his return home, John worked at the local freezing works for three months, earned some money and bought a ticket to head back to play on the Australian Winter Tour. He made an impact a few weeks later winning the 1968 Alice Springs Open, shooting 64,64 and 64 playing on sand greens. From there on, John played consistently making cuts and earning some cheques. Thanks to these performances, a group of Wellington businessman recognised John's talents and sponsored him to head to the USPGA Tour Qualifying school.
"There was only one school that year and it was a full-on shootout as everyone was vying for the 12 tour cards. Unfortunately, I ended up in a three-hole playoff, three players for two cards, where one player got his card and then a sudden-death play-off for the last spot. A Canadian Pro made a birdie on the second hole leaving me to head home thinking about what to do for the next year".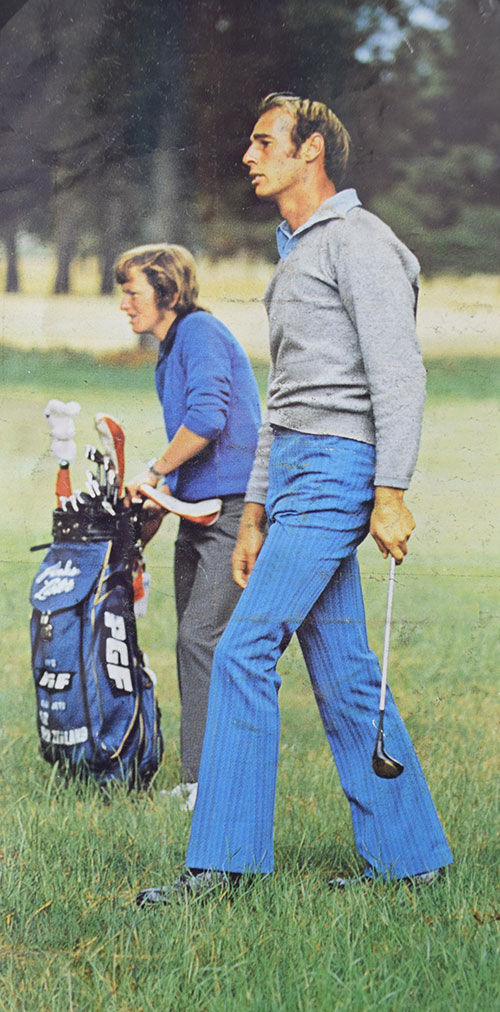 Fortunately for John, he had a lot of opportunities to play around the world in late 1969 and throughout 1970. He headed through Asia with a second-place finish in Malaysia and another top-five finish before heading on to Europe where he won two tournaments in the UK and finished fourth on the British PGA Order of Merit (prior to the creation of the European Tour). He also played in three World Cups: in 1969 with Terry Kendall, in 1970 with Brian Boys and in 1971 with Sir Bob Charles.
Heading back to USPGA Tour school in Tucson in November 1970, John managed to finish tied for 10th with the Top 15 getting their 1971 PGA Tour cards. Upon returning home, he played the professional tour events around New Zealand, where he had multiple runners-up finishes to the legendary Kel Nagle. In early January 1971, he won the first of his three NZPGA Championships. The par 73 hard and fast Mount Maunganui golf course was no match for John, where he shot 30-under par and won by eight shots. He would then go on to also win the 1976 and 1977 NZPGA Championships.
Over the 12 years that John played on the PGA Tour, he recorded 15 top 10 finishes and won the 1976 Quad Cities Open (now the John Deere Classic). John explained how different the tour was back then compared to today.
"If you made the cut at the tournament one week, that would give you a start the following week. If you had a top 25 place, that got you into the field for the event next year. There was a lot of Monday qualifying and it could be a very taxing environment. It was important to get on a roll and make a lot of cuts".
John enjoyed driving to events from week to week and ideally his caddy would drive the big road trips across country. When pushed on why he didn't perform better at the majors (he played in two Masters, three US Opens, three USPGA Championships and three Open Championships) he said, "It was mostly due to the schedules and having to qualify, plus I probably wasn't quite up to being competitive in them". His two Masters' invites came from his fourth-place finish on the British OOM and after his win at the Quad Cities Open.
John explained it was difficult to avoid having to qualify for the Open Championship. So, while playing on the US Tour, to give up a week or two to travel across the Atlantic, play the 36-hole qualifying on a very different golf course for only a few spots, was not an attractive option. Hence, he only entered when he was exempt. Even to try and qualify for the US Open was a mission as it was 36-hole qualifying in hot and humid conditions; then on the next day, he would have to probably play a qualifying round to hopefully get a start in that week's PGA event.
"By the time Thursday rolled around, you were so tired from qualifying rounds that you would struggle in the actual event".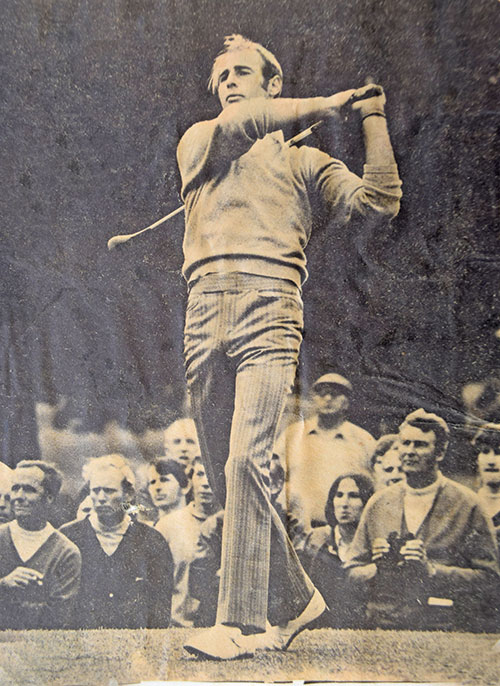 Many of his fellow competitors were in awe of John's talents. He could definitely 'drive for show and putt for dough' plus he could hit a 2-iron that would fly over trees and land softly like a butterfly. He was one of the longest players on the PGA Tour but he was also known for his accuracy. He realised his short game wasn't as strong as it needed to be, so he worked hard and ended up being one of the best putters in the game. Players considered him to be very determined and even stubborn on the course. He could also be very feisty, but he was also very much a charismatic figure. He proved he could win from anywhere and often did whether he was 9-shots behind or leading out in front. Nothing seemed to faze him.
John wasn't the only successful golfer in the family. His mum represented South Canterbury for many years and his sister was a NZ Junior Girls representative. His older brother Tom was also a top sportsman who was an All Black flanker from 1968 to 1971. John by his own admission admitted that he remained mystified as to why he didn't win more on the PGA Tour. By his own admission, he believed he didn't relax enough, was too tense and tried too hard.
"When I returned home, I was much more relaxed and enjoyed the tournaments in Australia and New Zealand."
Upon retirement from the grind on the USPGA Tour, John was invited to become a shareholder of an inbound golf tourism business. With partners Paul Walker and Mike Collinson, the company soon became the 'Number One' inbound golf tourism company with golfers predominately travelling from North America. The company had a focus on groups coming from country clubs along with individual travellers. They had an office in Los Angeles and John was actively doing the bookings based in Auckland. He would personally connect with his clients upon arrival to Auckland and helped them settle into their hotels. He would supply them with maps, local guidebooks, and information and details that would greatly assist clients to enjoy their New Zealand experience. He would also take time to meet up with groups when they played in Auckland or at Wairakei. The company was really going strong and in early 2001 they hosted the Pacific Friendship Cup, with over 170 golfers travelling from the USA, Canada, Australia, and NZ.
Unfortunately, the events in New York on the 11th September 2001, had a dramatic effect on the event and stalled the growth of the company. John enjoyed his over 30 years in the golf tourism business but was quick to acknowledge that it was difficult but a lot of fun.
"It really is a boom bust business, as you have issues with currency fluctuations and balancing the costs of travelling in New Zealand."
John has also been a mentor to our #1 world player in the last decade, Lydia Ko. He first met Lydia when she was 8-years old and would play at Gulf Harbour on Sunday mornings with top amateur player, Sharon Ahn. Ahn was coached by Lister's good mate Macca (Bob MacDonald) and Bob wanted John's assistance to show Sharon how to better manage herself on the golf course. As John tells it.
"Lydia was being coached by Guy Wilson and together they were making great progress. I helped with the strategy on the course. As an 8-year old, Lydia was quick to understand if she couldn't reach the green with her second shot, she would play to a position where it provided the best place to chip up and make par. She was a quick learner and we enjoyed many rounds together, plus her mum used to pack a very nice lunch as a bonus! It has been great to see Lydia develop into a world-class player and the lessons she learned in those early years still play a role in her course management today!"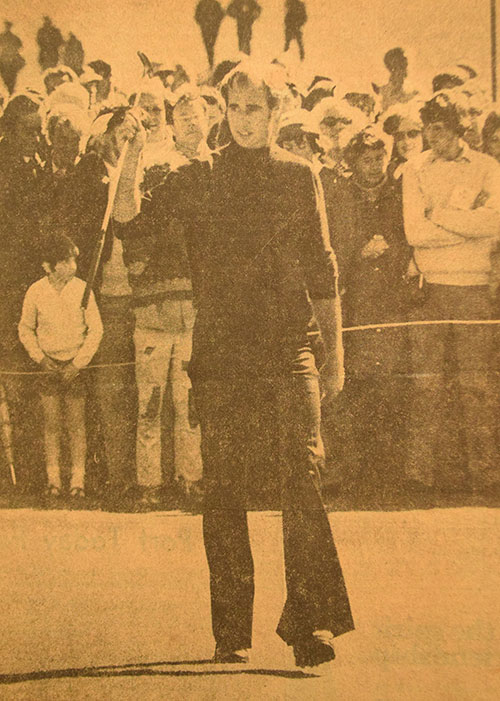 When I asked John about the state of the game in New Zealand today, he replied that he sees that "Many are over-thinking the game. When we used to have over 180 juniors involved in the game in a place like Timaru, it was about creating an environment where we all just loved the game and the competition. It is important to create an atmosphere where kids just want to have fun and play golf. There should be a stronger push in working through the intermediate schools and introducing the game to as many as possible; have them play the game and enjoy it!"
John also sees that today's players over-complicating the game with too much instruction. "You can't play like a machine; all the right numbers on a Trackman don't make you a great player. The Charles Tour has been a real positive for the NZ golf scene, but our players need to play more and understand how to manage themselves around the golf courses. I remember watching Hubert Green at my first tour school and he had this weird golf swing. Like me, he missed his card but the next year, we both got our cards and he was the first of our tour school class to win on tour. He went on to have a 26-year career on the PGA Tour, winning 19 tournaments including two majors."
"The best players I saw play, all were able to move the ball left and right, they had great ball flight and perfect distance control. I guess we were fortunate when we had many world-class players visit New Zealand every year and they shared their thoughts and ideas with us. The hours I spent with legendary players and major winners, like Kel Nagle, were life-changing. I don't see the young players seeking out the older, more experienced players or playing enough golf. Heck, I was golf fit, playing on average, 40 weeks a year. We stayed in very average accommodation and even in the big tournaments we played around New Zealand and Australia, there was often nowhere to even get a bottle of water on the course. It wasn't easy, and there was no internet; it was rare to even make a phone call home, but we just loved playing."
"I have so many great memories and I am truly thankful golf was my pathway; the people I met, the tournaments we played, the times we had and the places I travelled to. I have two great sons that have created their own pathways in the world. One is in the solar energy business in Canberra and the other is a former NZ champion skateboarder and now landscaper in Papamoa.
"Today, I enjoy teeing it up and playing a weekly game with a few mates that have also been involved in golf all their lives. The stories we tell and the fun we have is great, nearly as much as my early pro days living in a flat in North Sydney. Now, I look forward to seeing New Zealand produce more talented golfers and seeing young players loving the game as much as I did back in those early years in Timaru!"
Advertisement
Sign up to our NZ Golf Updates